Will Trump's Trade Policies With China Hurt Las Vegas Sands?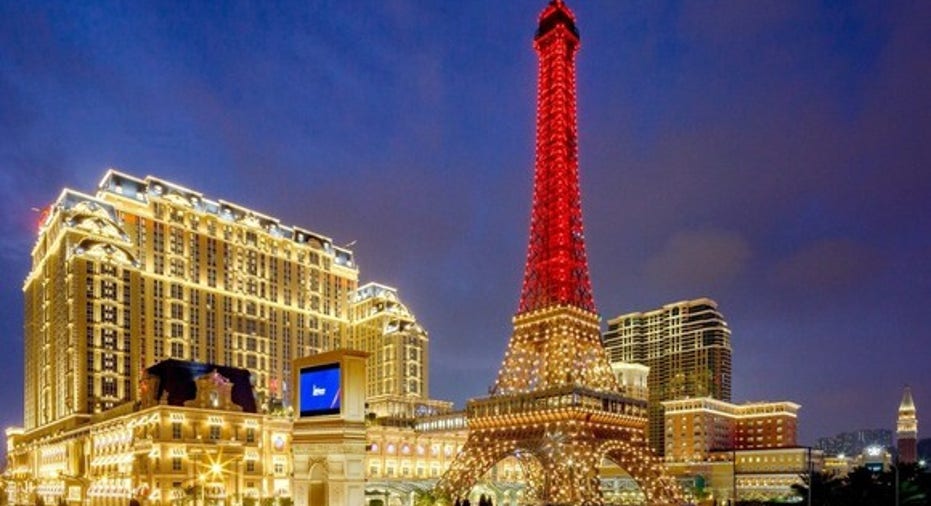 In the escalating war of words between the White House and Beijing, there are any number of U.S. companies that could be hurt by new trade barriers, tariffs, and tit-for-tat retaliatory actions.
A game of brinksmanship
Defense contractors, smartphone makers, and auto manufacturers, for example, could all bear the brunt of an embargo should China cut off or severely reduce its exports of rare earth minerals like it did a number of years ago. Despite discoveries of new deposits globally, China still produces more than 85% of the world's supply and accounts for over 90% of the U.S. supply of these strategically important minerals. But there are other sources that could be tapped and restrictions might not be as crippling, at least not for an extended period of time.
Image source: Getty Images.
The same couldn't be said for the casino industry in China where U.S.-based operators Las Vegas Sands (NYSE: LVS), MGM Resorts (NYSE: MGM), and Wynn Resorts (NASDAQ: WYNN) generated the majority of their revenues, or at least a significant portion. If the casino operators were cut off from the gambling enclave of Macau, they might not recover.
Rolling of the dice
In its recent fourth-quarter earnings report, Las Vegas Sands said it has invested some $13 billion in Macau since it opened its first casino, including the newest $3 billion Parisian Macao that opened last September. Wynn says 40% of the $10 billion in long-term debt it carries on its books is related to Macau and it spent around $4 billion on its new Palace resort that opened last August.
For its part, MGM recently increased its ownership stake in its China division to 56%, but has delayed opening its own new resort to the back half of 2017. MGM hopes the delay will ensure a better customer experience and perhaps not replicate the stumbling by Wynn, which has already had to make a number of upgradesto the Palace.
*MGM Resorts data is for Q3 and nine-month YTD results. Data source: Individual company SEC filings.
As the above table shows, the importance of having access to the Chinese market can't be understated. And even for MGM, it really can't afford to lose one-fifth of its revenues, which is a number sure to grow once the MGM Cotai finally opens its doors.
Backing the wrong horse?
Las Vegas Sands has the most to lose from any escalation in the sabre-rattling going on, and is even more vulnerable to sanctions than other casino operators. It's no secret Sands chairman Sheldon Adelson was a big financial supporter of President Donald Trump's candidacy, contributing tens of millions of dollars to the president's campaign and Super PACs supporting him. Undermining Trump by attacking his biggest supporter is one way Beijing could try to influence the situation.
Wynn also carries risk, as its chairman Steve Wynn was just appointed finance director of the Republican National Committee. Such ties may earn sideways glances by Chinese authorities.
Image source: Las Vegas Sands.
But don't think MGM is in the clear. Last summer I noted that when China legalized gambling in Macau in 2002, it created a handful of concessions that had 20-year lifespans. Just six companies control the concessions of the near 40 resorts that operate in the region, with the three U.S.-based operators chosen because of their global expertise in running world-class resorts. Now those concessions will be coming up for renewal, and the first one will be MGM's in 2020, making it susceptible to election year politics and potential outside influence. Sands and Wynn follow in 2022, which might make them marks if Trump won re-election as well.
Trade wars never benefit anyone, least of all consumers, but the back and forth between the two countries, and intimations of the rising risk of war between the superpowers, doesn't help. But with casino operators firmly dependent on China arguably more so than other companies or industries, it pins a target on them that could prove fatal if the trigger is pulled.
10 stocks we like better than Las Vegas SandsWhen investing geniuses David and Tom Gardner have a stock tip, it can pay to listen. After all, the newsletter they have run for over a decade, Motley Fool Stock Advisor, has tripled the market.*
David and Tom just revealed what they believe are the 10 best stocks for investors to buy right now... and Las Vegas Sands wasn't one of them! That's right -- they think these 10 stocks are even better buys.
Click here to learn about these picks!
*Stock Advisor returns as of February 6, 2017
Rich Duprey has no position in any stocks mentioned. The Motley Fool has no position in any of the stocks mentioned. The Motley Fool has a disclosure policy.