Will TransEnterix Path To Approval Follow In The Footsteps of Intuitive Surgical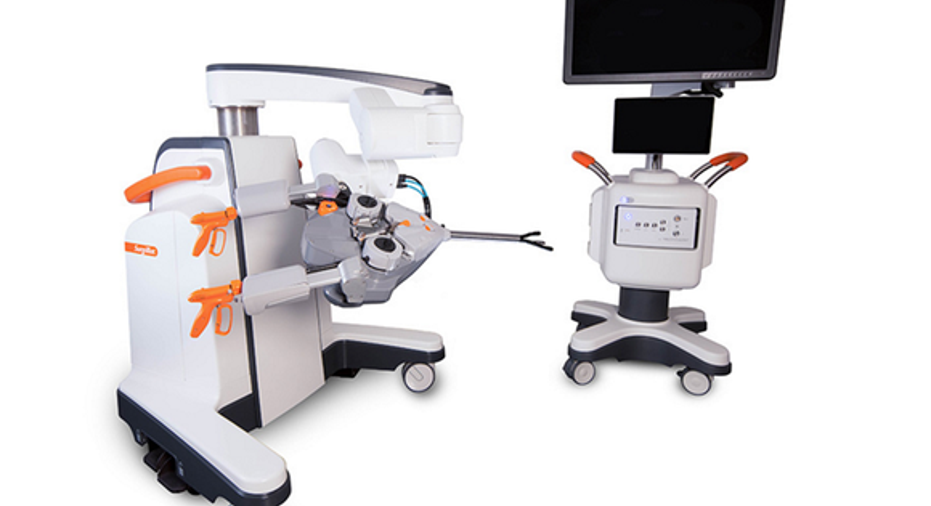 SOURCE: TRANSENTERIX, INC
After learning that the FDA has determined TransEnterix's SurgiBot was not substantially equivalent to a predicate device, and thus unable to be approved via the FDA's 510(k) pathway, shares in TransEnterix have crashed by more than 50%. However, the FDAs rejection is reminiscent of hurdles that facedIntuitive Surgical's da Vinci, a system that similarly received a 510(k) no-go back in the 1990s. Does yesterday's FDA decision on SurgiBot signify an end to this robotic surgery upstart, or is there still an opportunity for TransEnterix to challenge Intuitive Surgical in the future.
First, some backgroundTransEnterix is pinning its hope of chipping away at Intuitive Surgical's dominance in the multibillion dollar robotic surgery market on two devices: the ALF-X and the SurgiBot.
The ALF-X system is a multi port robotic surgery system that won the EU's CE Mark of approval in 2011, but demand for the ALF-X never materialized, and SOFAR SPA sold the rights to ALF-X to TransEnterix last year.
While TransEnterix hopes it can do better at establishing ALF-X abroad, and its already hired former Intuitive Surgical sales leaders to help in that effort, its SurgiBot that could really move the needle for this company.
The SurgiBot system is a single-port, mobile system that can be moved from operating room to operating room. SurgiBot allows surgeons to perform procedures through one incision and it includes features such as an articulating camera and tactile feedback, but SurgiBot's best feature may be its proposed price. TransEnterix has indicated SurgiBot could cost roughly a third of the $1.5 million average cost of da Vinci.
Getting to marketIn order for TransEnterix to begin marketing SurgiBot in the U.S., it needs to win the FDA go ahead, and to get that green light, TransEnterix filed for approval of SurgiBot under the 510(k) pathway last year. The 510(k) approval pathway allows manufacturers to file for approval of a device that is substantially equivalent to an existing product on the market by meeting the following criteria:
The device has the same intended use as the predicate device.
The device has the same technological characteristics as the predicate device, or different technological characteristics and the information submitted that the device is substantially equivalent to the predicate device contains information, including appropriate clinical or scientific data that demonstrates that the device is as safe and effective as a legally marketed device.
The device does not raise different questions of safety and effectiveness than the predicate device.
Unfortunately for investors, the FDA determined TransEnterix's application failed to meet this criteria, raising significant questions as to SurgiBot's future.
Remaining optionsAlthough this isn't good news, receiving a 510(k) rejection letter isn't a death knell for SurgiBot. Instead, the rejection automatically classifies SurgiBot as a class III device that requires approval through a premarket approval application, or PMA.
PMA approval requires that devices be proven to be safe and effective in clinical trials, and because those trials are expensive and they can take a lot of time, investors are right to be nervous. After all, TransEnterix remains a bit cash-strapped despite tapping equity markets earlier this year.
Although the PMA path may be most likely, there may be another option available to TransEnterix, depending on the FDA's reasons for rejecting SurgiBot's 510(k) application.
Specifically, TransEnterix may be able to request de novo consideration by the FDA which would reclassify SurgiBot from a class III device to a class II device that could be approved more quickly.
In order for SurgiBot to qualify for de novo status, however, the FDA will need to determine that "there is sufficient information to establish special controls which, together with general controls, provide reasonable assurance of safety and effectiveness." Those controls can include performance standards, post-market surveillance, patient registries, and the development and dissemination of guidelines.
Whether or not TransEnterix can convince regulators that SurgiBot qualifies for reclassification is anyone's guess, but if so, then SurgiBot could still conceivably hit the market in the coming year.
History repeats?The road to approval of Intuitive Surgical's da Vinci system may offer insight into SurgiBot's future.
After the FDA indicated that substantial clinical data would be necessary for da Vinci's approval, Intuitive Surgical withdrew its 510(k) submission for instruments that would be necessary to perform most surgeries with da Vinci in November 1997.
In January 1999, Intuitive Surgical filed a 510(k) submission that included clinical data for da Vinci, but in May 1999, the FDA told Intuitive Surgical that they'd have to undergo the PMA approval process instead. Following a positive review by an FDA advisory committee in June 1999, Intuitive Surgical filed a PMA application in November 1999, but in June 2000, the FDA determined that the PMA process wasn't appropriate and instead, the FDA reclassified the da Vinci system as a class II device. That change led to a closing of da Vinci's PMA and a reactivation of its original 510(k) application. The FDA finally gave da Vinci its blessing shortly thereafter.
That multi-year rocky road to approval suggests that SurgiBot's 510(k) rejection may not dash all of TransEnterix's hopes. But, it does suggest that if SurgiBot has to go through the rigor of clinical trials, it could be years before SurgiBot reaches the market. If the FDA left the door open for de novo consideration, SurgiBot could hit the market sooner, but if not, then TransEnterix will be forced to conduct expensive clinical trials that could severely limit their ability to continue as a going concern. Overall, there's a lot of uncertainty and risk associated with TransEnterix and therefore, investors wondering if this drop is a buy opportunity may want to focus their attention on other high growth ideas until there's more clarity.
The article Will TransEnterix Path To Approval Follow In The Footsteps of Intuitive Surgical originally appeared on Fool.com.
Todd Campbell has no position in any stocks mentioned. Todd owns E.B. Capital Markets, LLC. E.B. Capital's clients may have positions in the companies mentioned. The Motley Fool owns shares of and recommends Intuitive Surgical. Try any of our Foolish newsletter services free for 30 days. We Fools may not all hold the same opinions, but we all believe that considering a diverse range of insights makes us better investors. The Motley Fool has a disclosure policy.
Copyright 1995 - 2016 The Motley Fool, LLC. All rights reserved. The Motley Fool has a disclosure policy.