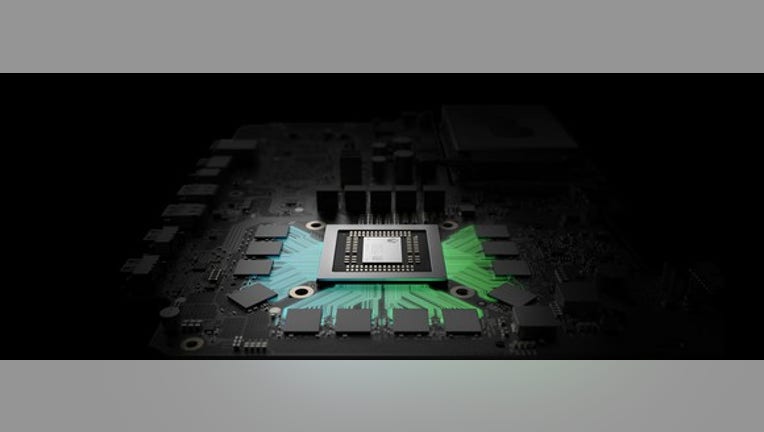 Microsoft (NASDAQ: MSFT) is set to unveil its Project Scorpio Xbox console at the Electronic Entertainment Expo on June 11, and the company's position in the console race could hinge on how the new device fares at stores. The Scorpio will be the most powerful video game system ever released when it hits shelves later this year, and it represents an opportunity for the Xbox platform to catch up to Sony's (NYSE: SNE) hugely successful PlayStation 4 line. However, Microsoft will need to deliver more than improved hardware in order to close the gap and accomplish the company's other gaming-related goals.
Image source: Microsoft.
Why Scorpio is important for Microsoft
Microsoft has long viewed the game console as a potential technology hub for the home. With connected technologies becoming increasingly ubiquitous and the company aiming to provide a leading operating system for Internet of Things devices, having a successful gaming platform remains a way to create synergies with the software initiatives that are most central to the company's business.
Microsoft made serious headway on its goal of controlling the living room with its successful Xbox 360 console, which was launched in 2005, but the 2013 launch of the Xbox One saw the company release hardware that was both less powerful and more expensive than Sony's PlayStation 4 from that year -- and sales lagged as a result. To date, PlayStation 4 has shipped roughly 60 million units, while Xbox One shipments are likely somewhere in the range of 30 million units. Now Microsoft is trying to regain the favor of the hardcore gaming crowd and bolster its video game brand by delivering a system that's more powerful and feature-rich than the competition.
It's being pitched to consumers as a high-end dedicated gaming device, but with the unification of Xbox and PC platforms under Windows 10, it includes elements of a broader strategy. The Scorpiois also being built for compatibility with virtual reality and augmented reality headsets, and could wind up being a source of momentum for Microsoft's Windows Holographic platform. So there's more at stake than just the company's position in the video games industry.
Specs and features
The Scorpio will support 4K-resolution output, compatibility with VR and AR headsets, and high dynamic range lighting (HDR) -- a technology that delivers richer colors and greater contrast. The PlayStation 4 Pro also offers 4K resolution and HDR, but most games on Sony's upgraded console will need to run a conversion to reach Ultra HD resolution, while the Scorpio can render in native 4K -- presumably producing a superior picture.
As with Sony's PlayStation 4 Pro, Microsoft's upcoming console is a departure from the traditional console cycle in that it will be significantly more powerful than its predecessor but will still play the same games. The system's specs indicate that it will be significantly more powerful than Sony's upgraded PlayStation 4 console, though the extent to which its power advantages will translate to better-looking games remains to be seen.
Check out the table below for a comparison of key hardware specs between the Scorpio and the PlayStation 4 Pro consoles:
Data source: Trusted Reviews.
In most respects, the Scorpio appears set to deliver notable power advantages compared to the original Xbox One and Sony's PlayStation 4 consoles, but there are reasons to be skeptical about the extent to which the added horsepower will be utilized and the impact that it will have on the console market.
The Xbox platform has a software problem
While hardcore gaming enthusiasts might be eager to snatch up the Scorpio when it launches toward the tail end of 2017, the device could wind up lacking when it comes to one of the most important elements for mainstream success -- games. Microsoft's first-party Xbox software has underperformed as of late, with key releases in theHaloandGears of War seriesshowing signs of franchise fatigue, and there's not much in the announced lineup that looks to have the potential to be a system seller for Scorpio. Microsoft will likely have some big games to announce at the upcoming E3 conference, but it's rare for a triple-A game to go from unveiling to release in a six-month period, and that could be a problem for a device that's expected to debut in the $500 price range.
Scorpio will presumably offer the best-looking versions of cross-platform third-party software and enhanced graphics for Microsoft's exclusive games, but that might not be enough to move the needle.According to numbers from sales tracker NPD Group, PlayStation 4 Pro (currently the most powerful console on the market) accounted for only around 15% of the broader platform's sales during the 2016 holiday sales window, which could indicate there's not much mainstream demand for more expensive mid-generation hardware upgrades.
Microsoft's E3 press conference should provide a better look at what the future might hold for Scorpio, but for now it seems unlikely that the upcoming console will be a big difference-maker in the company's competition with Sony.
10 stocks we like better than MicrosoftWhen investing geniuses David and Tom Gardner have a stock tip, it can pay to listen. After all, the newsletter they have run for over a decade, Motley Fool Stock Advisor, has tripled the market.*
David and Tom just revealed what they believe are the 10 best stocks for investors to buy right now... and Microsoft wasn't one of them! That's right -- they think these 10 stocks are even better buys.
Click here to learn about these picks!
*Stock Advisor returns as of May 1, 2017
Teresa Kersten is an employee of LinkedIn and is a member of The Motley Fool's board of directors. LinkedIn is owned by Microsoft. Keith Noonan has no position in any stocks mentioned. The Motley Fool has no position in any of the stocks mentioned. The Motley Fool has a disclosure policy.