Will the Footwear Transformation at Skechers USA Inc Take the Stock to New Heights?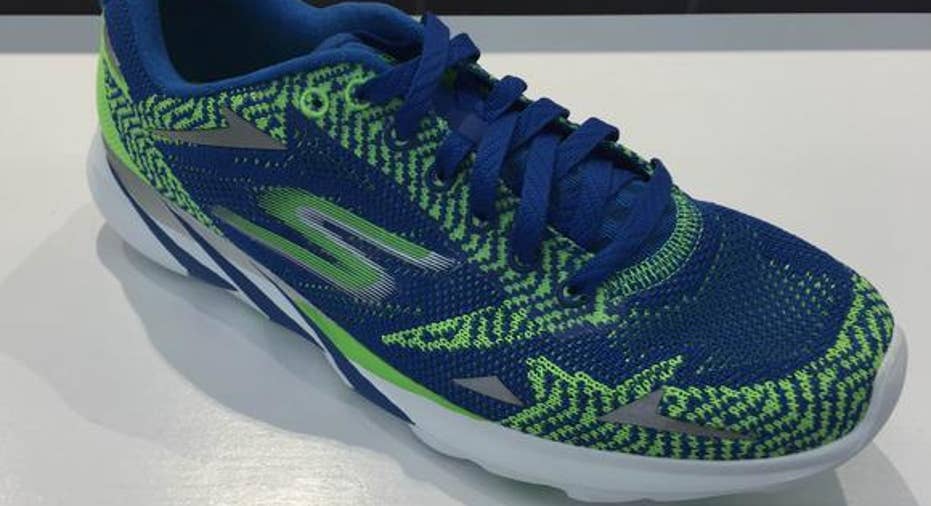 A Skechers store in Las Vegas, promoting a 50%-off sale, much like the stock seems to be offering now.
Who can forget whenSkechers(NYSE: SKX) "Shape Up" shoes came under legal scrutiny? With their curved bottoms that forced the wearer's foot to roll forward with each step, promising firmer glutes and more toned legs, the shoes became the target of false-advertising complaints in 2012, seemingly putting Skechers in the "gimmick" category of athletic footwear.
However, the company has worked hard in the past few years to change its image from a low-price fringe brand to a seller of serious athletic footwear, and it has started competing with some of its bigger rivals in the market, including Nike and Adidas.
Now the brand and its athletic shoes are starting to earn better reviews and gain market share. As a result, the company is seeing its sales surge. Can Skechers really make this footwear transformation work? And if so, does that make the now bargain stock look like an attractive buy?
What runners are saying about Skechers' new shoesAs a runner and fitness enthusiast, I tried on a pair of Skechers' new men's running shoes, called the GOmeb Speed 3-2016. Retailing at $125 a pair, these shoes buck Skeckers' low-cost image, and the company's marketing touts that these are the shoes Meb Keflezighiwore during his first place finish at the 2014 Boston Marathon, reinforcing the shoe's true athletic potential.
The Skechers GOmeb Speed 3 with GoKnit upper.
The mesh top feels similar to Nike's Flyknit uppers (which Skechers dubs GOknit), though slightly looser. I wasn't a fan of the sole, which has a general foam cushion inside and a more rigid foam bottom that to me feels more stiff than "responsive", as the description says. The shoe is light at just 7.2 ounces for a men's size 9, but it also feels thin in construction.
However, while I'm not as a big fan of these shoes as I am of theUnder Armour Speedform, the GOmeb Speed 3 has won plenty of praise from running shoe reviewers such as Run Shoe Guru, which put the shoes through many miles. Skechers also won the Footwear Industry Awards' "Footwear Brand of the Year" in both 2015 and 2016. The company also won theAthleisure Design Excellence award byFootwear Plusmagazine in 2015.
But don't just take my word for it. Look at the growth Skechers revenue has enjoyed as a true indication that the company's brand and products are beginning to resonate among consumers.
Skechers sales surgeIn fiscal year 2015, Skechers posted sales of $3.16 billion, a 32% gain over the previous year.In fact, Skechers surpassed Adidas last year to become the second largest footwear seller in the U.S., behind only Nike.
Management guidance sees revenue growing another 17% in 2016, which I think sounds conservative. Sales should be driven by Skechers' positive new shoe reviews and awards; international growth, which was up 65% in 2015; the opening of a planned 330 new stores during this year; and new endorsements from high-profile athletes such as former MLB star Ozzie Smith, as well as other celebrities like Demi Lovato and Meghan Trainor.
"I'm excited to be working with Skechers on this campaign, because they make some of the most comfortable shoes I have ever worn," says Smith. "I've been a fan of the brand for years, and I love how Skechers' memory foam feels so relaxing on my feet."
And how about Skechers stock?Many analysts are highly bullish on the company, such as Citigroup's Corinna Van Der Ghinst, who believes that Skechers stock is undervalued at under $30 per share (her price target is $44), calling Skechers Citi's high-rated footwear stock. Investment firm Macquarie did the same on April 7, when it pointed to Internet search trends worldwide as reason to believe the brand is gaining a following in places like Asia as catalyst for its $45 price target.
At current growth rates, the stock does seem to be trading at a bargain. After hitting an all-time high last August of around $54, the stock has shed nearly 50% due to a mix of currency headwinds, missed earnings, and a $10 million settlement in a patent case. Skechers shares now trade at just 19 times trailing 12-month earnings and less than 14 times estimated 2016 earnings. Compare those numbers with Nike at 26 and Under Armour at 65 for full-year 2016.
Skechers' balance sheet is in a great place as well. It has a low debt balance and a higher book value per share than both Nike and Under Armour. On top of that, the company enjoys strong net margins (which more than doubled from 3% in 2013 to 7.3% in 2015) and logged its highest free cash flow numbers ever last year.
So far, the company's footwear transformation has been working as the company continues to gain market share, increase prices, and drive consistent double-digit sales growth. I don't have to be a huge fan of the shoes myself to see how attractive the stock is at these levels.
The article Will the Footwear Transformation at Skechers USA Inc Take the Stock to New Heights? originally appeared on Fool.com.
Bradley Seth McNew owns shares of Nike and Under Armour. The Motley Fool owns shares of and recommends Nike, Skechers, and Under Armour. Try any of our Foolish newsletter services free for 30 days. We Fools may not all hold the same opinions, but we all believe that considering a diverse range of insights makes us better investors. The Motley Fool has a disclosure policy.
Copyright 1995 - 2016 The Motley Fool, LLC. All rights reserved. The Motley Fool has a disclosure policy.