Will Tesla Motors, Inc.'s Model 3 Sport Autonomous Driving Tech?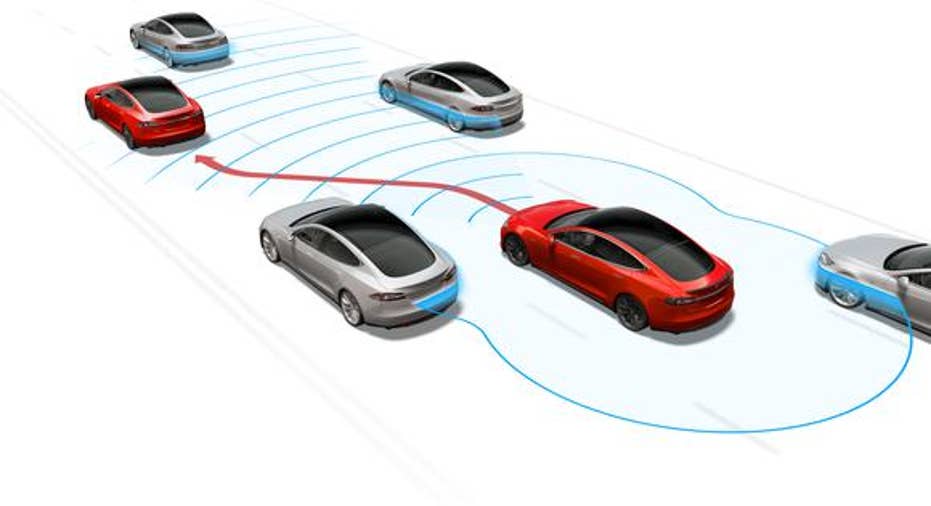 It's no secret that Tesla Motors CEO Elon Musk wants the electric-car maker to lead the way in autonomous driving. But the CEOs timeline seems to be accelerating. Even more, the timing Musk is now referring to for autonomous driving tech falls in line with the company's planned launch of its lower-cost electric car, Model 3.
Tesla's Autopilot falls short of autonomous driving, but automatic steering and lane changes at highway speeds put it ahead of competition. Image source: Tesla Motors
Autonomous driving tech: Just two years away?"We're going to end up with complete autonomy," Musk recently told Fortune during his commute to SpaceX headquarters, "and I think we will have complete autonomy in approximately two years."
Prior to this interview, Musk's most common referenced timeline for autonomous driving was five or six years. Even more, Musk has always been careful to emphasize that it could take an additional two or three years for regulators to actually approve the technology after it exists.
But Musk appears encouraged. His newfound confidence follows tweets from the CEO on Twitter in November saying he is looking for "hardcore software engineers" as the company makes "generalized full autonomy" a "super high priority."
Tesla's Model 3, which the company says will have a starting price of $35,000, happens to have a planned launch date in late 2017 -- the same time frame Musk says Tesla could have autonomous driving hardware ready. While its not clear Tesla would include all of the hardware required for autonomous driving in its lower-cost Model 3, it certainly does seem like a Musk-like aspiration.
Even if the technology is ready to roll out with Model 3, Tesla probably wouldn't activate autonomous driving for several years after it starts selling the vehicle. Musk said in his interview with Fortune he predicts it will take an additional year for regulators to determine that it's safe and to go through an approval process and, "In some jurisdictions, it may take five years or more, he says," writes Fortune's Kirsten Korosec.
A higher standardAfter Tesla's over-the-air update to its vehicles in October that beamed autopilot abilities, including automatic steering and lane changes at highway speeds, the electric-car company is arguably ahead of any other production car when it comes to driver assisted tech. But achieving the sort of autonomous driving Musk says could be just two years out is on a whole different level. This level of autonomous driving, he told Fortune, would boast lower probability of accidents than when a person is driving.
And reducing accidents will be a catalyst for regulation, Musk predicts.
"The point at which it becomes statistically clear that an autonomous car is safer, I think, regulators will be comfortable with allowing it," he said.
Whatever Tesla can do and chooses to do as it leans toward higher levels of autonomous driving, there will be one key area to watch that will be more relevant than anything else: Is the technology saving lives? If Tesla can save lives, Musk's aspirations for autonomous driving could prove realistic. On the other hand, if Tesla fails to serve up meaningful data pointing to increased safety, autonomous driving could be further out than the CEO hopes.
The article Will Tesla Motors, Inc.'s Model 3 Sport Autonomous Driving Tech? originally appeared on Fool.com.
Daniel Sparks owns shares of Tesla Motors. The Motley Fool owns shares of and recommends Tesla Motors. Try any of our Foolish newsletter services free for 30 days. We Fools may not all hold the same opinions, but we all believe that considering a diverse range of insights makes us better investors. The Motley Fool has a disclosure policy.
Copyright 1995 - 2015 The Motley Fool, LLC. All rights reserved. The Motley Fool has a disclosure policy.