Will Tesla Motors, Inc.'s Deliveries Jump 50% This Quarter?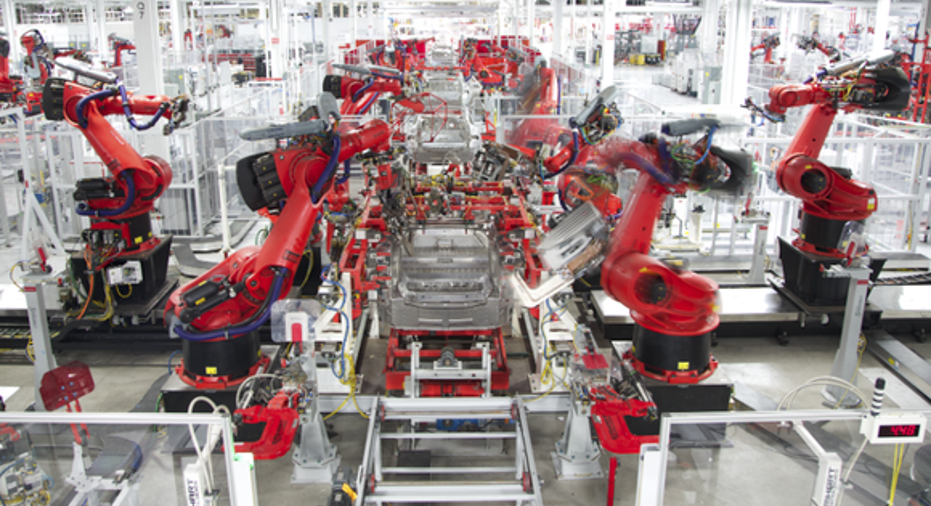 Following Tesla Motors' worse-than-expected first-quarter vehicle deliveries, investors will probably be paying close attention to the company's electric-car deliveries this quarter. Set to report second-quarter deliveries anytime between July 1 and July 3, investors will soon get a glimpse at the automaker's ongoing production ramp-up. Here's why the company could report around 50% year-over-year growth in vehicle deliveries during the quarter.
Tesla Fremont factory. Image source: Tesla Motors.
Why Q2 is critical
Q2 is particularly important for Tesla. Investors are hoping it will bridge a severely production-constrained Q1 to a more rapid production ramp-up in Q2, setting the foundation for a much bigger second half of the year.
For now, many investors are probably skeptical about Tesla's ability to ramp up production. While Tesla's first-quarter deliveries were up 48%, year over year, they were both below the company's own guidance for the quarter and down 15% sequentially.
And the reasons Tesla blamed in its press release for its worse-than-expected first-quarter deliveries did little to help investors' confidence in the company: "The root causes of the parts shortages were: Tesla's hubris in adding far too much new technology to the Model X in version 1, insufficient supplier capability validation, and Tesla not having broad enough internal capability to manufacture the parts in-house. The parts in question were only half a dozen out of more than 8,000 unique parts, nonetheless missing even one part means a car cannot be delivered."
Model X. Image source: Tesla Motors.
Basically, Tesla's production ramp-up of its late 2015-introduced SUV didn't start off the year as planned. Tesla delivered only about 2,400 Model X units during the quarter, barely making a dent in its approximately 35,000 deposit-backed reservations Tesla had at the beginning of the year for the vehicle. For further context, Tesla delivered about 12,420 of the Model S during the same quarter, and Tesla is aiming for Model X production and deliveries to rival Model S by the end of the year, so Tesla has a way to go for Model X production to get to a level high enough to satisfy demand.
Estimating Q2 deliveries and production
Despite reporting worse-than-expected first-quarter deliveries, Tesla is still confident in its production ramp-up. This is particularly evident since Tesla opted to maintain its full-year guidance for 80,000 to 90,000 vehicles by the end of the year -- a significant jump from its 50,600 deliveries in 2015.
So, what level of deliveries and production can investors expect in Q2? Management said in April that production "is now on plan." Tesla expects to deliver "approximately 17,000 vehicles" in Q2, representing nearly 50% growth when compared with the same quarter last year and a 15% sequential increase.
Asterisk indicates management guidance for quarter. Chart source: author.
Importantly, Tesla expects a particularly large jump in production. Tesla is guiding to produce 20,000 vehicles but says a portion of them will be delivered in Q3 because it expects a large number of vehicles to be in transit to Europe and Asia at the end of the quarter. This level of production represents about a 30% uptick sequentially, and a 56% boost year over year.
It's likely Tesla's guidance for Q2 is conservative. With Model S demand continuing to rise, and Model X production constraints addressed, it's probable Q2 deliveries will meet or exceed management's expectations. And it's worth noting that in about four out of five quarters Tesla does outperform it's guidance, so it would be normal for Tesla to live up to its own expectations and hit its target for about 17,000 units.
The article Will Tesla Motors, Inc.'s Deliveries Jump 50% This Quarter? originally appeared on Fool.com.
Daniel Sparks owns shares of Tesla Motors. The Motley Fool owns shares of and recommends Tesla Motors. Try any of our Foolish newsletter services free for 30 days. We Fools may not all hold the same opinions, but we all believe that considering a diverse range of insights makes us better investors. The Motley Fool has a disclosure policy.
Copyright 1995 - 2016 The Motley Fool, LLC. All rights reserved. The Motley Fool has a disclosure policy.