Will Southern Company Raise Its Dividend in 2017?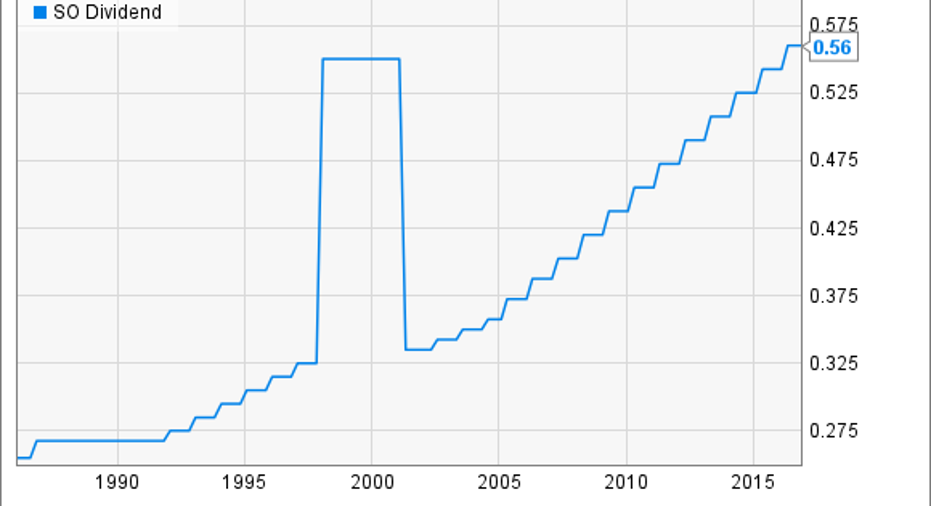 Utility stocks are favorites among dividend investors because they typically have high yields, and Southern Company (NYSE: SO) is no exception. The key player in the Southeastern U.S. utility market has made it a priority not just to have an impressive dividend yield but also to give shareholders regular increases to the company's quarterly payout over time. With a streak that goes back nearly to the turn of the millennium, investors want to know whether Southern will be able to keep pushing its dividend payments higher this year. Let's look more closely at Southern Company to see whether investors can expect the utility to raise its dividend in 2017.
Battery energy storage facility. Image source: Southern Company.
Dividend stats on Southern Company
| | |
| --- | --- |
| Current Quarterly Dividend Per Share | $0.56 |
| Current Yield | 4.6% |
| Number of Consecutive Years With Dividend Increases | 15 years |
| Payout Ratio | 83% |
| Last Increase | May 2016 |
Source: Yahoo! Finance. Last increase refers to ex-dividend date.
How has Southern Company done with dividend growth lately?
Southern Company's track record of dividend increases isn't the longest in the business, but at 15 years and counting, it's still noteworthy. In a slow-growth industry like utilities, it can be hard to sustain consistent dividend growth, and Southern Company is careful about overextending itself in determining its dividend policy.
When you look at recent dividend increases, they've been fairly small, but they've tended to be similar year after year. In 2016, Southern Company gave investors about a 3% increase. That followed annual increases in the 3% to 4% range going back to 2004, before which the utility was even slower in moving dividends higher.
Yet the slow pace of those increases makes a lot more sense when you look at the earnings growth that Southern Company has produced recently. After posting record profits in 2012, the utility started running into problems in 2013, due largely to issues with its Kemper clean-coal gasification plant. Since then, cheap natural gas has made clean-coal projects much less economically attractive. Although losses related to Kemper have lessened, they still provide some downward drag on net income. As a result, only now is Southern starting to get back to the earnings-per-share levels it enjoyed nearly five years ago.
SO Dividend data by YCharts. Note: Spike reflects spinoff of Southern Energy unit as Mirant Corporation.
Are things looking up for Southern Company?
More recently, Southern Company has done a good job of rebounding. After a sluggish start to 2016, Southern rebounded sharply by the third quarter, and the completed acquisition of AGL Resources should provide substantial revenue growth for the foreseeable future. Moreover, Southern expects the deal to add to earnings within the first year, which many hope will provide an upward breakout for its bottom line.
That could be important for Southern Company's investors, because the utility's payout ratio has climbed to 83%. That's not unusually high for the utility industry, but it is slightly higher than Southern's payout ratio typically has been over the course of its history.
Will Southern Company raise its dividend in 2017?
Southern Company will almost certainly move to boost its payout in 2017, as it foresees the success of its recent strategic moves eventually paying off with bottom-line growth. A modest increase of around 3% is most likely, and in doing so, the utility will extend its streak of annual dividend increases to 16 years. Yet if things pan out well with the AGL acquisition and other moves to boost profitability, then it's possible that in the years to come, Southern Company will be able to accelerate its dividend growth and reward shareholders even more.
10 stocks we like better than Southern Company When investing geniuses David and Tom Gardner have a stock tip, it can pay to listen. After all, the newsletter they have run for over a decade, Motley Fool Stock Advisor, has tripled the market.*
David and Tom just revealed what they believe are the 10 best stocks for investors to buy right now... and Southern Company wasn't one of them! That's right -- they think these 10 stocks are even better buys.
Click here to learn about these picks!
*Stock Advisor returns as of January 4, 2017
Dan Caplinger has no position in any stocks mentioned. The Motley Fool has no position in any of the stocks mentioned. The Motley Fool has a disclosure policy.