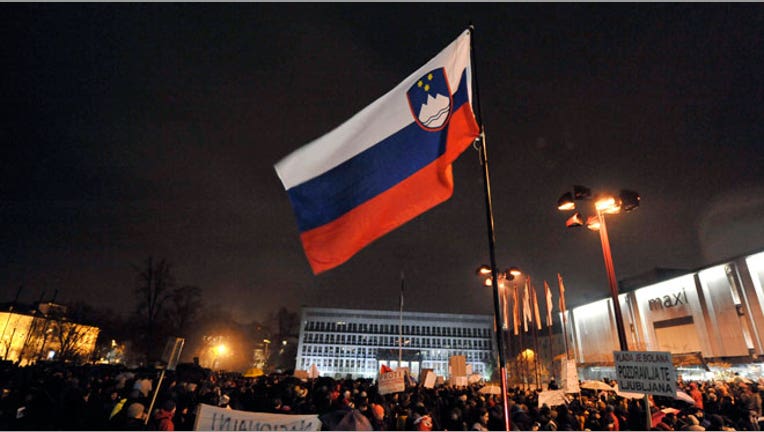 Now that the tiny island of Cyprus has narrowly avoided a calamitous exit from the eurozone, the financial world has embarked on a search for the next country to star in Europe's never-ending sovereign debt crisis.
While it's still too early to say with certainty which country will be in the spotlight next, the markets are starting to flash warning signs about the Central European nation of Slovenia, which is racing to clean up its $75.4 billion banking system before it's too late.
The cost to insure Slovenian five-year bonds surged 22.5% to six-month highs on Wednesday, according to Markit, as bond yields soar near the dreaded 7% threshold.
"Slovenia is moving from stage left toward center stage," Art Cashin, director of floor operations at UBS (NYSE:UBS), wrote in a note.
To be sure, Slovenia is hardly the only small country seen as a candidate to headline the crisis next, with some pointing to Luxembourg, others stressing about miniscule Malta and some even wondering about incoming eurozone member Latvia.
It's also worth pointing out that Slovenia isn't a clone of Cyprus. Slovenia's banking system isn't nearly as outsized as that of its Mediterranean peer and its overall debt-to-GDP level of about 48% appears to give it some room to maneuver.
"The question is whether it is too late for Slovenia."
"In all crises there is a tendency once you have an event for the market to say: 'Who looks the same?'   That's why people are looking at Slovenia and potentially Malta as well," said Edwin Truman, a senior fellow at the Peterson Institute for International Economics.
Slovenia in the Spotlight
Still, it seems a safe bet that the Slovenian Wikipedia page will see a solid uptick in traffic in the coming months as the country of two million attempts to get its fiscal house in order to avoid following Cyprus, Greece, Ireland and Portugal at the bailout trough.
In a new poll of 46 economists by Reuters, Slovenia tied with Spain as the most likely candidates to receive an international bailout following the sloppy rescue of Cyprus.
"The mishandling of the Cyprus situation and the subsequent shambolic communication from various European officials has fueled contagion and Slovenia is under intense scrutiny as a result," Gavan Nolan, director of credit research at Markit, wrote in a note.
Laurence Wormald, head of research at SunGard's APT, believes Slovenia will have to take action within two or three months as the country's banks are forced to raise capital.
Wormald said assistance for Slovenia may not end up being in the form of an explicit bailout, as in the case of Spain. He also said that since Slovenian banks are "much less leveraged" than Cypriot ones, a potential bail-in of depositors will likely be "less drastic."
Underscoring the concerns, the cost to insure $10 million of Slovenian bonds for five years soared 22.5% on Wednesday to $398,000 -- the highest level since mid-September and a 50% increase from a month earlier, according to Markit.
It's worth noting that the market for Slovenian credit-default swaps is relatively illiquid, making it subject to exaggerated moves.
By comparison, the thinly-traded CDS of Malta were largely unchanged at $219,000, while Spain CDS rose by a more modest 5.2% to $302,000. Latvian CDS were mostly flat at $121,000 as well.
Slovenian bond yields have also been on the rise, with 10-year yields climbing to 6.74% on Wednesday from 5.85%, creeping dangerously close to the 7% level that is seen as unsustainable.
"The question is whether it is too late for Slovenia," said Nolan.
Banking Jitters
The concern is that bad loans in Slovenia's banking system could soon act as an anchor on public finances.
Standard & Poor's projected non-performing loans in Slovenian banks could rise to 20% of GDP, which would drive net public debt to almost 80% GDP.
Slovenia's problems have been exacerbated by political turmoil as the country's government collapsed amid scandal and the new government was only elected last week.
The incoming government is now scrambling to finalize and implement a bad-bank solution and state asset management company as part of a previously-announced 4 billion euro bank recapitalization and asset transfer scheme
"Bank asset quality continues to deteriorate, banks' capital buffers are thinning and implementation risks remain," Fitch warned in a report last week.
While Fitch said it continues to assume Slovenia will avoid a bailout, it warned "failure to tackle" the country's banking problems "would increase pressure" on the ratings company's "A-"credit rating.
At the same time, Slovenia's economy continues to take a beating as Europe remains mired in a painful double-dip recession. The country's unemployment rate stands above 12% and Fitch sees GDP slumping 1.6% in 2013 following a 2.3% tumble last year.
Staving Off a Bailout
Despite these headwinds, Slovenia does appear to be better positioned to avoid a painful bailout than Cyprus was months ago.
"We will continue restructuring and stabilizing the banking system. Slovenia is capable of sorting out its issues by itself," Alenka Bratusek, the country's first female prime minister, told parliament this week.
Bratusek can point to Slovenia's debt-to-GDP ratio of just 48.2% as of the third quarter of 2012, according to Eurostat, which compares favorably with ratios of 77.4% for Spain, 84% for Cyprus and 120.3% for Portugal.
Likewise, Slovenia's banking system represents only 125% to 130% of the country's entire economy, a far more manageable size compared with the Cypriot banking system, which some have pegged at around 800% of GDP.
And the 4 billion euro bank recapitalization efforts by Slovenia represent less than 9% of GDP, a small pittance when stacked up against the bailout of Cyprus that totaled about 95% of that country's economy.
If Slovenia "can manage to issue debt at more reasonable yields in the next few months, then it might have a chance of avoiding a bailout," said Nolan.