Will PayPal Holdings' Momentum Continue?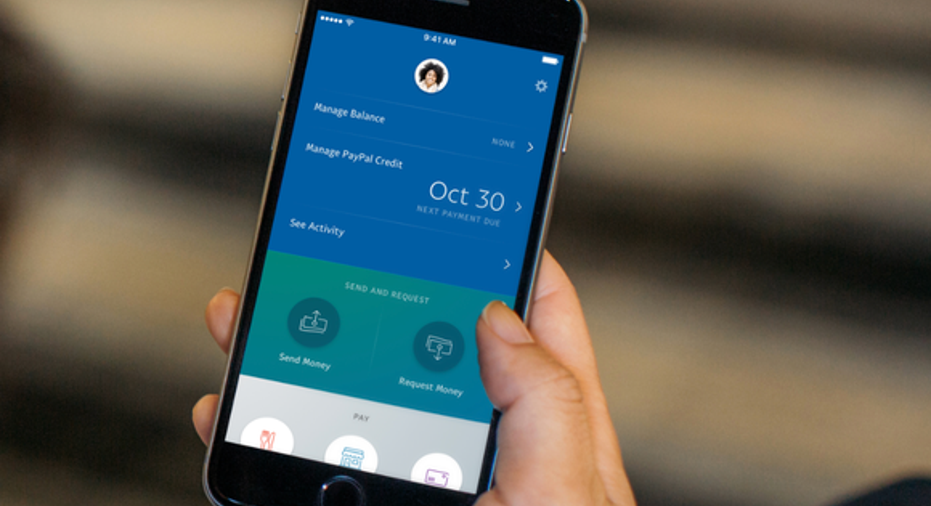 PayPal Holdings (NASDAQ: PYPL) will report its first quarter earnings for 2017 on Wednesday, April 26. The mobile payment provider has been experiencing strong momentum over the last year. In 2016, total payment volume increased 28% to $354 billion, translating to strong growth in revenue and earnings.
How can PayPal keep the momentum going?
The lines between in-store and online shopping are starting to blur. The problem for merchants is that most people who begin shopping on an internet browser abandon their online shopping cart because of the hassle of entering payment information.
PayPal experienced strong growth in mobile payment volume in 2016. IMAGE SOURCE: PAYPAL HOLDINGS INC.
PayPal has answered this problem beautifully with its One Touch feature, which allows shoppers to complete checkout without entering their PayPal login information. PayPal users can use the stored payment information in their PayPal digital wallet to complete an order, making the online/mobile shopping experience painless.
One Touch has been adopted by 50 million PayPal users and 5 million merchants. The most striking statistic is the 87% conversion rate on mobile devices, which means nearly every PayPal user who is opted-in to One Touch completes their online orders. PayPal's conversion rate with One Touch is about double the industry average for mobile shopping.
According to PayPal, between 65% and 74% of merchants experience cart abandonment. Basically, One Touch is flipping that number upside down, providing an extremely valuable service to merchants.
One Touch gives PayPal a competitive advantage since merchants don't have to do anything to increase conversion for their websites. Merchants only need to offer PayPal as a payment option for customers, and PayPal continues to focus on rolling out One Touch to its 200 million customer accounts.
PayPal processed 2 billion mobile payment transactions in 2016. Mobile payment volume increased 55% to more than $100 billion last year, so investors should expect the rollout of One Touch to continue driving PayPal's mobile payment momentum in 2017.
Short term hurdles
It's not all roses for PayPal, though. PayPal operates in more than 200 markets and nearly half of revenue is derived outside the U.S. This brings into play the negative impact of currency translation on PayPal's financial performance.
Overall, management expects currency translation to reduce revenue growth by about 200 basis points. For Foolish investors, it is best to evaluate PayPal's year-over-year growth numbers on a currency neutral basis. That way you have a better understanding of how PayPal is truly performing. Currency comes and goes over many decades, but investors should keep this negative factor in mind as we move through 2017.
Another item to watch is management's progress on lessening the credit burden PayPal carries on its balance sheet. If you have compared PayPal's debt burden to Visaor Mastercard, you have probably noticed that PayPal's peers typically carry less debt, due to the fact thatVisa and Mastercard do not issue credit or loans, making these stocks more attractive to some more risk-averse investors.
PayPal, on the other hand, offers its customers credit products and carries that risk on its balance sheet. PayPal is looking to shift the burden of carrying loans to third-party loan originators, and thereby change its risk profile to reflect its network processing peers.
If management is successful in lightening PayPal's credit burden, it could serve as a catalyst to narrow the valuation gap between PayPal and its peers.
What to expect
Analysts are expecting PayPal to report $2.94 billion in revenue and $0.41 per share in earnings. This would represent 15.5% growth year-over-year on the top line and 10.8% on the bottom line. These expectations are within the narrow ranges management guided on its fourth quarter conference call.
Looking further out to the end of the year, management has guided for 17% to 19% currency neutral revenue growth for the full year 2017. Management expects operating margin to be flat or slightly higher in 2017 compared to 2016, which means earnings per share should grow in line with revenue.
Three important metrics investors should focus on are growth in active customer accounts, payment transactions per account, and total payment volume. These metrics are the heart of PayPal's business strategy and give investors a good perspective on the health of PayPal's payment platforms.
10 stocks we like better than PayPal HoldingsWhen investing geniuses David and Tom Gardner have a stock tip, it can pay to listen. After all, the newsletter they have run for over a decade, Motley Fool Stock Advisor, has tripled the market.*
David and Tom just revealed what they believe are the 10 best stocks for investors to buy right now... and PayPal Holdings wasn't one of them! That's right -- they think these 10 stocks are even better buys.
Click here to learn about these picks!
*Stock Advisor returns as of April 3, 2017
John Ballard owns shares of PayPal Holdings. The Motley Fool owns shares of and recommends Mastercard, PayPal Holdings, and Visa. The Motley Fool has a disclosure policy.