Will NFL contracts ever fully guarantee? Players can hope.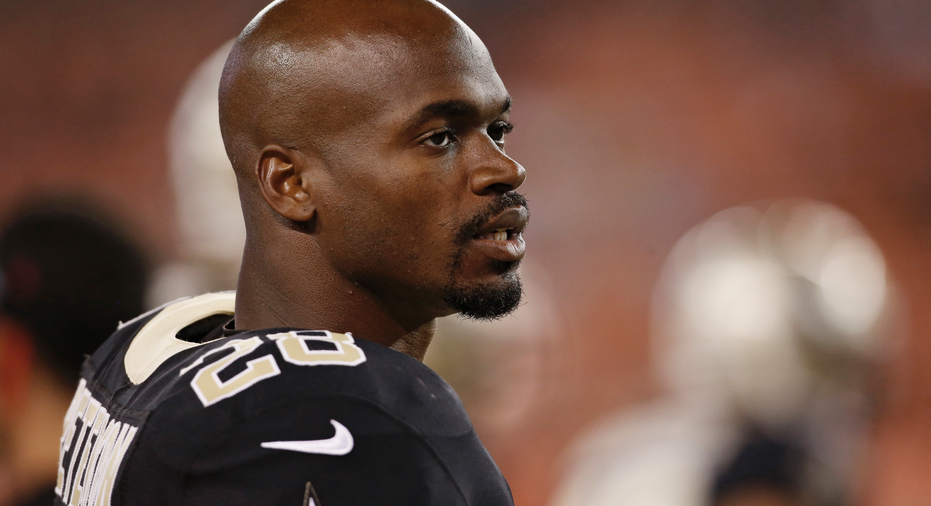 Adrian Peterson had an $18 million salary "scheduled" for 2017 on his last contract with Minnesota , but the franchise's all-time leading rusher was never realistically going to get that money from the Vikings given his age and position.
Russell Okung had the potential for $48 million and four more seasons on his self-negotiated deal with the Denver Broncos, but the 29-year-old left tackle never saw it. He became a free agent and signed with the San Diego Chargers.
Remember that $78 million contract Donovan McNabb got from the Washington Redskins in 2010, during the twilight stage of his career? About $70 million evaporated into that NFL netherworld of nonguaranteed money, after the six-time Pro Bowl pick was unceremoniously released by the Vikings the following season.
Such is the financial reality for players in this $14 billion enterprise, with a steadily rising salary cap that's at $167 million this year. The maximum value of most NFL contracts simply won't be paid out, unlike for their peers in professional baseball, basketball and hockey.
According to NFL Players Association calculations, signing bonuses and other guaranteed compensation accounted for a little more than 60 percent of all payments to players last year.
"When you think about what we do for our organizations, the injuries and the pounding that we take, you would think that there would be more appreciation for your players," Peterson said in an interview with The Associated Press this week after practice with the New Orleans Saints. "It's just so unfortunate when you think about the physicality and the toll that football takes on your body."
NFL players are usually most riled up about this in early July, when they're in vacation mode and NBA free agency begins with big-money deals for relatively unknown reserves. Just glance at some of their Twitter accounts, and the bitterness is obvious . Even the Real Housewives of Atlanta once spotlighted the topic, with exes and significant others of both NBA and NFL players represented in the cast revealing status-driven tension over the guaranteed contracts that exist in basketball but not football.
"We definitely get jealous with that," Broncos cornerback Chris Harris Jr. said. "In the NBA, a lot of bench players are getting like star money" in the NFL.
Players aren't the only ones affected. Agents can face budgeting challenges, too.
"When we'd do our internal projections for the company, we'd have to err on the conservative side, thinking, 'If this guy has a chance of getting cut,' we're going to count him as a zero commission," said Joel Corry, a former NFL agent who's now an analyst for CBS Sports. "Or he gets cut and signs a minimum contract elsewhere. Whereas in basketball, the contract is the contract."
Why is this still the case if there's so much angst?
Well, change is hard.
There are many more players on a football roster, for one. The agents can take some blame, too, for highlighting the maximum worth of these deals for the media so the bigger numbers get reported even if the realistic value of the contract is much less.
Andrew Brandt, now an analyst for ESPN and Sports Illustrated and also a former agent, used to negotiate contracts as a Green Bay Packers executive. He recalled giving his blessing to agents to reveal terms of recently agreed-to contracts to reporters.
"Before you know it, we'd hang up the phone and see whoever the preferred media source is have it displayed in the best possible terms, meaning all the big numbers in late years, the incentives, the escalators," Brandt said. "Really it's a $30 million deal, but it's got $10 million of escalators and incentives, so I would read about a $40 million deal. It's a little game that team executives and agents play, because if it helps the team close the deal, great. If it helps the agent to put that number out there for his recruiting and the team can help that, great."
There's an old-school mentality often at play around league front offices, too.
"You want guys who are hungry," said Phil Savage, the former Cleveland Browns general manager. "You want guys who feel like they have something to prove. I think the mentality has always been, 'Hey, are you going to get absolute max out of somebody if they're guaranteed dollars over the next five or six years? Will a guy rest on his laurels?'"
And then there's Article 26, Section 9, of the collective bargaining agreement. That's a decades-old clause — inserted before football's revenue boom — that requires teams to put deferred guaranteed money in escrow. Now, the rule simply deters deep-pocketed owners from signing long-term, guaranteed deals that require cutting massive checks that won't be cashed for years.
"Until you get that rule abolished," Corry said, "you're never going to have fully guaranteed contracts."
The high injury rate in this violent sport is what ultimately holds back the guarantees. Peterson said he believes that one day NFL contracts will be fully guaranteed. Harris was not so sure.
"I think we could get probably like 75 percent," he said.
With the first weekend of games passed, all those players on the roster fringes with at least four accrued NFL seasons can rest a little easier about their status. Vested veterans now have their salaries guaranteed for the rest of the year, even if they're cut. But soon the uncertainty will return, come February and March.
Perhaps some star quarterback will someday break the ice.
"The first person who gets a fully guaranteed contract, if and when that happens, it'll be easier for the next one," Brandt said, "but a lot of it has to come from individual negotiations with players who have extreme leverage."
___
AP Sports Writer Brett Martel in Metairie, Louisiana, and AP Pro Football Writer Arnie Stapleton in Englewood, Colorado, contributed to this report.
___
For more NFL coverage: http://www.pro32.ap.org and http://www.twitter.com/AP_NFL