Will NetEase Inc Deliver Another Blowout Performance in 2017?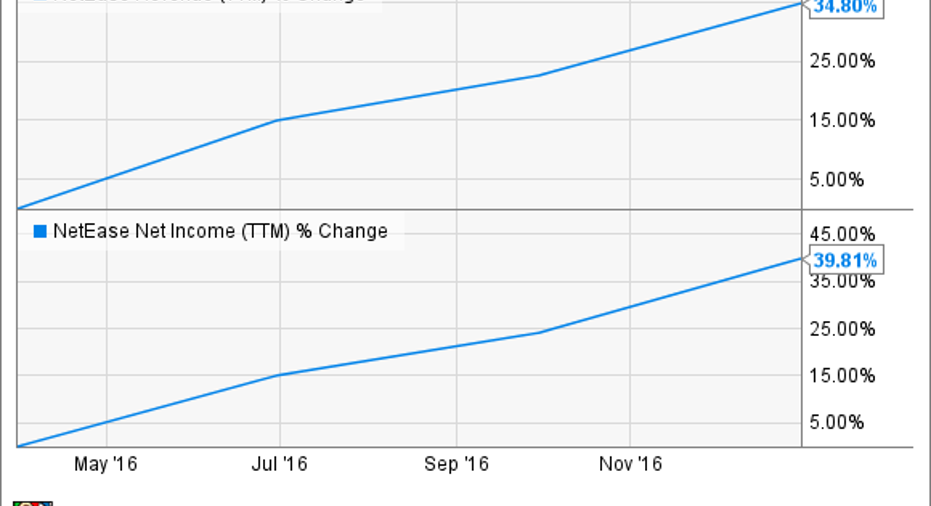 Video games are going to get even more popular in China, which is great news for NetEase (NASDAQ: NTES) investors. The Chinese online gaming giant is coming off a strong fiscal 2016, where its finances improved by a huge margin, and it will look to extend this performance into 2017 as well.
Data by YCharts.
Now, the Chinese online gaming industry is going to grow even bigger -- estimates from iResearch Global pin the industry at220.8 billion yuan (about $32 billion), translating to 21% growth over 2016. As it turns out, the company is making grand preparations to grab the opportunity with both hands.
The mobile gaming business will get bigger
NetEase launched over 40 new mobile titles in 2016, and it now boasts more than 100 games. Unsurprisingly, mobile games now command a bigger share of the company's online gaming revenue.
Image source: NetEase.
And its mobile portfolio will only get bigger this year thanks to expansion packs, mobile versions of its popular PC-client games, and self-developed titles.
Westward Journey Rage is one such game that is being adapted for the mobile platform to mark the 15thanniversary of the Westward Journey Online franchise. NetEase is making a smart marketing push as the existing user base of the long-running PC game will be a tailwind for the mobile release.
The mobile games pipeline also includes self-developed titles such as Land of Glory, which went into open beta testing in December last year. In all, NetEase could launch at least seven self-developed mobile games this year.
However, the headline-grabbing release of 2017 will be Minecraft. NetEase struck a five-year exclusive partnership with Microsoftlast year to license the mobile and PC versions of the highly popular game in China. Microsoft subsidiary Mojang will customize the game for the Chinese market, and NetEase will handle the distribution.
Minecraft could be a big win for NetEase as it has over 100 million registered players worldwide, and most of them are on mobile. As it turns out, over 25 million users play the game on the PC and Mac platforms, so the majority is shared between gaming consoles and mobile. In fact, until June last year, 51% of Minecraft players in the Asia and Asia-Pacific region were on mobile.
The game will now have access to more than 560 million gamers in the Chinese market, 36% of whom are willing to spend money. Minecraft will begin open beta testing in the first half of 2017 and should boost NetEase's business once officially launched later in the year.
Tapping the next big thing in gaming
Goldman Sachs forecasts that sales of augmented reality (AR) and virtual reality (VR) games will hit $35 billion by 2025, and NetEase doesn't want to miss this gravy train. The company released its first VR game -- Twilight Pioneers -- in November while also embedding certain AR features into Onmyoji -- a highly popular role-playing game.
NetEase's AR integration into a famous title such as Onmyoji -- which had more than 10 million downloads in a single month in China -- should increase the stickiness of the current user base. As it turns out, the company is now taking this title into markets such as Japan, Europe, the U.S., and Canada, so it can now show off its AR capabilities to a wider audience.
The company has not disclosed anything more about its VR and AR gaming pipeline, but it will continue investing in research and development in this space. According to Onward Choi, NetEase's acting CFO:
The takeaway
NetEase will release 29 new games in 2017 as it goes all-out to capture a bigger pie of the Chinese gaming industry. Its strategy of adding new features to existing games and launching popular PC games on the mobile platform already has a proven track record, so the addition of a marquee title from Microsoft could help NetEase go one step further.
10 stocks we like better than NetEaseWhen investing geniuses David and Tom Gardner have a stock tip, it can pay to listen. After all, the newsletter they have run for over a decade, Motley Fool Stock Advisor, has tripled the market.*
David and Tom just revealed what they believe are the 10 best stocks for investors to buy right now...and NetEase wasn't one of them! That's right -- they think these 10 stocks are even better buys.
Click here to learn about these picks!
*Stock Advisor returns as of February 6, 2017.
Teresa Kersten is an employee of LinkedIn and is a member of The Motley Fools board of directors. LinkedIn is owned by Microsoft. Harsh Chauhan has no position in any stocks mentioned. The Motley Fool recommends NetEase. The Motley Fool has a disclosure policy.