Will JPMorgan Chase Raise Its Dividend in 2017?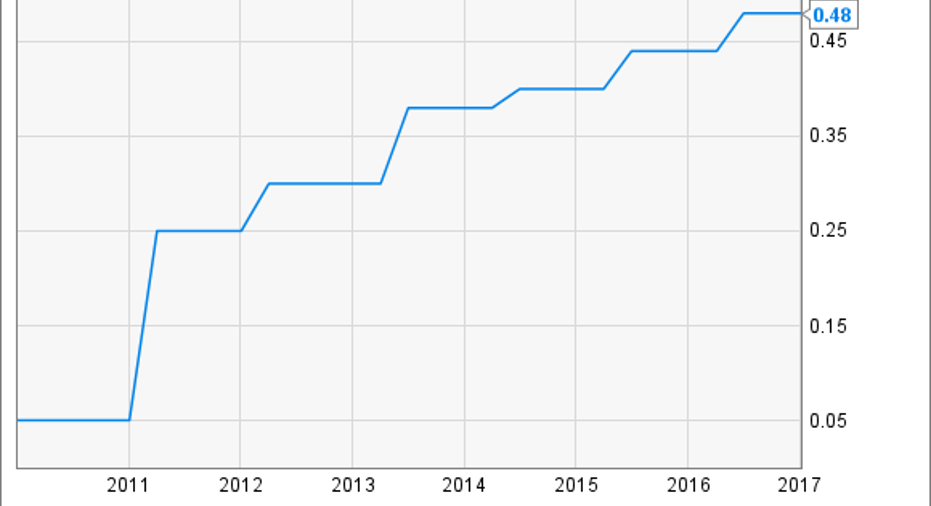 One of the best reasons to own bank stocks is because they tend to pay decent dividends. Case in point are shares of JPMorgan Chase (NYSE: JPM), which yield 2.1% and will probably see another dividend increase this year.
Banks generally pay out a third or more of their annual earnings each year in dividends to shareholders. They simply have no choice but to do so, because allowing too much excess capital to pool on the balance sheet will reduce a bank's profitability, which is expressed as a ratio of a bank's earnings to its capital -- higher capital yields a lower return on equity.
Image source: Getty Images.
The Federal Reserve also wants banks to adhere to this threshold. In the first stress test administered by the Fed after the financial crisis, the central bank implied a 30% payout ratio cap on banks with more than $50 billion worth of assets on their balance sheets. Since then, people in the industry believe that the so-called soft cap on dividend payouts has increased to 40%.
When it comes to JPMorgan Chase, while it already pays out 30% of its earnings to shareholders, that doesn't mean that it can't increase that amount going forward. In fact, it seems more likely than not that the $2.5 trillion bank will follow through on this when it gets the chance later this year as a part of the Fed's 2017 comprehensive capital analysis and review process.
JPMorgan Chase has a history of boosting its quarterly payout annually. Since 2010, the New York-based bank has increased its dividend six times, never missing a year. The size of the increases have varied, with the largest being the fourfold jump in 2011 from $0.05 per share up to $0.20 per share each quarter. The most recent increase was more modest, taking JPMorgan's payout from $0.44 per share to $0.48.
JPM Dividend data by YCharts.
The net result is that, while JPMorgan Chase is limited in the size of a potential increase, as it presumably wants to keep its payout ratio below the Fed's 40% soft cap, the bank has demonstrated through its history of regular dividend raises in the past that it prioritizes doing so.
Another reason JPMorgan Chase seems poised to ratchet up its dividend in 2017 is that its earnings are likely to grow this year. This assumes that the Fed will pull the trigger and raise rates for only the third time since the crisis, as most analysts and commentators expect it to do. If this happens, banks will make a lot more money.
In JPMorgan's chase, a 100-basis-point increase in rates, which translates into 1 percentage point, would equate to $2.4 billion worth of extra net interest income. This is high-margin revenue that, absent taxes, largely falls to a bank's bottom line. And as JPMorgan Chase earns more, it will have to distribute more to keep its capital allocation strategy in balance.
In short, although it's impossible to say with complete certainty whether JPMorgan Chase will raise its dividend this year, the possibility that it will do so seems more likely than not.
10 stocks we like better than JPMorgan ChaseWhen investing geniuses David and Tom Gardner have a stock tip, it can pay to listen. After all, the newsletter they have run for over a decade, Motley Fool Stock Advisor, has tripled the market.*
David and Tom just revealed what they believe are the 10 best stocks for investors to buy right now... and JPMorgan Chase wasn't one of them! That's right -- they think these 10 stocks are even better buys.
Click here to learn about these picks!
*Stock Advisor returns as of February 6, 2017
John Maxfield has no position in any stocks mentioned. The Motley Fool has no position in any of the stocks mentioned. The Motley Fool has a disclosure policy.