Will Incentives Undermine Fiat Chrysler's Sales Gains?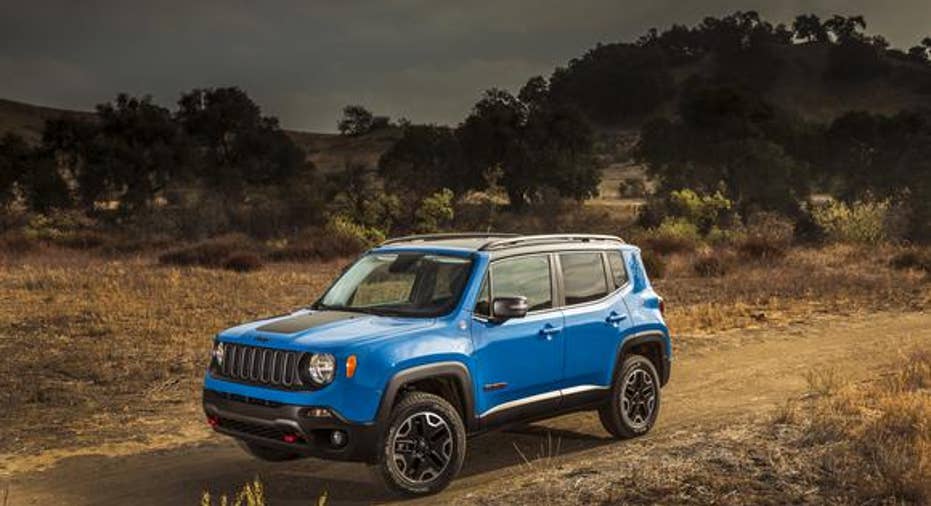 The small Jeep Renegade helped push the iconic SUV brand to its best November sales result ever last month. Image source: Fiat Chrysler Automobiles
Fiat Chrysler Automobiles said that its U.S. sales rose 3% in November, giving the Italian-American automaker its 68th consecutive month of U.S. sales gains.
The details: As has so often been the case in recent years, FCA's U.S. sales gains were led by its Jeep SUV brand. Jeep sales rose 20% in November over very good year-ago results, thanks in large part to the added volume generated by the small Renegade, new this year.
Sales at the Chrysler brand declined 12%, a result of steep year-over-year declines for the 200 (down 28%) and 300 (down 19%) sedans. The brand's third model, the Town & Country minivan, posted a 20% gain.
Dodge brand sales fell 8% on a year-over-year basis, much of that due to the discontinuation of the midsize Avenger sedan. Sales of the compact Dart sedan were down 31% year-over-year, as FCA continues to be hit harder than many rivals by a sharp drop in demand for sedans. But that said, the big Charger sedan (up 2%) and its Challenger coupe sibling (up 3%) both managed small year-over-year gains.
Sales of the Ram full-size pickup line were up 2%. Year-to-date, the Ram is up 3%, well behind the significant gains posted by rival General Motors' full-size pickups in 2015.
Fiat brand sales fell 3%. Alfa Romeo sold 44 copies of the 4C sports car in November.
A note about year-over-year comparisons: Last month had two fewer "selling days" than November of 2014. "Selling days" exclude days like Sundays and holidays when new-car dealerships are typically closed. FCA's sales gains (and those of its rivals) may appear modest, but despite the small-looking gain, this was the group's best November U.S. sales result since 2000.
FCA's incentive spending appears to be rising: CFO Richard Palmer said earlier this year that FCA's North America unit would seek to improve its profit margins in part by ratcheting down its use of incentives to boost sales.
That doesn't appear to be happening, though.
According to a TrueCar analysis, FCA's per-vehicle incentive spending as a percentage of its average transaction price rose to 10.9% in November, up a full point from a year ago. TrueCar estimates that FCA's average transaction prices were up 2.9% (to $32,879) over year-ago results, but its spending on incentives rose 12.6% (to $3,573).
The upshot: FCA is clearly making the most of the ongoing SUV boom with its Jeep brand, which -- despite factories that must be close to maxed out -- continues to find ways to eke out sales gains.
But will these strong sales results deliver the boost in profit margins that FCA urgently needs? The Jeeps should be among the company's most profitable products, and the brand's success should bode well for profitability. But rising incentives could dent any gains. We'll know more when FCA reports fourth-quarter earnings in January.
The article Will Incentives Undermine Fiat Chrysler's Sales Gains? originally appeared on Fool.com.
John Rosevear owns shares of General Motors. The Motley Fool recommends General Motors and TrueCar. Try any of our Foolish newsletter services free for 30 days. We Fools may not all hold the same opinions, but we all believe that considering a diverse range of insights makes us better investors. The Motley Fool has a disclosure policy.
Copyright 1995 - 2015 The Motley Fool, LLC. All rights reserved. The Motley Fool has a disclosure policy.