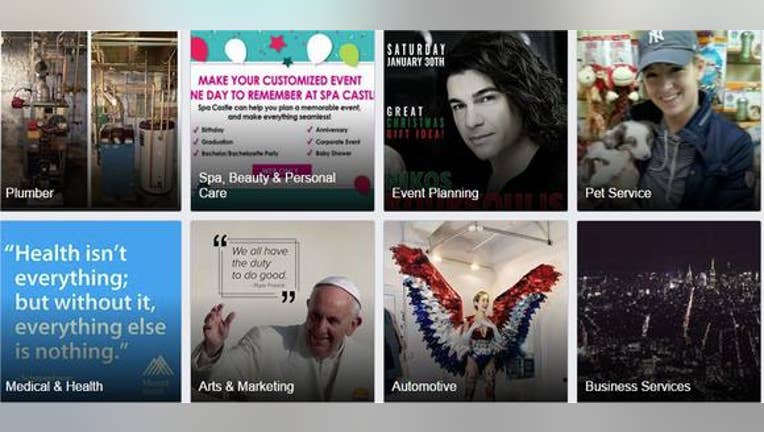 Facebook recently launched Professional Services, an online business directory that takes direct aim at Yelp . This move isn't surprising, since Facebook already hosts over 50 million small business pages and launched a business-to-consumer chat platform for Messenger earlier this year. A Yelp-like business directory could also be considered a natural evolution of Facebook's check-in and review system.
Source: Facebook.
Yelp stock, which was already cut in half over the past year, plunged 9% on Dec. 15 after Facebook's announcement. Will Facebook's Professional Services disrupt Yelp's long-term plans and cause its stock to tumble further in 2016?
Facebook's Manifest DestinyTo understand why Facebook is challenging Yelp, we need to understand the social network's plans to conquer the Internet. Facebook's monthly active users (MAUs) rose14% annually to 1.55 billion last quarter. That growth is impressive, but it will inevitably peak. That's why Facebook is expanding its ecosystem with Instagram, WhatsApp, and its "Free Basics" zero-rating plan for emerging markets.
Facebook has also been cloning trademark features from other top social networks. In 2013, it addedsupport for hashtags, which were generally associated with Twitter . Facebook also added videos to Instagram to counter Vine's loops, unveiled a live streaming service for celebrities to counter Twitter's Periscope, challenged Snapchat witha stand-alone app and a new Messenger feature, and went after LinkedIn with Facebook at Work.
But that's not all. Facebook is also challenging Alphabet on multiple fronts with single sign-ons, mobile app backends, videos, artificial intelligence, and location-based services. Simply put, Facebook wants its News Feed to become the front page of the Internet, and it needs to push aside Google and other social networks to accomplish that. In this clash of the tech titans, Yelp becomes collateral damage.
Crushed by giantsGoogle tried to buy Yelp six years ago for $500 million, but the deal fell through. Google subsequently bought Zagat and started scraping Yelp reviews, without attribution, to improve its own location-based services. To boost the quantity and quality of its first-party reviews, Google launched a "Local Guides" program that awards reviewers withpoints that can be exchanged for prizes. That program is basically a carbon copy of Yelp's "Elite Squad" program.
Google's Local Guides program. Source: Google.
Meanwhile, Facebook is approaching from the other side with its massive business directory and evolving location-based services. In the past, Facebook differentiated itself from Yelp by prioritizing check-ins and reviews from friends. With Professional Services, Facebook reaches further and organizes those businesses into a directory.
In Yelp's latest S-1 filing, it admits that Google, Facebook, and other companies "may be more successful than us in developing and marketing online advertising offerings directly to local businesses, and may leverage their relationships based on other products or services to gain additional share of advertising budgets."
But don't count Yelp out yetBut against all odds, Yelp continues to grow. The company finished last quarter with 89 million unique mobile visitors, up from 73 million a year earlier. Cumulative reviews rose 35% annually to 90 million as local advertising accounts grew 37% to 104,200. Revenue surged 40% to $143.6 million and beat estimates by $2.2 million. Those numbers keep improving because Yelp still has a first-mover's advantage in the local reviews space.
However, Yelp's problem is its lack of bottom line growth. Last quarter, it posted a net loss of $8.1 million, compared to a net profit of $3.6 million in the prior year quarter. Total costs and expenses soared 58% annually to $154.3 million, due to surging sales, marketing, and product development costs.
This indicates that Yelp needs to spend more heavily to remain competitive -- which is bad news when deep-pocketed rivals like Facebook and Google are out for blood. If Yelp is forced to spend more heavily to keep pace with Facebook's Professional Services, its losses could keep piling up and cause investors to flee.
The article Will Facebook Inc.'s Newest Feature Crush Yelp Inc.? originally appeared on Fool.com.
Leo Sun has no position in any stocks mentioned. The Motley Fool owns shares of and recommends Alphabet (A shares), Alphabet (C shares), Facebook, LinkedIn, and Twitter. The Motley Fool recommends Yelp. Try any of our Foolish newsletter services free for 30 days. We Fools may not all hold the same opinions, but we all believe that considering a diverse range of insights makes us better investors. The Motley Fool has a disclosure policy.
Copyright 1995 - 2015 The Motley Fool, LLC. All rights reserved. The Motley Fool has a disclosure policy.