Will Ellie Mae Earnings Disappoint Bullish Shareholders?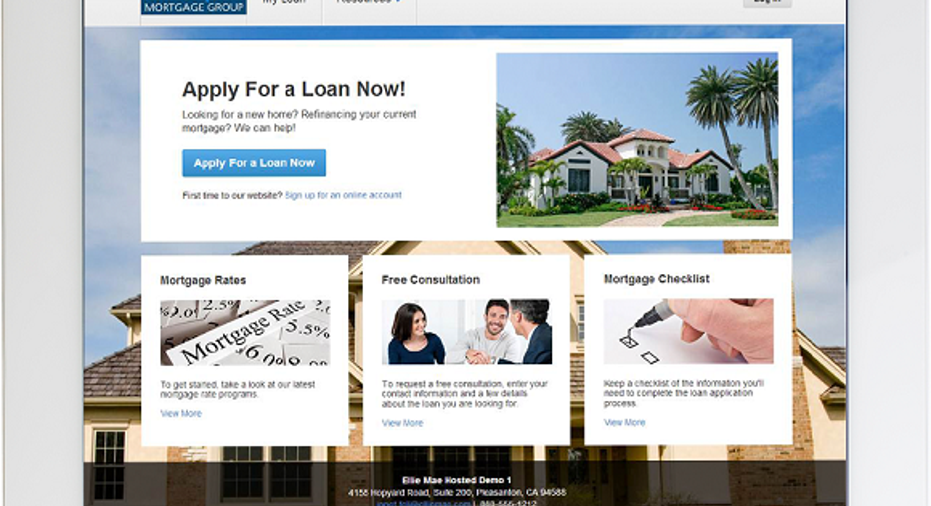 Image: Ellie Mae.
Big banks rely on making mortgage loans as a major contributor to their revenue, and many of them turn to Ellie Mae to help them manage their mortgage business. Coming into Thursday's first-quarter financial report, Ellie Mae shareholders had already bid up the stock substantially in recent months, but they had surprisingly low expectations for financial performance that included calls for an actual decline in earnings. Yet the company has a good track record of dramatically outperforming lowball estimates, and so bulls hope that Ellie Mae will give them a repeat performance this time around. Let's take an early look at how Ellie Mae has done lately and what it's likely to tell investorsin its quarterly report.
Stats on Ellie Mae
| | |
| --- | --- |
| Analyst EPS Estimate | $0.31 |
| Change From Year-Ago EPS | (6.1%) |
| Revenue Estimate | $68.77 million |
| Change From Year-Ago Revenue | 27% |
| Earnings Beats in Past 4 Quarters | 4 |
Source: Yahoo! Finance.
Will Ellie Mae earnings get the job done? In recent months, investors have gotten more excited about Ellie Mae's earnings prospects. They've kept their projections for the first quarter unchanged, but they've boosted full-year 2016 estimates by almost 10%. The stock has also done well, rising more than 40% since mid-January.
Ellie Mae's fourth-quarter results in early February helped get the stock moving in the right direction. Revenue climbed almost 40% compared to the year-earlier quarter, and adjusted earnings came in at more than double what investors had expected to see. A growing user base for its cloud-based Encompass software platform helped Ellie Mae reach record levels of users, and revenue per user also posted double-digit percentage advances, helping to support overall sales. Projections for the remainder of the year also showed Ellie Mae's optimism, with both revenue and net income guidance well above the consensus forecasts among investors.
The key to understanding Ellie Mae's role in the industry is that it provides the infrastructure and support to help financial institutions manage their mortgage portfolios. The Encompass platform offers an all-in-one mortgage management solution for clients, allowing financial institutions to ensure that they're not taking on more risk than they can handle while also offering customers the features they demand and making sure to meet the compliance standards for the host of regulators that oversee the banking and mortgage lending industry. For instance, in February, Ellie Mae released new components that help mortgage employees stay current with regulations and best practices, keep a library of due diligence documentation, and handle consumer complaints and their resolutions through case-management tracking software.
Ellie Mae is also embracing technological advances. The Encompass Mobile platform is designed to help allow clients and their employees to get real-time access to all aspects of their mortgage business from any device. As lenders get more competitive, having capabilities that others don't will be crucial to success, and that gives Ellie Mae even more of an edge in attracting customers.
For investors, one source of uncertainty is whether the stock will get treated as a financial stock or an enterprise-software company. Ellie Mae's share price took a big hit when other enterprise-oriented companies with a completely different focus reported weakening sales. Yet by focusing on a single industry, Ellie Mae won't necessarily track with companies that have a larger scope. That could hurt Ellie Mae if the banking sector weakens, but mortgage demand won't go away entirely.
In the Ellie Mae earnings report, be sure to watch whether the company can continue to attract new business. For now, there's plenty of runway left for Ellie Mae to grow, and a positive network effect should keep it moving forward over the long run. As long as the company can outperform its conservative guidance once again, Ellie Mae looks poised to continue to succeed in the foreseeable future.
The article Will Ellie Mae Earnings Disappoint Bullish Shareholders? originally appeared on Fool.com.
Dan Caplinger has no position in any stocks mentioned. The Motley Fool owns shares of and recommends Ellie Mae. Try any of our Foolish newsletter services free for 30 days. We Fools may not all hold the same opinions, but we all believe that considering a diverse range of insights makes us better investors. The Motley Fool has a disclosure policy.
Copyright 1995 - 2016 The Motley Fool, LLC. All rights reserved. The Motley Fool has a disclosure policy.