Will Chevron Raise Its Dividend in 2016?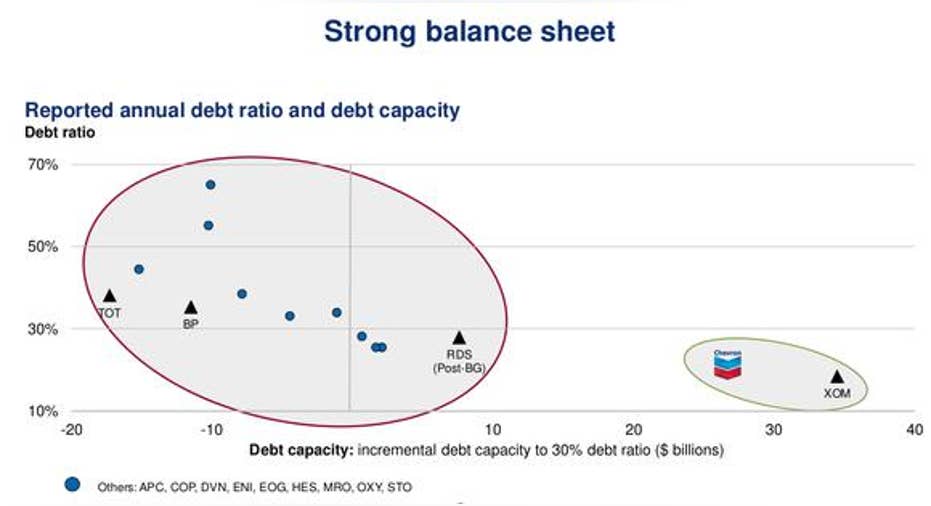 Oil and gas rig Source: Pixabay
Chevron (NYSE: CVX) is in very select company when it comes to its dividend. The integrated supermajor has increased its annual payout for 28 straight years andhas consistently paid an annual dividend every year since 1926. Chevron also raised its annual dividend last year, when Brent prices averaged just $52 per barrel, paying an annual dividend of $4.28 per share, versus $4.21 per share in 2014. Given the company's history, will Chevron raise the annual payout again this year?
Reasons Chevron might not raise its dividendLow crude prices have done substantial damage to Chevron's bottom line. Because Brent prices in 2015 declined by almost 50% from their 2014 levels, Chevron's 2015 income amounted to $4.6 billion, versus 2014's $19.2 billion. The company's cash flow from operations weakened to $19.5 billion, from $31.5 billion a year earlier. When taking account of Chevron's capex of $34 billion in 2014, the company's cash flow wasn't enough to cover the company's annual dividend cost of $7.92 billion.
Although Chevron has cut its capex budget from 2015 levels, the company has some major spending it will need to do. Because Chevron has a slate of pre-productive projects such as Australia'sWheatstone that will require substantial cash flow before they yield any oil or gas. Moody's thinks Chevron will have negative free cash flow of around $15 billion for 2016. Throw in Chevron's dividend cost of $7.92 billion a year, and the company is looking at a total cash flow gap of $22.92 billion for 2016.
When faced with free cash flow short-falls and soft energy prices, other oil majors have considered cutting their dividends. The Chairman of BP (NYSE: BP), for example, recently said that a dividend cut is a possibility. Other supermajors such as Royal Dutch Shell (NYSE: RDS-A) (NYSE: RDS-B)and Total SA (NYSE: TOT)have used creative ways to preserve their dividends but have in effect reduced the cash portion of the dividend. Both companies offer their investors the option to receive new shares in lieu of a cash dividend, with Total offering its investors an additional 10% discount on the shares received for the dividend, and Shell's equity program offering tax advantages in certain countries such as in the Netherlands.
Reasons Chevron might raise its dividendFirst, Chevron is an integrated company, and its downstream and chemicals division made $5 billion in earnings last year. The earnings from the downstream and chemical division could by itself cover over 60% of Chevron's dividend.
Source: Chevron investor relations.
Second, Chevron's balance sheet is very strong. Its debt-to-capitalization ratio is among the industry's best, at 20%. Chevron could borrow almost $30 billion before the company hits the 30% debt ratio, and even then, Chevron's debt ratio would be better than many of its peers.
Because many of Chevron's pre-productive projects will become productive by 2017, Chevron might not need to borrow all $30 billion. Because of the combination of capex cuts and increasing cash flow from rising production, Chevron believes it will be cash flow-neutral at $52 per barrel of Brent crudein 2017. With Brent currently trading for $44 per barrel and several factors indicating that the oversupply problem in the industry will disappear by early next year, $52 Brent by 2017 isn't too far of a stretch.
A dividend raise of one penny a share also doesn't cost very much (at around $75 million dollars a year) and helps keep Chevron's cost of capital low. One reason Chevron's cost of capital is low is that investors trust the company to successfully navigate the commodity cycle, given Chevron's track record of 28 straight years of dividend increases. If Chevron were to keep its dividend the same or cut its dividend and break that track record, it would lose some of that trust, and its cost of capital would rise in the long run.
Investor takeawayChevron has the resources and the incentive to raise its dividend. Management has said that its No. 1 priority is to "maintain and grow the dividend as the pattern of earnings in cash flow permit," and Chevron's cash flow will improve substantially next year as more of its pre-productive projects come online. The company needs Brentto rise only 13% to break even in terms of cash flow.
Given the low crude prices, Chevron might not raise its dividend as it typically does in the second quarter, and management might wait until the fourth quarter before making a decision. If crude prices tank, management could decide not to raise the dividend. If the energy market continues to show signs of improvement, the odds are good that Chevron's annual dividend will rise for the 29th year.
The article Will Chevron Raise Its Dividend in 2016? originally appeared on Fool.com.
TMFJay22 has no position in any stocks mentioned. The Motley Fool owns shares of and recommends Chevron. Try any of our Foolish newsletter services free for 30 days. We Fools may not all hold the same opinions, but we all believe that considering a diverse range of insights makes us better investors. The Motley Fool has a disclosure policy.
Copyright 1995 - 2016 The Motley Fool, LLC. All rights reserved. The Motley Fool has a disclosure policy.