Will Apple, Inc. Again Guide for a Revenue Decline?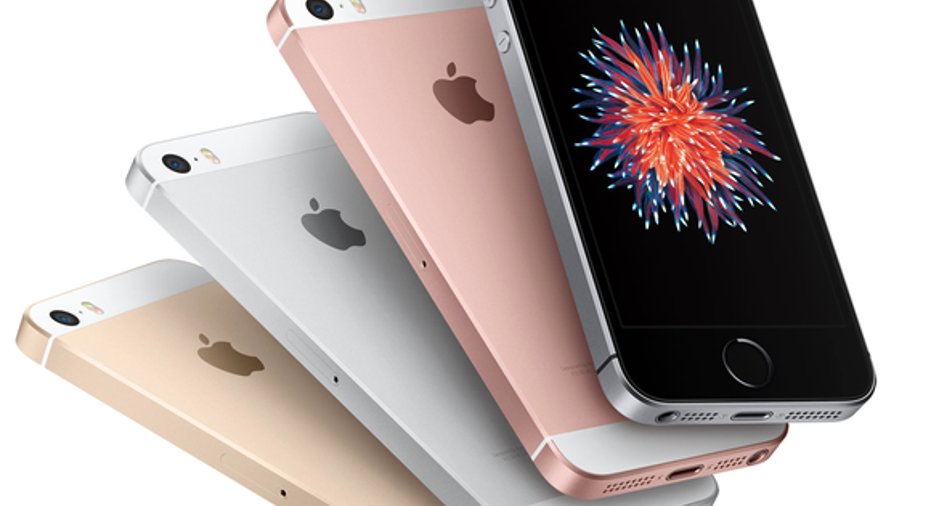 After forecasting for revenue to decline about 11% year over year for itssecond fiscal quarter, Apple'sguidance for the current quarter (or Q3) will be closely watched by investors. The tech giant's guidance will be particularly interesting since the company just released its iPhone SE, an upgraded version of its smaller iPhone 5s. Will the mid-cycle refresh of one of its less expensive iPhones stop revenue from sliding?
iPhone SE. Image source: Apple.
How Apple's revenue growth disappearedAhead of the iPhone 6 launch in Sept. 2014, the overall consensus was that the new model would be a hit. After all, the iPhone 6 and 6 Plus lineup represented Apple's first foray into smartphones with displays larger than four inches.
The consensus was right. During Apple's first fiscal quarter of 2015 (which coincides with the fourth calendar quarter of 2014), it reported a 57% year-over-year increase in iPhone revenue. For the remainder of the fiscal year, iPhone 6 also continued to drive huge growth for the company.
iPhone 6. Image source: Apple.
The flip side of such a significant quarter for Apple, however, was the tough year-over-year comparisons it would now face in fiscal 2016, after launching its iPhone 6s and 6s Plus. After the iPhone 6s launch, investors acknowledged that Force Touch, a faster processor, and other internal upgrades -- in the absence of any changes to the phone's form factor -- weren't likely enough to drive fiscal 2016 iPhone sales high enough to help Apple trump its huge growth in fiscal 2015.
Indeed, the first full quarter of iPhone 6s sales previewed the tough year-over-year comparisons to come in the remainder of the year. When Apple reported its first-quarter results in January, it revealed that it barely posted a year-over-year gain in revenue for the quarter, reporting top-line growth of just 1.7%. Even worse, for the current quarter, management predicted the direction of its year-over-year revenue comparisons would slip into a decline. Specifically, it guided for approximately 11% year-over-year drop in revenue for Q2.
Can the SE help Apple return to growth? Addressing its expectations for declining revenue, Apple broke from its usual practice of introducing new iPhones only on an annual basis and launched its iPhone SE on March 31, or mid-cycle. As it was only available for one day during Apple's fiscal Q2, however, the new device is unlikely to help prevent the expected dip in revenue for the quarter that just ended. But what about Q3?
iPhone SE. Image source: Apple.
With the iPhone SE set to be available during the the entire third quarter, investors will look to Apple's third-quarter guidance when it reports second-quarter results later this month to see whether the new device is doing well enough in the market to help Apple return to growth.
As was the case in Apple's first and second fiscal quarters, the company is up against some very tough comparisons in Q3. In the third quarter of fiscal 2015, Apple reported quarterly revenue of $49.6 billion, representing 33% revenue growth compared to the same quarter in fiscal 2014. These results, on the back of the blockbuster iPhone 6, were driven mainly by huge year-over-year iPhone revenue growth of 59%. Even if the iPhone SE is doing well in the market, therefore, this sort of year-ago performance still won't be easily topped.
Investors will get a peek into management's expectations for Q3 when Apple reports second-quarter results on Monday, April 25, after market close. For the company to return to growth, look for Apple to guide for Q3 revenue greater than $49.6 billion.
The article Will Apple, Inc. Again Guide for a Revenue Decline? originally appeared on Fool.com.
Daniel Sparks owns shares of Apple. The Motley Fool owns shares of and recommends Apple. Try any of our Foolish newsletter services free for 30 days. We Fools may not all hold the same opinions, but we all believe that considering a diverse range of insights makes us better investors. The Motley Fool has a disclosure policy.
Copyright 1995 - 2016 The Motley Fool, LLC. All rights reserved. The Motley Fool has a disclosure policy.