Will Anyone Catch MannKind's Hail Mary?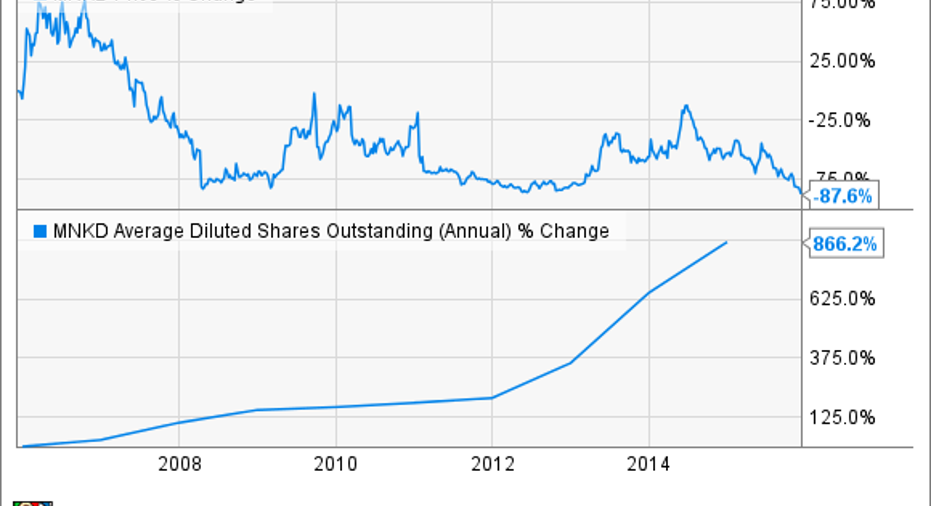 Image Source: MannKind Corp
Given the struggles that MannKind has faced since launching Afrezza, its inhaled insulindiabetes treatment, the company's management team has begun to (somewhat desperately) refocus its attention on finding new product candidates that may be able to utilize its Technosphere technology.
On MannKind's early November earnings call, Hakan Edstrom (who stepped down as CEO later that month) made it clear that the company is actively seeking a partner. He also let investors know it could be on the verge of making an announcement, stating:
If MannKind does announce a new partnership deal soon, that should help to distract investors' attention away from the trouble that it has had with Afrezza -- a drug which it partnered with French pharma giant Sanofi to bring to market.
Hunting for a[nother] partner MannKind is making a serious effort to get its new program started and recently hired a new chief medical officer to begin the initial development. Management has indicated that it is already moving ahead with the formulation work on a compound that could be used to treat pulmonary hypertension. Beyond that, the company has another dozen or so projects that may hold commercial potential, and it's actively looking for more.
Edstrom went so far as to devote time on the conference call to market the idea, saying:
But is it too little, too late?While the announcement of a deal would likely gives shares a short-term pop, it would be quite a long shot to bet that such a deal would be able to right the ship. Edstrom confirmed that all of MannKind's potential drugs are still firmly in the pre-clinical stage, stating:
Pre-clinical drug testing requires a lot of time, comes with a huge failure rate, and, even if all goes perfectly, costs a lot of money. MannKind is in short supply of both time and money right now, which means it would need to ask any potential partner to bear a significant portion of the development costs. It's likely that MannKind would also ask for an up-front payment to get any program rolling, given that its cash position is so tight right now that that it has been forced to lay off staff.
When it gets down to it, that simply might be asking for too much. After all, any potential partner would have to be willing to overlook what a loser Afrezza has been for Sanofi. Sanofi threw a lot of resources into the treatment's debut to try to make it a success, and was even willing to finance MannKind's portion of the up-front losses related to the launch. IfSanofi had it all to do over, you can bet it would structure the deal differently.
Cash is getting tightMannKind's finances continue to look bleak. Its cash position stood at $32.9 million as of September, down substantially from the $107.2 million it had on its books a year earlier. The company currently owes Sanofi more than $43 million related to losses from the Afrezza launch, and that number is bound to keep growing in the coming quarters.
Tapping the equity markets for cash isn't a great option either. U.S. investors are so unhappy with the company's performance that its management team recently chose to raise capital by listing its shares on Israeli exchanges.
After all, would you be willing to put money to work in a company with this 10-year track record?
This hail mary isn't likely to succeedGiven its spotty history, dwindling financial position and recent CEO departure, I have a hard time seeing any potential partner being willing to answer MannKind's calls for help. It could begame overfor this once promising growth story.
The article Will Anyone Catch MannKind's Hail Mary? originally appeared on Fool.com.
Brian Feroldi has no position in any stocks mentioned. The Motley Fool has no position in any of the stocks mentioned. Try any of our Foolish newsletter services free for 30 days. We Fools may not all hold the same opinions, but we all believe that considering a diverse range of insights makes us better investors. The Motley Fool has a disclosure policy.
Copyright 1995 - 2015 The Motley Fool, LLC. All rights reserved. The Motley Fool has a disclosure policy.