Will An All-Glass AMOLED iPhone Boost Apple Inc. Stock?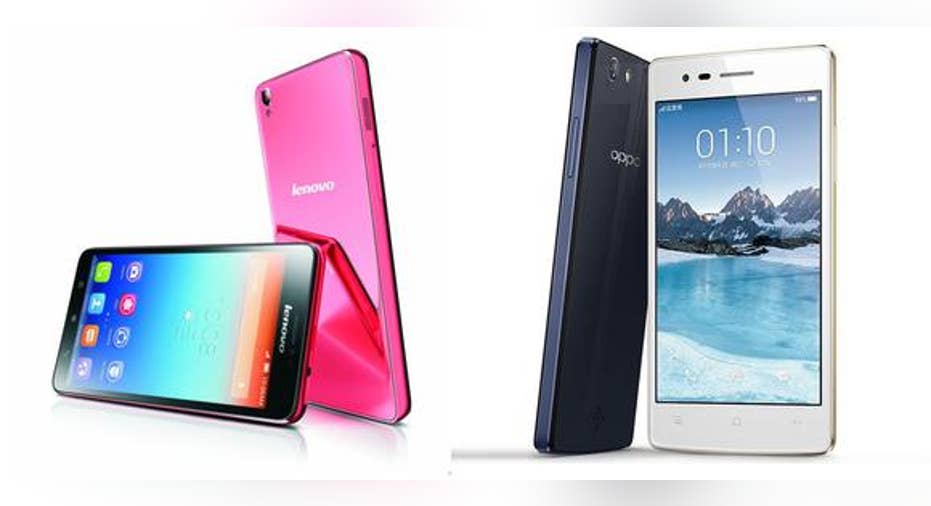 Shares of Apple have fallen 14% over the past 12 months due to concerns that sales of the iPhone, its top source of revenue, will peak this year. iPhone sales inched up just 1% annually last quarter, and Apple's guidance for a 9% to 14% sales decline for the current quarter indicated that demand was drying up.
A recent report from Trendforce claimsthat global iPhone shipments fell nearly 24% annually during the first quarter, and the firm warns that the new 4" iPhone SE will "face severe price competition from Chinese branded products" in its target mid-range market.
Image source: Apple.
As a result, Apple faces tremendous pressure to make major technological and cosmetic improvements to future iPhones. But recent leaks indicate that this year's iPhone 7 will look similar to the iPhone 6s, and that its biggest improvement could be a dual-camera setupfor better pictures.
But looking further ahead, KGI Securities analyst Ming-Chi Kuo believes that Apple will dramatically alterthe iPhone next year by replacing its aluminum chassis with an all-glass enclosure, and replace its LCD screen with an AMOLED one. Would such an eleventh-hour move revive interest in the iPhone?
Is Apple running out of ideas?If Kuo's report is accurate, Apple would be following Android device design trends. Samsung has used AMOLED displays ever since the Galaxy S1, and it added curved glass screens to the Galaxy S6 Edge last year. Xiaomi, Oppo, Lenovo, and many other OEMs have also produced phones with glass backs or all-glass exteriors. Apple also used glass backs with the iPhone 4 and 4s. Those stylish handsets were prone to crack, but Kuo believes that Apple will use tougher glass to address that issue, and that glass would be ideal for wireless charging and boosting reception.
Introducing an all-glass AMOLED iPhone might impress diehard Apple fans, but it also seems to be an admission that Android OEMs -- which were once considered "iPhone knockoff" makers -- are now moving ahead of the design curve. Apple could potentially addits patented and long-rumored "wraparound" display design to the all-glass exterior, but LG also recently wona similar patent, indicating that it might launch such a futuristic device before Apple.
All-glass phones: Lenovo's S850 (L) and Oppo's A31 (R). Image source: Company websites.
Apple is treading water...Under CEO Tim Cook, Apple treads water more often than it swims forward. Cook has tried using a scattergun strategy to boost iPad sales, adding smaller and larger screen sizes along with keyboards for productivity purposes. Yet those tactics seem unlikely to break the tablet's eight consecutive quarters of annual sales declines.
That strategy is now bleeding over to the iPhone, causing the company to launch 4-inch devices to reach untapped markets. That strategy might work if Apple lowers the price to around $100 for developing and emerging markets, but the company stubbornly set the price at $400 to $500, keeping it out of reach of those consumers.
According to analytics firm Mixpanel, only 24% of iPhone users own aniPhone 6s or 6s Plus, while 43% still use the iPhone 6 or 6 Plus. That big disparity indicates that many iPhone 6 users, unimpressed by the iPhone 6s' incremental upgrades, simply stuck with their "good enough" devices. The iPhone 7 could suffer the same fate if it doesn't offer game-changing improvements. Since most carriers no longer subsidize iPhones with two-year contracts, longtime iPhone users will likely hold onto their devices a bit longer -- which could cause iPad-like sales declines.
But can it swim forward?Apple knows that it needs to diversify away from the iPhone, which generated nearly 70% of its revenue last quarter. However, new efforts like Apple Pay, Apple Music, and the Apple Watch still account for single-digit percentages of its top line, while the rumored "Apple Car" probably won't arrive until 2019. Sales of iPads and Macs have also been sluggish due to ongoing declines in both the tablet and PC markets.
So until Apple's other businesses start generating more meaningful sales, all eyes will remain fixed on the iPhone, which is running out of ways to win over new users. I believe that the company is gradually falling behind Samsung and other OEMs in terms of hardware design, and introducing an all-glass AMOLED iPhone might not be enough to close the gap next year.
The article Will An All-Glass AMOLED iPhone Boost Apple Inc. Stock? originally appeared on Fool.com.
Leo Sun has no position in any stocks mentioned. The Motley Fool owns shares of and recommends Apple. Try any of our Foolish newsletter services free for 30 days. We Fools may not all hold the same opinions, but we all believe that considering a diverse range of insights makes us better investors. The Motley Fool has a disclosure policy.
Copyright 1995 - 2016 The Motley Fool, LLC. All rights reserved. The Motley Fool has a disclosure policy.