Will 2017 Be Philip Morris International, Inc.'s Best Year Yet?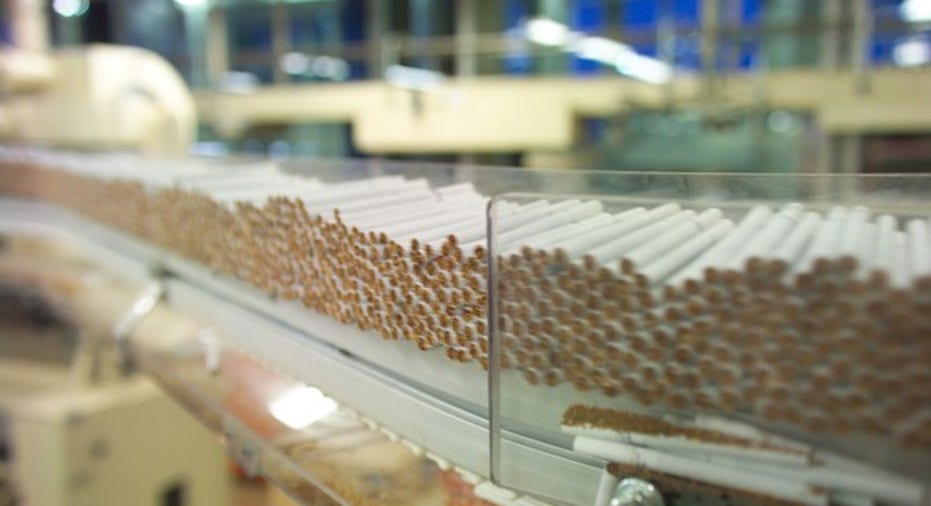 The tobacco industry is going through a transformation, and Philip Morris International (NYSE: PM) has moved aggressively to embrace it. Even though the multinational tobacco giant has faced plenty of challenges lately, it has also sought to retain and grow its share across the international tobacco market by using the power of its Marlboro brand and tapping into trends toward greater innovation beyond traditional cigarettes. Despite facing potential headwinds, there's a good chance that the coming year could bring success stories that will propel Philip Morris forward for years to come. Let's look at what it would take to make 2017 the best year ever for Philip Morris International.
Image source: Philip Morris International.
1. A favorable outcome for its FDA application
Perhaps the biggest long-term issue at stake for Philip Morris in 2017 is its recent application to the U.S. Food and Drug Administration in connection with its reduced-risk product pipeline. Philip Morris is seeking FDA approval for its heat-not-burn tobacco system, known as iQOS. Although iQOS has some things in common with e-cigarettes, Philip Morris strongly believes that the system's use of HeatSticks made from actual tobacco offers a better taste experience compared to alternative products that vaporize various liquid compounds. At the same time, Philip Morris has also pointed to evidence that the heat-not-burn process that iQOS uses creates smaller amounts of harmful chemicals, and the company believes that a reduction in health consequences will result.
It might seem strange that Philip Morris is even bothering to seek FDA approval for iQOS, since the company doesn't sell products in the U.S. market. Yet Philip Morris expects that it could receive substantial licensing revenue from iQOS sales in the U.S. if the product gains approval. Moreover, success with iQOS would give Philip Morris prestige that other tobacco manufacturers would struggle to catch up with. Regulators in other countries might be apt to follow the lead of the FDA, and customers would look favorably at the idea that the U.S. regulator had passed off on the health impacts of the iQOS system.
It would be ambitious for Philip Morris to expect a final FDA decision before 2017 ends. However, even meaningful forward progress could be a positive sign for the tobacco giant and its efforts toward building a leading franchise in the alternative cigarette market.
2. An end to foreign currency weakness
Philip Morris investors have not been happy about the way that weaker foreign currencies have hurt the company's revenue and profit. The hit in 2015 was particularly strong, but even though 2016 has gotten better, recent strengthening in the U.S. dollar over the past couple of months have restored fears that adverse impacts to Philip Morris results could return.
However, the case for further weakening in foreign currencies hinges on several assumptions. Most expect the Fed to follow through with further interest rate increases in 2017, while key central banks in Japan and Europe are more likely to maintain an accommodative stance to monetary policy. Also, most expect that any new policies from the Trump administration won't have a negative impact on perceptions of the fiscal soundness of the U.S. government. If the Fed is slow to raise rates, other central banks tighten unexpectedly, or the President-elect's programs boost budget deficits and cause investors to question U.S. fiscal policy, then currency markets could go the other way. That would be great news for Philip Morris, which could use the tailwind a weaker dollar would produce after years of suffering.
3. Some regulatory wins overseas
Finally, Philip Morris has faced a rising tide of regulation in key overseas market. Many countries have sought to impose plain-packaging laws against cigarette manufacturers, putting at risk the billions that Philip Morris and its peers have spent on marketing campaigns to promote their products. At the same time, other countries are looking at smoking bans and other limitations on members of the public to use tobacco products. The industry has fought back against such proposals, but its recent track record hasn't been all that favorable.
So far, Philip Morris' attempts to seek new ways to respond to such measures haven't produced positive results. Last year's loss against the Uruguayan government in the World Bank International Center for Settlement of Investment Disputes was a disappointing end to an interesting attempt to use international trade agreements to prevent regulation. However, future victories are possible, and in the long run, Philip Morris and its tobacco peers have found ways in the past to overcome long odds.
Philip Morris International will face some major challenges in the coming year. But if these three things go in the company's favor, then 2017 could go down as the best year ever for Philip Morris.
10 stocks we like better than Philip Morris International When investing geniuses David and Tom Gardner have a stock tip, it can pay to listen. After all, the newsletter they have run for over a decade, Motley Fool Stock Advisor, has tripled the market.*
David and Tom just revealed what they believe are the 10 best stocks for investors to buy right now... and Philip Morris International wasn't one of them! That's right -- they think these 10 stocks are even better buys.
Click here to learn about these picks!
*Stock Advisor returns as of January 4, 2017
Dan Caplinger has no position in any stocks mentioned. The Motley Fool has no position in any of the stocks mentioned. The Motley Fool has a disclosure policy.