Will 2017 Be NVIDIA Corporation's Best Year Yet?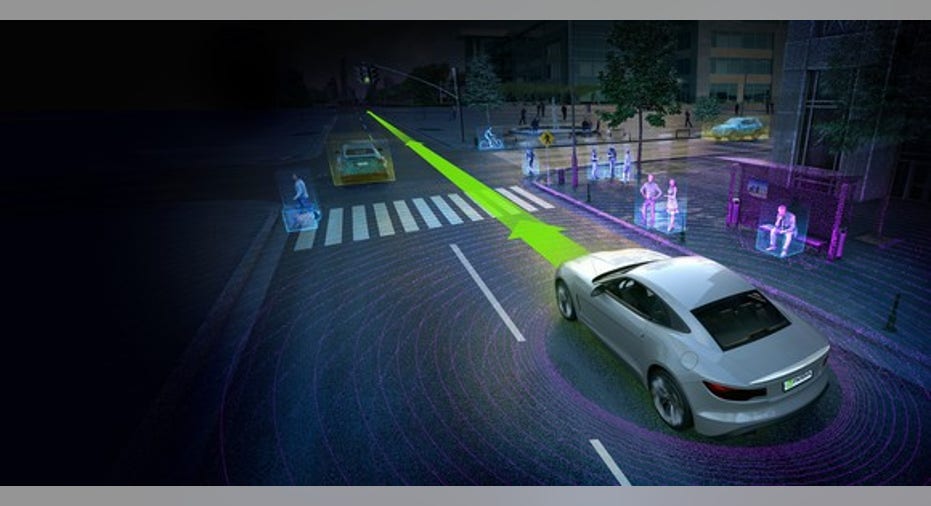 Image source: NVIDIA.
Will 2017 be NVIDIA's (NASDAQ: NVDA) best year yet? In a word, yes.
As indicated by the epic rally in its stock last year, the graphics-processing chip specialist lies at the heart of several big-ticket growth markets that should transform the future of tech over the next decade. This growth will continue to manifest itself in strong revenue growth in the year ahead, but its expensive valuation is something of a cause for concern as well.
What to expect from NVIDIA in 2017
For those who aren't familiar with it, NVIDIA's history begins with its creation of the graphics processing unit, or GPU for short, in the late 1990s, which helped incite the rise of the PC gaming market. For much of its early corporate history, NVIDIA's products catered to niche markets like specialty gaming and supercomputing. Its foray into smartphone and tablet microprocessors proved largely unsuccessful in the early part of this decade as providers like Qualcomm and Samsung came to dominate the market.
It wasn't until recent years, when new high potential applications for NVIDIA's chips emerged, helping ignite its current wave of mass market growth. Today, NVIDIA's GPUs are powering tech trends de jour such as self-driving cars and artificial intelligence to great success. Here's how Wall Street estimates NVIDIA's sales will grow this year and next year.
| | Last Year | Current Year (Estimated) | Next Year (Estimated) |
| --- | --- | --- | --- |
| NVIDIA Revenue Growth | $5.0 billion | $6.8 billion | $7.9 billion |
| % Change | - | 36% | 16% |
Data source: Yahoo! Finance.
As you can see, NVIDIA is expected to set fresh all-time sales records this year and next. So, if you define "best year" as highest grossing, then barring some unexpected catastrophe, 2017 will certainly be NVIDIA's best year yet. It also deserves noting that NVIDIA's technological edge in many of these growth markets has given it impressive pricing power as well.
In the last year alone, NVIDIA's gross margin increased by 200 basis points to 58.7%. Thanks to the operating leverage in its business model, this top-line margin expansion drove even larger gains in the company's operating margin, which increased by 850 basis points to 29.8%. This is doubly good news for investors interested in buying NVIDIA shares. However, though NVIDIA seems certain to shatter its previous earnings records this year, investors also need to weigh whether to invest in NVIDIA through the lens of its expensive stock price.
Image source: NVIDIA.
NVIDIA's stock is expensive today
The problem with enjoying so much success -- in as much as it is indeed an actual problem -- is that investors have taken notice, bidding up NVIDIA's stock to a valuation that is rather aggressive. Here's a quick snapshot into a few of NVIDIA's most pertinent valuation metrics.
| Company | P/E | Forward P/E | EV/EBITDA |
| --- | --- | --- | --- |
| NVIDIA | 67.8 | 37.6 | 30.2 |
Data source: Yahoo! Finance.
At a time when the stock market as a whole is trading at 26 times earnings, well above its own historic averages, there's just no way to get around the fact that NVIDIA's shares have a lot of its future growth already priced in. Importantly, that isn't the same thing as saying NVIDIA shares aren't a buy today. Rather, the more nuanced take is that NVIDIA shares seem to have a few years of strong growth already baked into them. This means investors will need to have a long-term investing horizon, say of at least five years, to feel confident that they can allow NVIDIA to grow into and beyond its current valuation. As long as you are confident NVIDIA can indeed achieve such above average growth for many years, you can still succeed in investing in the company at its current elevated valuation. Patience on your part and consistent execution on NVIDIA's part will be the keys to success should you pursue that strategy.
This is the frustration with buying many of the world's most compelling long-term growth stocks: They are rarely a bargain in the present. So, while 2017 is a virtual lock to be NVIDIA's best year on record, the decision to actually buy its shares today is a somewhat more individualized matter.
10 stocks we like better than Nvidia When investing geniuses David and Tom Gardner have a stock tip, it can pay to listen. After all, the newsletter they have run for over a decade, Motley Fool Stock Advisor, has tripled the market.*
David and Tom just revealed what they believe are the 10 best stocks for investors to buy right now...and Nvidia wasn't one of them! That's right -- they think these 10 stocks are even better buys.
Click here to learn about these picks!
*Stock Advisor returns as of January 4, 2017.
Andrew Tonner has no position in any stocks mentioned. The Motley Fool owns shares of and recommends Nvidia and Qualcomm. The Motley Fool has a disclosure policy.