Will 2016 Be Verizon Communications Inc.'s Best Year Yet?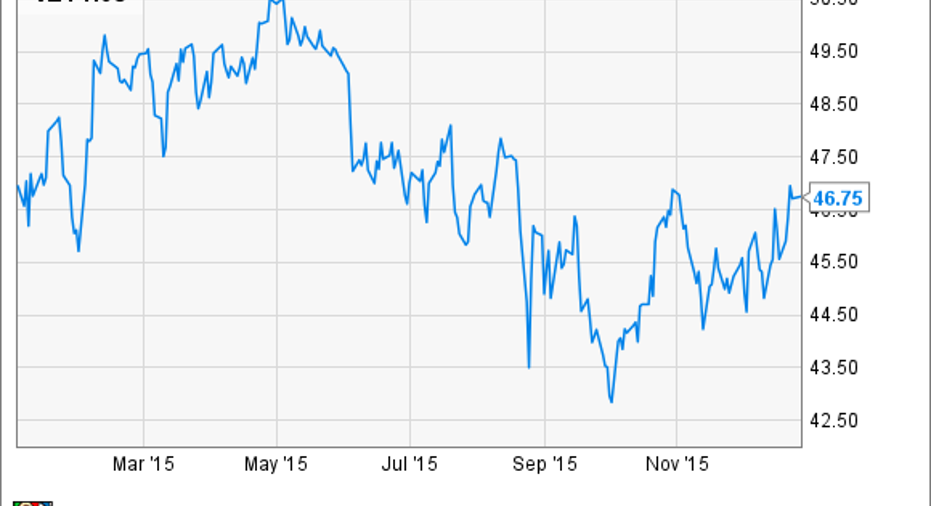 Despite facing heavy lower-priced competition in its wireless business, and dealing with the looming threat of cord-cutting in its pay-television segment,Verizon had a surprisingly good year. While it has only reported on the first three quarters of 2015, the numbers to date were strong across the board.
Through nine months, Verizon reported that consolidated revenue grew by 3.3%, after adjusting for the purchase of AOL in the third quarter, and the sale of the company's public-sector business in 2014. The company expects to have full-year revenue growth of at least 3%.
That growth was fueled by all three of the company's major business segments: wireless, pay television, and Internet service. Its retail wireless connections grew by 4.3% year over year as of the end of the third quarter. Verizon also grew its FIOS Internet and pay-television business year over year by 7.2% and 5%, respectively.
Those are solid numbers given the business climate that all three sectors operate in. The wireless and pay-TV results are particularly encouraging, while the broadband numbers were mildly disappointing -- only because that market grew dramatically, and most of its competitors posted more growth in 2015, according to data from Leichtman Research Group.
Source: YCharts.com.
How does 2016 look for wireless?Despite a solid 2015, Verizon's stock looked like it was going to end the year roughly where it began. That might be because, while it weathered the storm in wireless and pay television so far, there are reasons to believe that may not continue going forward.
In wireless, the company showed surprising resilience against relentless marketing campaigns waged byT-Mobile andSprint. Both of these carriers used low prices as the hook, and both offered aggressive deals on the latest iPhone.
Verizon countered by not cutting prices, and instead, pushing the quality of its network. It used the slogan "Better matters" in ads, and even ran commercials citing its ongoing lead in the twice-annual RootMetrics Mobile Network Performance in the United States report.
This strategy worked in 2015, but it might start to falter in the coming year. While it's true that Verizon came in first, that doesn't tell the whole story. Overall, the difference between first and last in the RootMetrics study has gotten significantly smaller. In addition, both Sprint and T-Mobile, though they came in at the bottom, outscored where Verizon rated just 12 months ago.
Verizon has the best network, but that may not be a major differentiator going forward.
What about pay TV?In pay television, the company held up shockingly well, adding customers when the overall industry shed more than 650,000 subscribers through the first three quarters, according to LRG. During the first nine months of 2015, FIOS actually gained 57,000 paying customers in Q1, 26,000 in Q2, and another 42,000 in Q3, the research firm reported. This was likely due partly to the company offering skinny bundles and cheaper prices in some cases, but it's a record that the company will struggle to equal in 2016.
Cord-cutting has merely been a trickle so far, but it could pick up speed in 2016 due to the growing acceptance of using lower-cost streaming services in place of a pricey cable bundle. Verizon may manage to continue to hold its own, or even eke out growth, but it's hard to believe it will have any major growth in pay television.
A good year is possibleIt seems like Verizon has figured out how to roll with the punches, and thrive despite difficult operating conditions. It's impressive that T-Mobile, and to a lesser extent Sprint, did not make a bigger impact in 2015 given their low-priced plans and aggressive marketing. The same could be said in pay TV, where the company deserves credit for moving the needle up when nearly every other major user lost customers.
It's possible that the company will continue to hold its own in the new year in wireless and pay TV. It's also possible that the company's capital expenditures to improve its Internet offering accelerates growth in that area; but overall, it seems unlikely the company will have a record 2016. The industries in which it operates are simply too volatile and competitive for Verizon to have its best year ever in 2016.
The article Will 2016 Be Verizon Communications Inc.'s Best Year Yet? originally appeared on Fool.com.
Daniel Kline has no position in any stocks mentioned. He misses the holiday latte flavors. The Motley Fool recommends Verizon Communications. Try any of our Foolish newsletter services free for 30 days. We Fools may not all hold the same opinions, but we all believe that considering a diverse range of insights makes us better investors. The Motley Fool has a disclosure policy.
Copyright 1995 - 2016 The Motley Fool, LLC. All rights reserved. The Motley Fool has a disclosure policy.