Will 2016 Be ONEOK, Inc.'s Best Year Yet?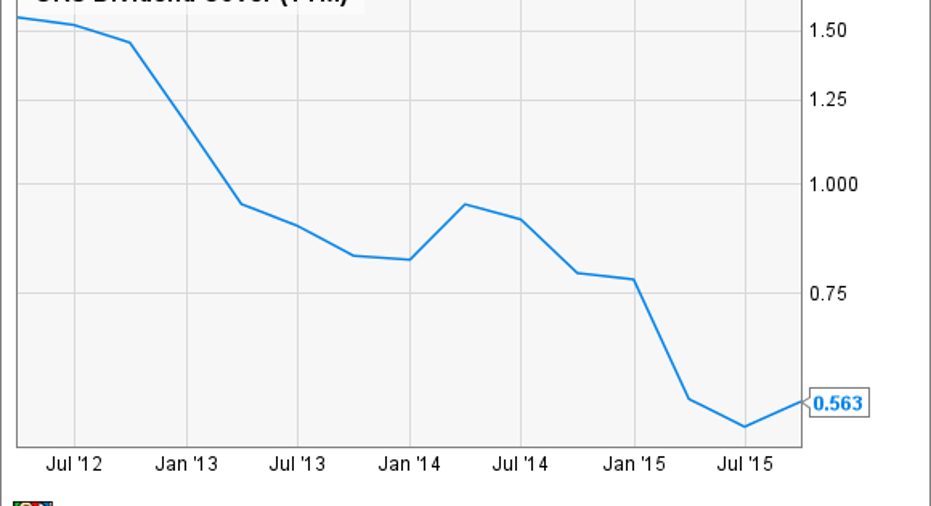 Source: ONEOK presentation
ONEOKand its fellow midstream operators are often considered the "safe" investments of the oil & gas industry. After all, moving, storing, and gathering oil and gas for a fixed fee is supposed to be protected from the market prices that have been killing the companies drilling for and then selling the stuff.
However, ONEOK's exposure to natural gas liquids prices, tied to its gathering business at master limited partnership ONEOK Partners LP has put a squeeze on cash flows over the past year or so. Factor in a market that's fearful of all things energy, and ONEOK and ONEOK Partners' shares have taken a beating over the past year:
The good news? Management made a lot of progress in improving the company and its partnership's gathering agreements in 2015, vastly reducing its exposure to low prices, and securing more dependable cash flows going forward.
With demand for natural gas expected to remain strong, ONEOK certainly could have its best year ever in 2016. Here's why.
Why ONEOK is lower risk than ONEOK PartnersONEOK's business is 100% tied to owning and operating ONEOK Partners. This is important to understand for two reasons.
First, ONEOK makes all of its income from its incentive rights as the general partner of ONEOK Partners, and dividends it gets from common units of ONEOK Partners it holds. Second, even though ONEOK depends on ONEOK Partners for 100% of its income, its risk profile is actually slightly lower than that of ONEOK Partners.
This is because ONEOK Partners pays out a very high level of its distributable cash flows -- actually more than it has generated in the past several quarters -- to its investors, and has a more narrow margin of safety. As a matter of fact, before a major investment into the MLP in late 2015 by ONEOK, ONEOK Partners would not have generated enough cash from its operations in 2015 to cover operating costs, capital expenditures, and maintain its dividend payout.
ONEOK, on the other hand, doesn't pay out as high a percentage of its earnings as dividends, giving the company not just a larger margin of safety than its MLP, but also allowing it to do things to help support ONEOK Partners, as it did last year.
Biggest risks have been addressedOver the past year, management has made enormous progress in de-risking ONEOK Partners' gathering business. The extreme decline in oil and gas prices has been accompanied by a steep drop in prices for natural gas liquids such as isobutane and propane, and ONEOK Partners has a relatively substantial gathering operation, with a significant contract base which was tied to market prices. And while this creates upside when demand is strong and prices rise, the absolute glut of NGL inventories has had the opposite effect.
And this is the biggest reason why ONEOK Partners' distribution coverage ratio has fallen sharply the past couple of years:
OKS Dividend Cover (TTM) data by YCharts
Anything below "1" is only sustainable for a short period of time, so this is a real problem. The good news? Guidance for 2016 indicates that management thinks the worst is in the past, expecting to achieve a coverage ratio at or above 1 for the full year at ONEOK Partners, and a coverage ratio above 1.3 for ONEOK.
Additionally, the company further addressed short-term concerns with liquidity, entering into a $1 billion three-year credit facility recently. The bulk of this will be used to repay $660 million in debt expiring in 2016, with the rest giving the company a substantial margin of safety while energy markets remain in flux. According to the release, management says that this credit facility will keep the company from having to issue shares or further debt, "well into 2017."
Best year yet? Good chance that's the caseONEOK enters 2016 with a lot of good momentum. Not only has it addressed much of its contractual exposure to commodity prices and built up its "toll booth" business, but it has also addressed its debt and capital needs for more than the next year, while also building up a safety net that will assure its dividend.
Furthermore, ONEOK's business is tied to natural gas, not oil, and demand for natural gas is only growing form here. Not only is it supplanting coal as a key fuel for power generation, but there is some momentum as a transportation fuel as well. Lastly, the first of several U.S. export facilities are just now going online. By year-end, LNG export alone could be worth more than 5% of total domestic production.
Put it all together, and after a pretty rough 2015 (at least for investors), 2016 is shaping up to be a decent year for ONEOK.
The article Will 2016 Be ONEOK, Inc.'s Best Year Yet? originally appeared on Fool.com.
Jason Hall owns shares of Oneok. The Motley Fool owns shares of and recommends Oneok. The Motley Fool recommends Oneok Partners. Try any of our Foolish newsletter services free for 30 days. We Fools may not all hold the same opinions, but we all believe that considering a diverse range of insights makes us better investors. The Motley Fool has a disclosure policy.
Copyright 1995 - 2016 The Motley Fool, LLC. All rights reserved. The Motley Fool has a disclosure policy.