Wildlife group: Exotic pets trade activity rises on Facebook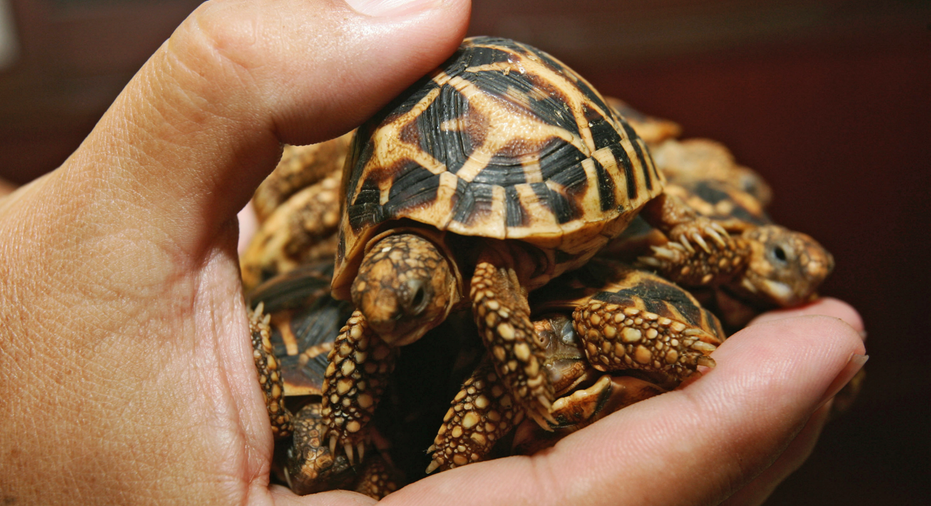 A wildlife monitoring group says research it has conducted since 2016 has found a sharp increase in the number of people belonging to Facebook groups in Thailand where endangered animals are bought and sold.
The monitoring network TRAFFIC said its researchers found 1,521 animals for sale online in 12 Facebook groups in Thailand in less than a month of monitoring in 2016. Follow-up research on the same 12 groups showed that at least nine were still active in July this year, with one becoming secret, and their overall membership had increased to 203,445 from 106,111.
Maethinee Phassaraudomsak, data and research officer for TRAFFIC in Thailand, said in an email Monday that the monitoring "shows how easy it is to carry out this business and market wildlife publicly while staying anonymous and out of reach of authorities."
A new report by the group shows screenshots of exotic animals advertised for sale on Facebook. In one example, an unidentified user posted a picture of a rare hornbill bird with a caption saying "a baby rhinoceros hornbill is available for purchase. Interested buyers, please contact by Facebook private message." The bird's price was listed as 9,500 baht ($289). The report said rarer and protected species command higher prices.
The report said the vast majority of animals offered in the online wildlife trade were juveniles, prized for pets.
The illegal wildlife trade is not new to Thailand, where wildlife seizures are often announced by authorities. In 2013, Thailand was considered to have the largest unregulated elephant ivory market in the world but it has since instituted new laws to deal with the problem.
TRAFFIC said its research found 200 different species offered for sale online and 95 of those, mostly reptiles, were not protected by Thai law because they are not native to the country.
It said animals such as the black pond turtle that are not native to Thailand and therefore not protected by Thai law frequently turn up in wildlife seizures in the country and region.
"Growing online wildlife trade will only pile further pressure on threatened non-native species that currently have no legal protection or regulation," Kanitha Krishnasamy, TRAFFIC's acting regional director in Southeast Asia, said in a statement.
"Giving such species protection under Thailand's law and enabling enforcers to take action is the strongest way to address this critical conservation problem," Kanitha said.
The TRAFFIC report recommended that "Thai authorities should establish a close working relationship with Facebook and develop joint strategies to tackle this problem."
Facebook said in an emailed response to an AP request for comment that "Facebook does not allow the sale or trade of endangered species or their parts, and we remove this material as soon as we are aware of it. We are committed to working with TRAFFIC and law enforcement authorities to help tackle the illegal online trade of wildlife in Thailand."