Why Zumiez, Inc. Shares Dipped 14% in November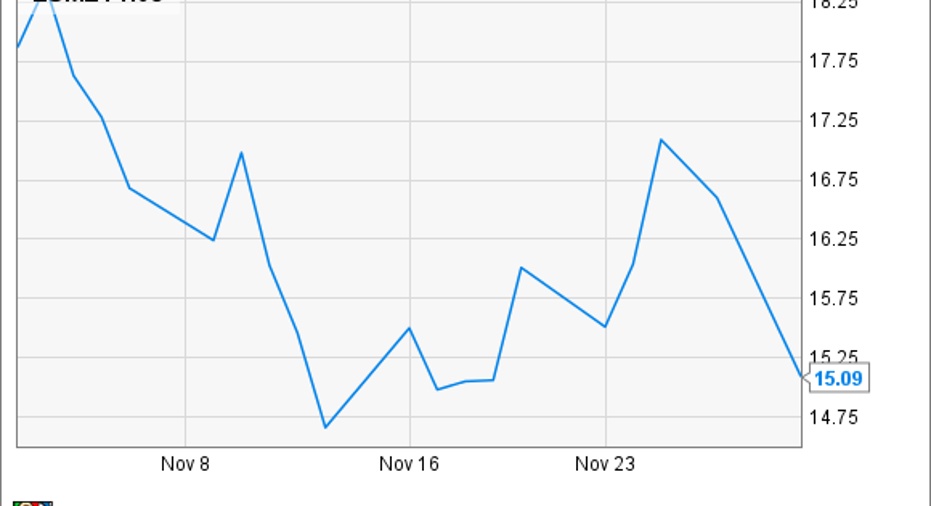 What:Shares of apparel retailerZumiez continued their downward slide last month, falling 14%, according to data from S&P Capital IQ. Negative momentum and a weak October same-store sales report weighed on the stock in the first half of November, as the chart below shows.
So what:Shares began to slide after the company reported a decline in October same-store sales of 8.1% and an overall revenue drop of 5.4% on November 4, which was the company's seventh straight month of negative same-store sales. That prompted an 8% drop in the share price over the next three sessions. The retailer has been troubled over the year -- the company may be a victim of its own overexpansion, as well the general malaise in the apparel sector. Recent problems have included a poor response to its merchandise selection, prompting rampant discounting, which has led to same-store sales plummeting.
Following the downbeat same-store sales report, the stock bounced up and down through the second half of the month, but finished near its monthly low in anticipation of the company's third-quarter earnings report.
Now what:Zumiez shares began to bounce back following that earnings release on December 4 -- the stock moved up 5% in that session, though it had been down sharply earlier that day. The retailer's per-share profit of $0.36 beat estimates of $0.29, while revenue was slightly ahead of pace as well. Comparable sales for the quarter were down 7.3%, and the company's guidance for the key holiday quarter was lower than expected as management sees a profit of just $0.40-$0.46 per share compared to expectations of $0.63.
CEO Rick Brooks said the company "moved quickly to reduce expenses to protect profitability in the face of challenging sales," and said the fourth quarter was off to a "slow start." Based on the stock's post-earnings surge, the market seems to think Zumiez is starting to turn a corner, but I wouldn't jump in until comps start to turn positive.
The article Why Zumiez, Inc. Shares Dipped 14% in November originally appeared on Fool.com.
Jeremy Bowman has no position in any stocks mentioned. The Motley Fool has no position in any of the stocks mentioned. Try any of our Foolish newsletter services free for 30 days. We Fools may not all hold the same opinions, but we all believe that considering a diverse range of insights makes us better investors. The Motley Fool has a disclosure policy.
Copyright 1995 - 2015 The Motley Fool, LLC. All rights reserved. The Motley Fool has a disclosure policy.