Why Zeltiq Aesthetics Inc. Is Soaring Today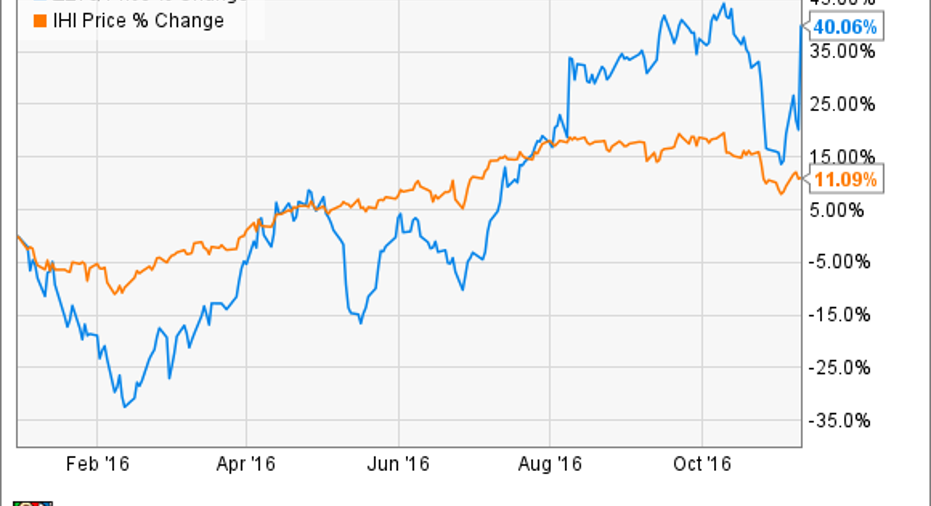 Image source: ZeltiqAesthetics.
What happened
An upbeat third-quarter earnings report caused sharesofZeltiq Aesthetics(NASDAQ: ZLTQ), a medical device company focused on non-invasive fat reduction procedures, to rise by 17% as of 10:58 a.m. EST on Thursday.
So what
It was an almost-perfect report all around. Here's a look at the highlights:
Total revenue grew by 55% to $95.2 million. System revenue jumped by 45% to $42.7 million, while revenue from consumables grew by an even faster 65%, coming in at $52.5 million. That topped Wall Street expectation of $90.5 million in total revenue.
International sales jumped by 43% to $20.9 million.
Systems shipped came in at 403 for the quarter, growing the installed base to 5,657 systems.
Treatment cycles grew to 386,854 during the quarter, up 56% year over year.
Net income for $5.2 million, or$0.12per diluted share. That was more than double the $2.1 million, or$0.05per diluted share, that was produced in the year-ago quarter. It was also far ahead of the $0.08 that market watchers had expected.
The company's cash balance at quarter-end was$65.0 million, up more than $13 million from the end of June.
If that wasn't good enough, managementissued an upbeat forecast:
The full-year revenue guidance range was increased to $350 millionto$352 million, which is up from its prior outlook of $340 millionto$350 million.
Gross margin is expected to be70% for the full year, 2% better than its prior guidance.
Net margin is expected to be (1)% of revenue, which is better than its old call for (3)% to (2)%.
Given the solid quarterly results and upbeat guidance, it is no wonder that shares are jumping today.
Now what
Zeltiq's stock has been on a huge tear in 2016. It's up more than 40% year to date, which blows past the returns medical devices stocks in general, as measured by the iShares US MedicalDevices ETF (NYSEMKT: IHI).
That huge outperformance makes sense when you consider that the company has grown its top line so rapidly. Better still, Zeltiq has succeeded with its efforts to convert that huge growth into profits.
I must admit that I've been skeptical of Zeltiq for some time. Like many others, I've been worried that CoolSculpting might just be a fad. However, results continue to prove that thesis wrong. If consumers keep warming up to the concept of freezing away stubborn fat cells, then I must admit that this company's future is looking bright.
10 stocks we like better than Zeltiq Aesthetics When investing geniuses David and Tom Gardner have a stock tip, it can pay to listen. After all, the newsletter they have run for over a decade, Motley Fool Stock Advisor, has tripled the market.*
David and Tom just revealed what they believe are the ten best stocks for investors to buy right now... and Zeltiq Aesthetics wasn't one of them! That's right -- they think these 10 stocks are even better buys.
Click here to learn about these picks!
*Stock Advisor returns as of November 7, 2016
Brian Feroldihas no position in any stocks mentioned.Like this article? Follow him onTwitter where he goes by the handle@Longtermmindsetorconnectwith him onLinkedInto see more articles like this.
The Motley Fool recommends Zeltiq Aesthetics. Try any of our Foolish newsletter services free for 30 days. We Fools may not all hold the same opinions, but we all believe that considering a diverse range of insights makes us better investors. The Motley Fool has a disclosure policy.