Why Western Digital Corp. Fell 13.5% in April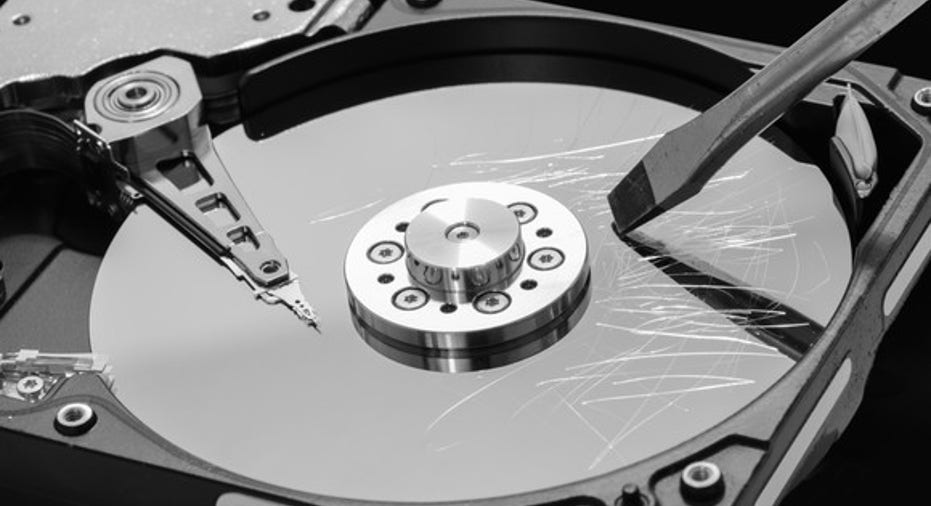 What: Shares of Western Digital fell 13.5% in April 2016, according to data from S&P Global Market Intelligence. The hard-drive giant mirrored the chart moves produced by Seagate Technology , but with a much lower amplitude. By the end of the month, Seagate's plunge had stretched all the way to 36.8%.
So what: When Seagate lowered its quarterly sales and margin guidance, Western Digital took a sympathy plunge to the tune of 7%. That was nowhere near Seagate's 22% pain, partly because the news wasn't Western Digital's own, and partly because the company had some good news of its own that could soften the blow. That day, Western Digital also closed the books on $5.2 billion of debt notes, bringing the company one step closer to consummating its merger with SanDisk .
The SanDisk deal is a crucial move that could keep Western Digital relevant for years beyond the death of hard drives based on magnetic platters. Seagate has no equivalent play on the solid-state drive market, where data is stored on flash-based memory chips. Hence, news items that take Western Digital closer to that merger can cancel out negativity from the traditional hard-drive segment.
When both companies reported earnings on April 28, Seagate fell far short of Wall Street's estimates while Western Digital came much closer. On top of that, SanDisk also reported results the same night -- and beat expectations. So Seagate fell another 19% the next day, but Western Digital's drop was a more subdued 11%. Still painful, but it could have been worse.
Now what: Seagate is swimming in dire straits these days, while Western Digital appears to have a viable long-term plan. Closing that SanDisk deal is absolutely essential, but the final roadblock fell on May 10. After final approval from Chinese regulators, the deal is now expected to close on May 12.
As the merger unfurled, Western Digital shares have fallen more than 60% over the last 52 weeks. Buy today, and you'll lock in a solid 5.2% dividend yield. And Western Digital can back its payouts with just 56% of its trailing earnings or 31% of free cash flows. Seagate's dividend payments don't come with that kind of cash-based guarantee.
If I had to pick a hard drive play at this point, Western Digital looks like the healthier choice -- and the race isn't even close.
The article Why Western Digital Corp. Fell 13.5% in April originally appeared on Fool.com.
Anders Bylund has no position in any stocks mentioned. The Motley Fool owns shares of Western Digital. Try any of our Foolish newsletter services free for 30 days. We Fools may not all hold the same opinions, but we all believe that considering a diverse range of insights makes us better investors. The Motley Fool has a disclosure policy.
Copyright 1995 - 2016 The Motley Fool, LLC. All rights reserved. The Motley Fool has a disclosure policy.