Why Wayfair Inc. Stock Dropped 26.4% in 2016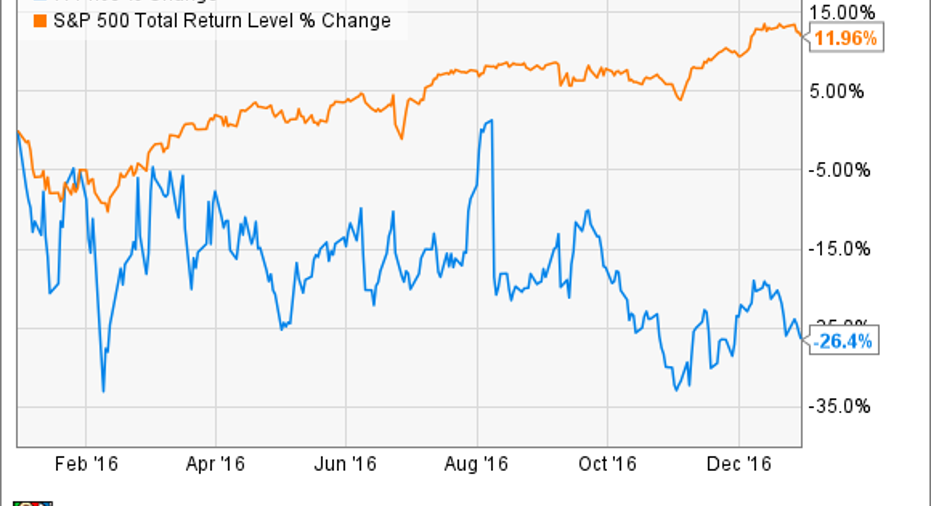 IMAGE SOURCE: WAYFAIR INC.
What happened
Shares ofWayfair Inc.(NYSE: W)declined 26.4% in 2016 according to data provided byS&P Global Market Intelligence, despite consistently strong quarterly results from the online-furnishings and home-decor specialist.
So what
You won't find Wayfair expressing disappointment in its own business performance over the past year. In these early stages of its long-term story, Wayfair purposefully forsakes bottom-line profitability in favor of investing heavily to achieve top-line growth and take market share. Therefore -- and even if the company succeeds to that end -- Wayfair stock tends to be quite volatile as investors continually assess its progress relative to the fickle quarterly expectations of the market.
For example, Wayfair shares spiked 20% over the course of just two weeks to set a fresh 52-week high in early August, ahead of the company's second-quarter report. But shares promptly plunged 19% the day after Wayfair announced its second-quarter revenue skyrocketed 60% year over year, to $786.9 million -- roughly $4.5 million above expectations -- but translated to a net loss of $0.43 per share (around $0.02 per share below expectations).
"As we continue to deliver a truly differentiated retail experience from start to finish," added Wayfair CEO Niraj Shah, "we are seeing tremendous growth and momentum across the business."
After holding steady in the following month, and even attempting to rebound in September as investors digested that report, Wayfair stock drifted lower along with the broader market -- to its lowest levels of the year, in fact -- ahead of its third-quarter 2016 report in early November.
Now what
That said, despite Wayfair'sperplexing initial dropfollowing those third-quarter results, shares have since rebounded nearly 20% as of this writing, and for good reasons.
For one, third-quarter revenue grew 45% year over year, to $861.5 million, driven by a more than 60% increase in direct retail customers (to 7.4 million), and a roughly 4% increase in average order value, to $244. On the bottom line, that translated to an adjusted loss of $0.54 per share, widening from a loss of $0.13 per share in the same year-ago period. And both figures were well above analysts' consensus estimates, which predicted third-quarter revenue of $849 million and an adjusted loss of $0.49 per share.
What's more, Wayfair confirmed in late November that it enjoyed its strongest ever performance over the crucial peak holiday shopping period, with direct retail gross sales climbing 52% year over year over the five days from Thanksgiving through Cyber Monday.
Unless Wayfair offers another encouraging press release in the meantime, investors will need to wait until next month's formal report for more clarity on Wayfair's full holiday-quarter performance. But as it stands, and as the company continues to outgrow its industry and take market share, it appears Wayfair is exactly where it wants to be.
10 stocks we like better than Wayfair When investing geniuses David and Tom Gardner have a stock tip, it can pay to listen. After all, the newsletter they have run for over a decade, Motley Fool Stock Advisor, has tripled the market.*
David and Tom just revealed what they believe are the 10 best stocks for investors to buy right now... and Wayfair wasn't one of them! That's right -- they think these 10 stocks are even better buys.
Click here to learn about these picks!
*Stock Advisor returns as of January 4, 2017
Steve Symington has no position in any stocks mentioned. The Motley Fool owns shares of and recommends Wayfair. The Motley Fool has a disclosure policy.