Why Warren Buffett Keeps Buying This Bank Stock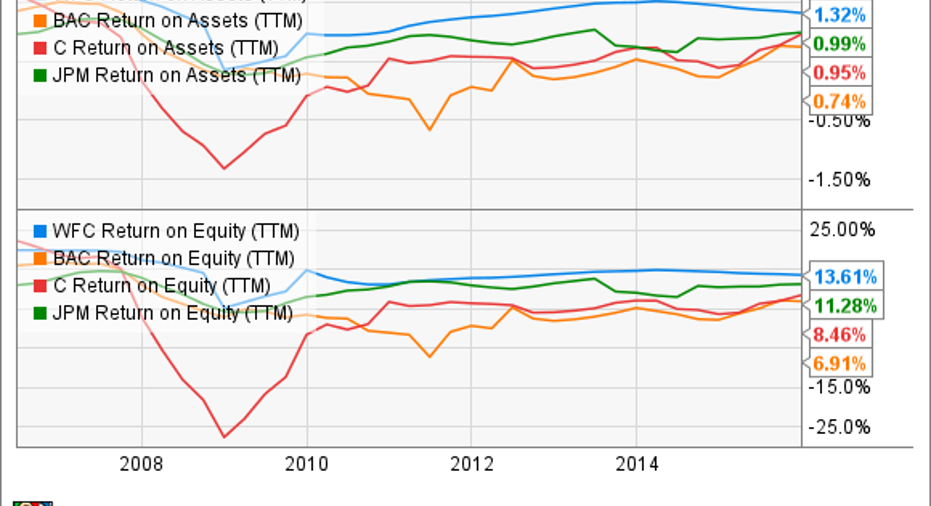 Warren Buffett's largest stock investment got a little larger recently. In a regulatory filing, Berkshire Hathaway revealed that its stake in Wells Fargo has grown by 24.6 million shares, and now represents a 10% stake of the bank's outstanding common stock. While this is indeed a significant purchase, it shouldn't come as much of a surprise to investors. After all, Warren Buffett has been a fan of Wells Fargo for some time now.
Just the latestThe most recent buy is significant because a 10% stake in a bank can attract scrutiny from regulators. This is well short of the 25% ownership level the Federal Reserve views as a "controlling interest," but since the financial crisis, the Fed caps ownership at 10% unless the shareholder agrees not to exert a controlling influence.
Buffett did make such a statement, saying that the shares "were not acquired and are not held for the purpose of or with the effect of changing or influencing control of the issuer of the securities." In other words, Buffett wanted to invest more in Wells Fargo -- he didn't buy more shares for the specific purpose of getting over the 10% threshold to influence the company. And, to be perfectly clear, some of the increased ownership stake is due to Berkshire buying shares, while a significant amount is due to Wells Fargo repurchasing its own stock rather aggressively.
This is just the latest in a long list of Berkshire acquisitions of Wells Fargo stock. The original stake of 5 million shares was purchased in 1990 during a "chaotic market for bank stocks," as Buffett said in his letter to shareholders that year. Coincidentally, that $290 million investment represented 10% of Wells Fargo, a much smaller bank at that time.
Over the next 25 years, Berkshire added significantly to its investment, with a particularly high investment rate during the 2004-2012 period.
| Year | Number of WFC Shares (millions) | Total Cost Basis (millions) |
| --- | --- | --- |
| 2004 | 112.8 | $463 |
| 2005 | 190.2 | $2,754 |
| 2006 | 218.2 | $3,697 |
| 2007 | 303.4 | $6,677 |
| 2008 | 304.4 | $6,702 |
| 2009 | 334.2 | $7,394 |
| 2010 | 358.9 | $8,015 |
| 2011 | 400.0 | $9,086 |
| 2012 | 456.2 | $10,906 |
Data source: www.wiley.com (Note: Wells Fargo split 2-for-1 in August 2006. 2004 and 2005 figures are split-adjusted.)
So, it's fair to say that Buffett has been a fan of Wells Fargo no matter what was going on in the overall market or banking industry.
Why Buffett loves Wells Fargo so muchOriginally, Buffett bought Wells Fargo because of its prudent risk management in an industry that had far too little of it, and because of the hectic banking environment, bank stocks were trading for ridiculously low valuations.
So, Buffett did one of his favorite things to do -- he bought the best-in-breed company for a rock-bottom price. At the time of Berkshire's original investment, Wells Fargo was trading for just 5 times after-tax earnings, and was earning a return on equity of more than 20% (10% is considered to be good profitability).
Wells Fargo's risk management is a big reason the bank has been so successful over the past few decades. While many other big banks were struggling to survive, Wells Fargo was able to acquire a weaker peer (Wachovia) at a fire-sale price and come out of the crisis even stronger than it went in.
Wells Fargo's good management has been the main reason the bank has been able to consistently run a more efficient operation and have fewer non-performing assets than peers. This has led to the best profitability among the big four banks -- just look at the past 10 years' ROE and ROA data. Notice how Wells Fargo (the blue line) is consistently on top.
Data source: YCharts.
The same logic can be applied to any bank stockWells Fargo is an excellent bank, and the same reasons Buffett likes it can be applied to your search for other bank stocks to invest in.. Look for banks that pride themselves on solid risk management, returning capital to shareholders, and have a history of efficient, profitable operations. Or, simply follow Buffett's lead and invest in Wells Fargo or one of the other rock-solid bank stocks in Berkshire's portfolio.
The article Why Warren Buffett Keeps Buying This Bank Stock originally appeared on Fool.com.
Matthew Frankel owns shares of Berkshire Hathaway. The Motley Fool owns shares of and recommends Berkshire Hathaway and Wells Fargo. The Motley Fool has the following options: short May 2016 $52 puts on Wells Fargo. Try any of our Foolish newsletter services free for 30 days. We Fools may not all hold the same opinions, but we all believe that considering a diverse range of insights makes us better investors. The Motley Fool has a disclosure policy.
Copyright 1995 - 2016 The Motley Fool, LLC. All rights reserved. The Motley Fool has a disclosure policy.