Why Vertex Pharmaceuticals, FMC, and Fidelity National Information Services Jumped Today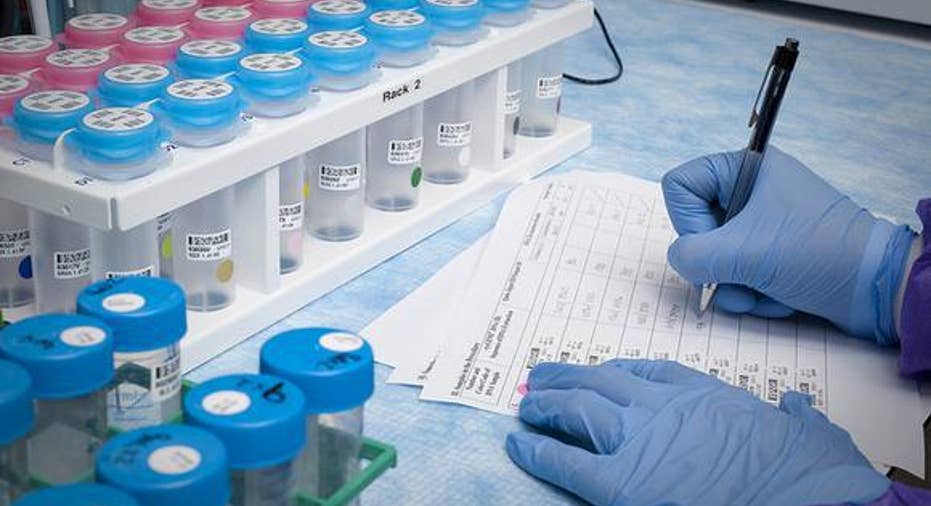 Source: NIH Image Gallery via Flickr.
The stock market lost ground on Tuesday, reversing Monday's gains as investors seemed to turn their attention to continued pressure on the global economy. Some market commentators looked at the U.S. dollar, which has been giving up ground to major currencies like the euro and Japanese yen. With the euro trading above $1.15 and the yen having gone from about 125 to the dollar a year ago to just 106 today, long-term investors hope that multinational companies in the U.S. will see benefits in future quarters from more valuable foreign-currency revenue. That didn't move the markets higher today, but some individual stocks did rise substantially, and among the best performers were Vertex Pharmaceuticals International , FMC Corp. , and Fidelity National Information Services .
Vertex Pharmaceuticals climbed 10% after newly hired executive Joseph Papa officially took over as chief executive officer and chairman of the board of the drug giant. The transition has been quick, with the announcement having been made just over a week ago, and Papa has more than 35 years of experience in the pharmaceutical and broader healthcare services fields. "We have a lot of work to do," Papa said, "but I am confident we will succeed in better serving our customers and realizing the exception potential of the company." With so much public scrutiny of Valeant's business recently, all eyes will be on the new CEO to see what changes he makes to the company's business model. Although the stock has already lost huge amounts of ground, Valeant investors hope that Papa will be able to help them recover their losses without having to sacrifice too much for the sake of regulators and other interested parties.
FMC gained 9% after releasing its first-quarter earnings report late Monday. The maker of agricultural and industrial chemicals and related products said that its overall revenue jumped 21% from year-ago levels, helping FMC reverse a year-earlier loss and post a profit of $48.3 million. After taking out the influence of restructuring charges, earnings of $0.58 per share were flat compared to the prior year's quarter, but that was a nickel above the consensus forecast among investors. CEO Pierre Brondeau called out the success of FMC's Lithium unit, noting that although the Agricultural Solutions segment and the Health and Nutrition segment both performed roughly in line with expectations. Despite challenging conditions in the agricultural markets, FMC did a good job to keep its business lean and position itself for a future recovery.
Finally, Fidelity National Information Services rose 6%. The provider of technological solutions for the financial services industry reported a 40% jump in revenue that helped boost adjusted earnings by 22% from year-ago levels, and solid revenue growth in both its Integrated Financial Solutions and Global Financial Solutions businesses spoke to the overall success of the company's approach. In particular, CEO Gary Norcross pointed to new solutions in Fidelity's SunGard portfolio of products, and synergies obtained from previous mergers also helped boost margins. The company also maintained guidance for 3% to 4% organic sales growth and a 15% to 18% growth rate for adjusted earnings from continuing operations, giving investors every reason to believe that Fidelity National Information Services' climb could continue.
The article Why Vertex Pharmaceuticals, FMC, and Fidelity National Information Services Jumped Today originally appeared on Fool.com.
Dan Caplinger has no position in any stocks mentioned. The Motley Fool owns shares of and recommends Valeant Pharmaceuticals. Try any of our Foolish newsletter services free for 30 days. We Fools may not all hold the same opinions, but we all believe that considering a diverse range of insights makes us better investors. The Motley Fool has a disclosure policy.
Copyright 1995 - 2016 The Motley Fool, LLC. All rights reserved. The Motley Fool has a disclosure policy.