Why Vail Resorts, Inc. Stock Climbed 27% in 2016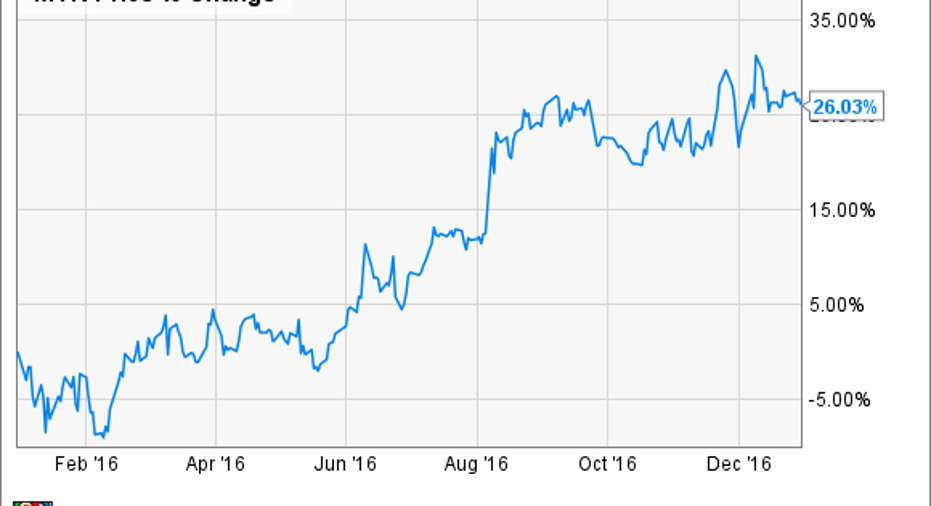 Image source: Vail Resorts.
What happened
Shares ofVail Resorts, Inc.(NYSE: MTN) gained 27% last year according to S&P Global Market Intelligence as the ski-resort developer delivered strong earnings growth and made a major acquisition. As the chart below shows, the stock gained steadily throughout the year, but its best day of the year came in August when it announced its acquisition of Whistler/Blackcomb.
So what
Vail Resorts shares popped 8% on August 8 when it said it would buy the popular Whistler/Blackcomb resort outside of Vancouver. The move marries one of the premier North American resorts with Vail, and it continues a long-standing acquisition strategy as the company acquired Utah's Park City in 2014 and Lake Tahoe's Kirkwood in 2012.
Whistler/Blackcomb marks Vail's biggest acquisition in its history; it spent $1.06 billion on the property, or a 43% premium to Whistler's stock price then. The deal not only gives Vail another popular ski mountain, but also an opportunity to raises its season pass prices for all of its resorts. Vail also made a much smaller acquisition in January, buying Wisconsin's Wilmot Mountain 65 miles north of Chicago, promising to invest $13 million in improvements.
Elsewhere, adjusted net income increased 47% in fiscal 2016 on a 14% increase in revenue to $1.6 billion. As of December, season pass sales were up 16% in units and 20% in dollar, signaling that fiscal 2017 should deliver another year of solid growth. Whistler/Blackcomb will be included in season passes in the 2017-2018 ski season.
Now what
Vail Resorts has been a big winner in recent years as shares are up more than 300% over the last five years, and the Whistler/Blackcomb acquisition should add profits this year and next as Vail makes improvements and integrates it into its season pass. As a result of the acquisition, the company lifted its net income guidance from $165 million-$194 million to $187 million-$220 million for fiscal 2017.
With millennials' preference for spending money on experiences rather than things, Vail Resorts should continue to outperform in the coming years.
10 stocks we like better than Vail Resorts When investing geniuses David and Tom Gardner have a stock tip, it can pay to listen. After all, the newsletter they have run for over a decade, Motley Fool Stock Advisor, has tripled the market.*
David and Tom just revealed what they believe are the 10 best stocks for investors to buy right now...and Vail Resorts wasn't one of them! That's right -- they think these 10 stocks are even better buys.
Click here to learn about these picks!
*Stock Advisor returns as of January 4, 2017.
Jeremy Bowman has no position in any stocks mentioned. The Motley Fool recommends Vail Resorts. The Motley Fool has a disclosure policy.