Why Universal Display, Genesis Healthcare, and Weight Watchers International Jumped Today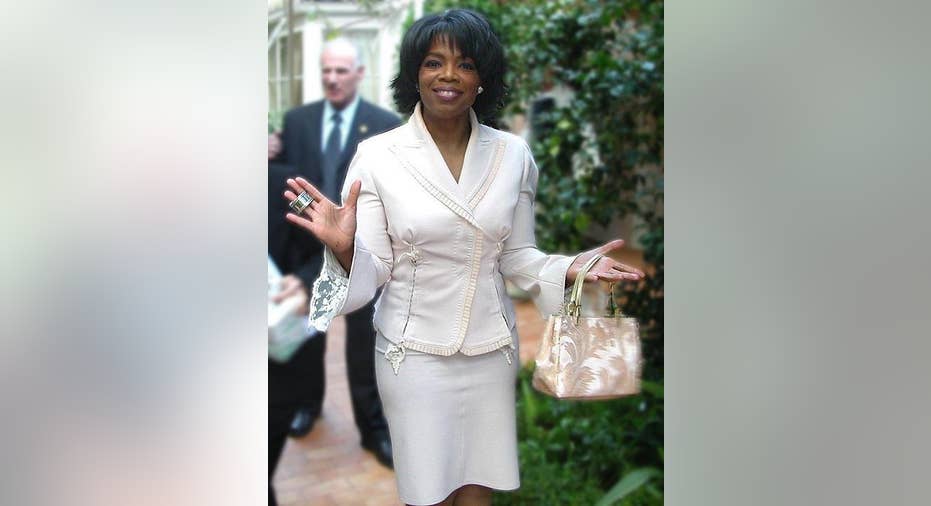 An Oprah Winfrey ad helped push shares of Weight Watchers higher on Wednesday. Image: Alan Light via Wikimedia Commons.
Fears about whether a tepid performance in the stock market in 2015 will lead to subpar returns next year weighed on investor sentiment on Wednesday, as major market indexes gave up some of their gains from earlier in the week and finished broadly lower. Although losses were concentrated largely in the energy industry, where oil prices fell back from their recent bounce, the decline in the market spread to other sectors as well. Nevertheless, some stocks were able to avoid the downdraft, and Universal Display , Genesis Healthcare , and Weight Watchers International were among the best-performing stocks on the day.
Universal Display gained 7% after reports that screens using organic light-emitting diodes will start appearing in iPhone handsets. Universal specializes in OLED chips, and it counts among its customers the companies that are likely to supply screens for iPhone production. Even though some investors have been concerned about the lack of major innovations in successive releases of new lines of iPhones, sales of the popular mobile device remain strong, and for a small company like Universal Display, having exposure to the iPhone market could be a huge game-changer.
Genesis Healthcare also climbed 7%. The operator of skilled nursing centers and assisted and senior living communities has struggled over the course of 2015, but it has made major strategic moves toward concentrating on its core business while selling off non-strategic assets. Genesis also has some high-cost debt on its balance sheet, but with its having closed on a planned transaction with Revera to acquire additional senior living and contract rehabilitation facilities earlier in December, the company continues to work toward expanding its service in its core markets. As investors look for turnaround candidates as the end of the year approaches, the demographic trends favoring Genesis Healthcare make it a logical choice for speculative investors willing to take on risk.
Finally, Weight Watchers International soared 19% as the ongoing relationship between the weight-loss specialist and celebrity Oprah Winfrey deepened. A new ad for Weight Watchers features Oprah, who explains the reasons why she joined the weight-loss service, and adds another dimension to Winfrey's having joined the Weight Watchers board and taken a 10% stake in the company. So far, speculation that Oprah will fully take over Weight Watchers hasn't come to pass, but as New Year's resolution season approaches, Weight Watchers needs to focus on maximizing its annual opportunity to bring on new business and get its own financial condition in better shape.
The article Why Universal Display, Genesis Healthcare, and Weight Watchers International Jumped Today originally appeared on Fool.com.
Dan Caplinger has no position in any stocks mentioned. The Motley Fool owns shares of and recommends Universal Display. Try any of our Foolish newsletter services free for 30 days. We Fools may not all hold the same opinions, but we all believe that considering a diverse range of insights makes us better investors. The Motley Fool has a disclosure policy.
Copyright 1995 - 2015 The Motley Fool, LLC. All rights reserved. The Motley Fool has a disclosure policy.