Why Universal Display Corporation Gained 15% in May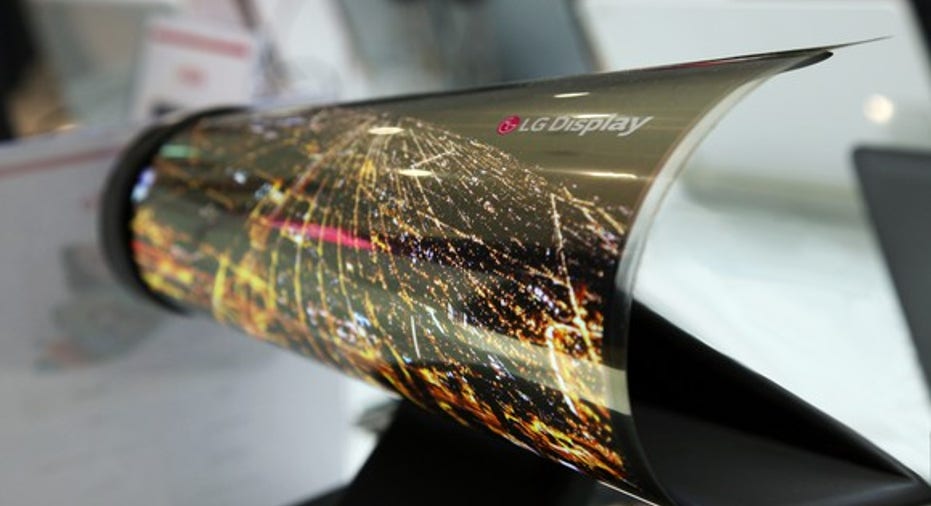 Image source: Major Universal Display customer LG Display.
What: Shares of Universal Display rose 15.2% in May 2016, according to data from S&P Global Market Intelligence. The month started with share prices falling as much as 9.4% due to a mixed first-quarter report. The market tenor changed when semiconductor equipment maker Applied Materials reported strong earnings in the third week -- a development that pointed to upcoming OLED-equipped products from electronics giant Apple .
So what: Let's read the tea leaves together.
Applied Materials may not look like an obvious weather vane for Universal Display's future, but the company's machinery helps other businesses build display screens around the world. Lots of OLED-manufacturing equipment orders today point to a groundswell of actual production in future quarters.
In Applied Materials' second-quarter earnings call, CEO Gary Dickerson pointed out that a surge in OLED orders led to record revenue in the company's display division.
More than 70% of Applied's display machinery orders were for equipment that builds mobile-sized screens. "A significant majority" of that was focused on OLED manufacturing, setting the stage for a big surge in OLED production aimed at tablets and smartphones. Dickerson also repeated many times that the mobile OLED wave is "in the early innings" of a long-term trend. Furthermore, a similar development is happening in the television segment -- only a few years behind the more mature mobile OLED development.
Dickersom never mentioned Apple by name, but analysts quickly jumped in to suggest that the company is preparing to launch iPhone models featuring OLED screens in the near future. One firm thinks that the OLED iPhone could be produced in volumes near 33 million units per month, based on Applied Materials' equipment orders. For context, Apple shipped 51 million iPhones in its recently reported second quarter, which works out to 17 million units per month.
Now what: And at the end of the Applied Materials supply chain, you'll find Universal Display. Applied equips the factories and other companies grab OLED technology licenses from Universal Display to get the production flows running. Along the way Universal Display also resells the basic materials needed for OLED manufacturing.
That's why Applied's display market fortunes reflect directly on Universal Display's prospects, as both companies ride a macro trend toward OLED displays in the design labs of Apple and others.
All told, Universal Display shares have more than doubled from 52-week lows and gained 500% in the last six years. According to Applied Materials' management, these are just the "early innings" of a much larger long-haul opportunity.
As a longtime shareholder, I agree. Universal Display is going to be a fun stock to own as this story plays out over the next few years.
The article Why Universal Display Corporation Gained 15% in May originally appeared on Fool.com.
Anders Bylund owns shares of Universal Display. The Motley Fool owns shares of and recommends Apple and Universal Display. The Motley Fool also has the following options: long January 2018 $90 calls on Apple and short January 2018 $95 calls on Apple. Try any of our Foolish newsletter services free for 30 days. We Fools may not all hold the same opinions, but we all believe that considering a diverse range of insights makes us better investors. The Motley Fool has a disclosure policy.
Copyright 1995 - 2016 The Motley Fool, LLC. All rights reserved. The Motley Fool has a disclosure policy.