Why Tyson Foods, Inc. Stock Gained 16% in 2016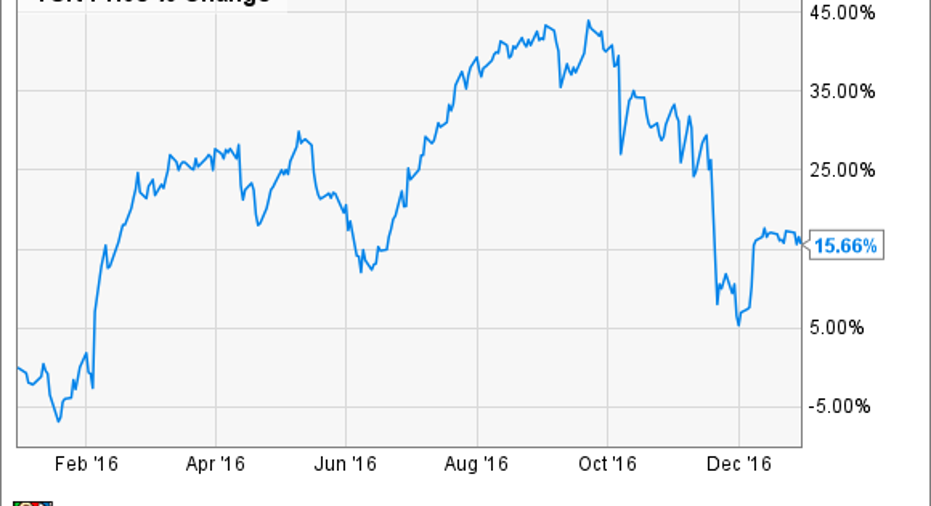 Image source: Tyson Foods, Inc.
What happened
Shares ofTyson Foods, Inc.(NYSE: TSN)beefed up last year, increasing 16% according to data from S&P Global Market Intelligence.
The meat processor benefited from strong profit growth in the first half of the year, though the stock fell in the closing months as commodity prices dropped and CEO Donnie Smith announced his retirement.
So what
Tyson Foods kicked off the year with a blowout earnings report in February as the stock jumped 16% in two days. Earnings per share surged 49% to $1.15 even as revenue fell due to declining commodity prices. Management credited synergies from its 2014 acquisition of Hillshire Brands for saving $121 million as the company pivoted toward higher-margin branded products like sausages. Operating margin improved in all categories, and 2016 EPS guidance was raised to $3.85-$3.95.
The stock gained through the summer months, though the rally did not seem to be news-driven, and then a strategic investment in vegan foodmaker Beyond Meat in October was announced. Tyson took a 5% stake for an undisclosed amount in the company, a canny move to diversify as more Americans seek alternative diets. That news gave the stock a modest 4% bump.
Finally, shares went south after a rare earnings miss in its fourth-quarter report as operating margins on chicken fell significantly. The company also said Smith would step down as CEO and replaced by Tom Hayes at the end of the year. Smith has led Tyson to phenomenal returns since taking over in 2009, in part by using a savvy acquisition strategy.
Now what
Smith said fiscal 2017 had gotten off to a strong start, calling the first seven weeks the best start the company has ever had. Tyson's earnings guidance was conservative, however, as it sees adjusted EPS growth of 7%-10%, less than in previous years as it seems to have lapped the benefits of the Hillshire Brands acquisition.
Still, as the largest meat processor in the world, the company is in a good position to continue making acquisitions and leveraging its economies of scale. With a projected EPS of $4.70-$4.85, the stock is very reasonably priced and should move higher if the company exceeds that guidance.
10 stocks we like better than Tyson Foods When investing geniuses David and Tom Gardner have a stock tip, it can pay to listen. After all, the newsletter they have run for over a decade, Motley Fool Stock Advisor, has tripled the market.*
David and Tom just revealed what they believe are the 10 best stocks for investors to buy right now... and Tyson Foods wasn't one of them! That's right -- they think these 10 stocks are even better buys.
Click here to learn about these picks!
*Stock Advisor returns as of January 4, 2017
Jeremy Bowman has no position in any stocks mentioned. The Motley Fool has no position in any of the stocks mentioned. The Motley Fool has a disclosure policy.