Why Toyota Is Taking Its Own Road to Self-Driving Cars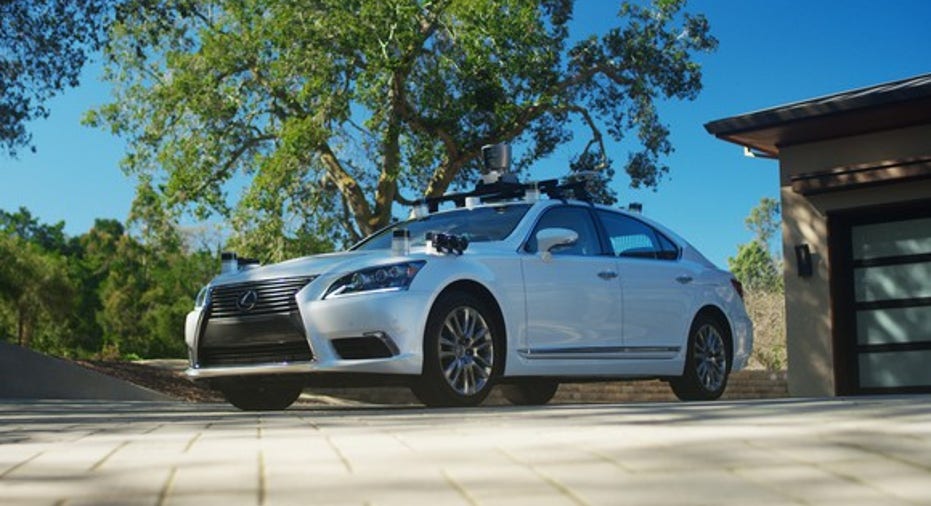 Toyota (NYSE: TM) has a brand-new self-driving test vehicle -- and it's designed to help the company develop two different approaches to advanced safety technology, simultaneously.
Like most of its big global rivals, Toyota is aggressively pursuing full self-driving technology. But Toyota has also put a lot of work into a second research path, toward a driver-assist system that goes well beyond anything currently on the market. Here's what it's thinking.
A new vehicle to support two research paths
The new test vehicle was created by the Toyota Research Institute (TRI), a research facility based in Silicon Valley that Toyota opened early last year. It's based on a current-generation Lexus LS 600hL, a big hybrid luxury sedan. The big Lexus was chosen because it has a robust "drive-by-wire" interface, meaning that signals are translated to many of the vehicle's controls electronically, rather than mechanically. That makes it much easier toautomate those controls.
The Toyota Research Institute's latest self-driving test car. Image source: Toyota.
TRI created a system for the car that allows testing of various autonomous-driving technologies and the collection of a great deal of data. It's focused heavily on machine vision and machine learning, Toyota said, with substantial computational ability. The system also includes the LIDAR, radar, and camera sensors you'd expect to see on a self-driving test car.
"This new advanced safety research vehicle is the first autonomous testing platform developed entirely by TRI, and reflects the rapid progress of our autonomous driving program," said TRI's CEO, Gill Pratt.
But self-driving as we think of it is only part of this new Toyota test car's mission.
A "guardian angel" to help, rather than replace, drivers
Toyota is working simultaneously on two different paths to artificial-intelligence-assisted driving. The first, which Toyota calls Chauffeur, is exactly what it sounds like: a full self-driving system that requires no human intervention, at least under certain conditions.
The second is an example of Toyota's tendency to sometimes go its own way with new technology. Called Guardian, the goal of the second system is to create a very high-level driver-assist system that uses artificial intelligence to help, rather than replace, a human driver. Toyota has described the system as a "guardian angel" that supports a human driver by watching carefully and leaping in to assist as needed, hence the name.
Why pursue both? Like rival Ford Motor Company(NYSE: F), Toyota is reluctant to pursue a so-called "Level 3" system, one that drives the car butrequires an alert human driver ready to take over. The concerns with such systems revolve around keeping the driver alert and ready to act: Effective reminders exist, but tests have shown that drivers tend to find them annoying.
Guardian is Toyota's alternative to a Level 3 system. Instead of assuming the system will drive under some limited circumstances (on highways, for instance), Guardian assumes the human is always driving -- but stands ready to help.
Toyota thinks a system like Guardian will be able to make a significant improvement in driver safety before self-driving cars become commonplace. As Pratt said:
A different path to self-driving cars
Toyota describes the systems as two different paths, but they're obviously closely related. In a presentation at CES in January, Pratt explained that the perception and planning software in the Guardian and Chauffeur systems are very similar. The main difference, he said, is that Guardian jumps in only when it's needed, while Chauffeur is on all the time when the car is in autonomous mode.
So, when will it arrive? Toyota hopes to have a version of Guardian on the market by 2020, with the first "geo-fenced" (limited to mapped areas) version of Chauffeur arriving a few years later. At that pace, Toyota won't be the first to market, but its huge scale means that won't matter much in the long run.
10 stocks we like better than ToyotaWhen investing geniuses David and Tom Gardner have a stock tip, it can pay to listen. After all, the newsletter they have run for over a decade, Motley Fool Stock Advisor, has tripled the market.*
David and Tom just revealed what they believe are the 10 best stocks for investors to buy right now...and Toyota Motor wasn't one of them! That's right -- they think these 10 stocks are even better buys.
Click here to learn about these picks!
*Stock Advisor returns as of February 6, 2017.
John Rosevear owns shares of Ford. The Motley Fool owns shares of and recommends Ford. The Motley Fool has a disclosure policy.