Why These Oil Stocks Breathed a Huge Sigh of Relief in November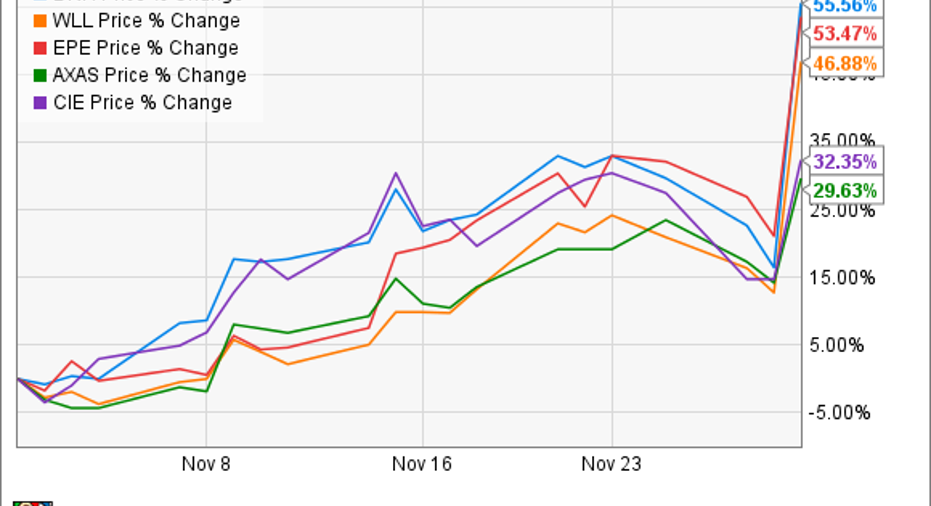 Image source: Getty Images.
What happened
November was a month to remember for the oil sector because it marked the end of OPEC's market share war. That decision on the final day of the month could turn out to be a lifesaver for struggling producers, which need higher oil prices to get their financial situation back on solid ground.
Investors certainly believe that to be true, which is why they bid up the stock prices of financially challenged drillers. Among those breathing a bit easier are Denbury Resources (NYSE: DNR), Whiting Petroleum (NYSE: WLL), EP Energy (NYSE: EPE), Abraxas Petroleum (NASDAQ: AXAS), and Cobalt International Energy (NYSE: CIE):
So what
Denbury Resources stayed afloat during the oil market downturn largely due to its strong commodity hedge portfolio and by taking several actions to improve its balance sheet. Unfortunately, its most favorable hedges rolled off during the second quarter, causing it to realize $10 per barrel less during the third quarter even though oil prices were higher. Meanwhile, the company's tight financial situation had bond investors so worried they would lose everything that they were willing to sell or exchange their debt at a significant discount, which enabled Denbury to reduce its debt principal by $562 million this year. While the company still has $2.7 billion of debt, the higher oil prices that will likely result from the OPEC deal has investors feeling optimistic that Denbury Resources can get its footing back soon.
Whiting Petroleum's story is very similar to Denbury's because it also survived on a combination of hedging gains and debt reduction actions. The most impactful have been its efforts to improve its balance sheet, which has already reduced debt 34% thanks to two convertible exchanges and brought its total debt down to $3.7 billion. In addition, Whiting sold several non-core assets, giving it the financial flexibility for addition debt reduction or to increase capex spending. The OPEC deal, however, is crucial for Whiting Petroleum because it needs oil above $50 a barrel just to supply it with enough cash flow to maintain production, which is a price crude could remain above as a result of OPEC's support.
EP Energy has also spent the past year more focused on improving its balance sheet than on growing oil and gas production. That is evidenced by the fact that the company has only invested roughly $400 million in capex this year, which wasn't enough to maintain production and was well below the $658 million in operating cash flow it has generated thus far. EP Energy used its resulting free cash flow as well as asset sale proceeds and a debt exchange to eliminate more than $1 billion of debt over the past year. That said, with $3.9 billion of debt still on the balance sheet, EP Energy needs the higher oil prices from the OPEC deal to provide it with more cash flow for debt reduction and to invest in new wells so it can maintain, and possibly grow, production in the future.
Image source: Getty Images.
Abraxas Petroleum's financial situation has also been a major worry amid lower oil prices. The most pressing matter is its credit facility, which its banks recently redetermined to be $115 million, or $5 million less than it had been. What's concerning is the fact that Abraxas Petroleum has borrowed $90 million of its available credit, leaving it little wiggle room. The company did recently sign another asset sale, which should bring in $11.3 million for debt reduction. Furthermore, thanks to low service costs, it can restart its Bakken drilling program in 2017, which would grow its output by 16% while still living within cash flow. That said, cash flow could be even higher as a result of the OPEC deal, which could enable Abraxas to more quickly pay down the balance on its credit facility and lighten a major weight that had been holding the stock down.
Cobalt International Energy is different from most oil companies in that it barely produces much oil. In fact, until earlier this year, it did not produce any oil. Instead, the company focuses on exploring for and developing new oil discoveries offshore, which costs a significant amount of up-front capital. Accessing that capital had proven to be problematic during the downturn, and only grew worse when Cobalt lost the buyer of a key asset due to the industry's stress. However, with oil prices likely on the upswing, Cobalt might be able to find a buyer for this asset at a decent price, which would give it the cash it needs to invest in its other offshore developments.
Now what
For these five oil stocks, rising oil prices cannot come soon enough. They have all been under tremendous stress for the past few years due to the impact low oil prices have had on their debt-laden balance sheets. Needless to say, their investors are breathing a sigh of relief on the heels of the OPEC deal because it should give these companies the improvement in oil prices and cash flow they so desperately need.
10 stocks we like better than Whiting Petroleum When investing geniuses David and Tom Gardner have a stock tip, it can pay to listen. After all, the newsletter they have run for over a decade, Motley Fool Stock Advisor, has tripled the market.*
David and Tom just revealed what they believe are the 10 best stocks for investors to buy right now... and Whiting Petroleum wasn't one of them! That's right -- they think these 10 stocks are even better buys.
Click here to learn about these picks!
*Stock Advisor returns as of Nov. 7, 2016
Matt DiLallo owns shares of Denbury Resources. The Motley Fool owns shares of Denbury Resources. Try any of our Foolish newsletter services free for 30 days. We Fools may not all hold the same opinions, but we all believe that considering a diverse range of insights makes us better investors. The Motley Fool has a disclosure policy.