Why TherapeuticsMD Inc. Jumped Today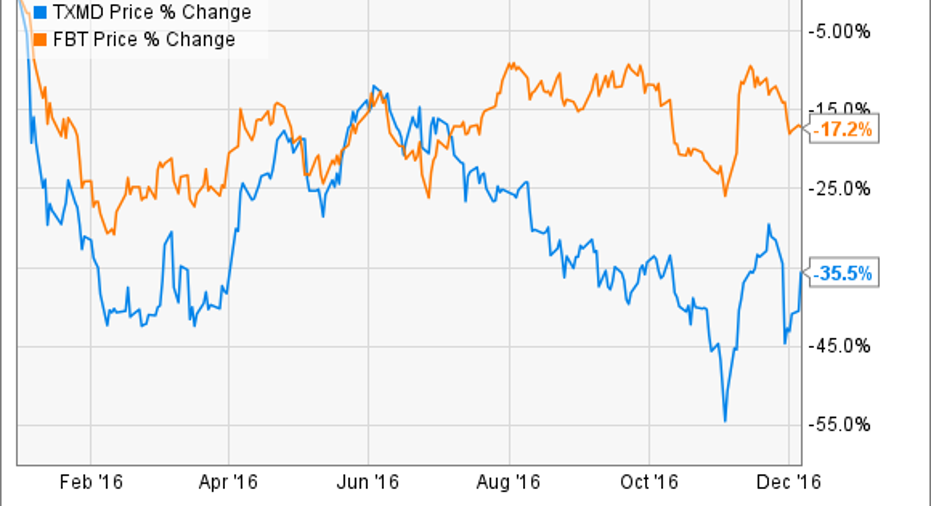 Image source: Getty Images.
What happened
After the company reported positive top-line results from a phase 3 clinical trial, shares ofTherapeuticsMD (NYSEMKT: TXMD) rose as much as 19% in early morning trading on Tuesday before settling down.
So what
TherapeuticsMD released data from its Replenish trial after the market closed on Monday. This trial was testing the company's experimental compound TX-001HR as a possible treatment of moderate to severe vasomotor symptoms due to menopause in postmenopausal women.
The placebo-controlled trial involved 1,835 patients and included four different doses of TX-001HR. Top-line data showed that TX-001HR met all of itsco-primary efficacy and safety endpoints. In addition, the 1-milligram dosage of the drug "demonstrated a statistically significant and clinically meaningful reduction from baseline in both the frequency and severity of hot flashes compared to placebo."
Image source: TherapeuticsMD Inc.
Robert Finizio,TherapeuticsMD's CEO, had this to say about the trial's results:"We are very pleased that multiple doses of TX-001HR studied in the Replenish Trial demonstrated these positive results, suggesting that, if approved, this drug product candidate is poised to address the significant demand for bio-identical hormone therapy."
Finizio later added that the company could have the drug in the FDA's hands as early as the third quarter of 2017.
Given the encouraging clinical news, it is no surprise shares are jumping today.
Now what
It has been a trying year to be an investor in TherapeuticsMD. Even after accounting for today's strong move, shares are still down more than 35% since the start of the year. That badly trails the returns of the biotech sector in general as measured by the First Trust NYSE Acra Biotech ETF (NYSEMKT: FBT).
Despite the poor year-to-date returns, shareholders have plenty of reasons to remain bullish. For one, the company'slead compound -- Yuvvexy-- is currently awaiting FDA approval as a potential treatment for dyspareunia, orvaginal pain during sexual intercourse caused by menopause. Yuvvexy showed great results in late-stageclinical trials, so it appears to have a decent chance of getting the thumbs-up from regulators. Monday's solid clinical results from the Replenish trial only support the bull case for owning this company's stock.
Of course, great clinical results do not automatically translate into regulatory or commercialsuccess, so there are still plenty of obstacles ahead that this company will need to overcome. Keeping TherapeuticsMD as a watch-list candidate is likely to be the smartest move investors can make right now.
10 stocks we like better than TherapeuticsMD When investing geniuses David and Tom Gardner have a stock tip, it can pay to listen. After all, the newsletter they have run for over a decade, Motley Fool Stock Advisor, has tripled the market.*
David and Tom just revealed what they believe are the 10 best stocks for investors to buy right now... and TherapeuticsMD wasn't one of them! That's right -- they think these 10 stocks are even better buys.
Click here to learn about these picks!
*Stock Advisor returns as of Nov. 7, 2016
Brian Feroldi has no position in any stocks mentioned.Like this article? Follow him onTwitter, where he goes by the handle@Longtermmindset, or connect with him on LinkedIn to see more articles like this.
The Motley Fool has no position in any of the stocks mentioned. Try any of our Foolish newsletter services free for 30 days. We Fools may not all hold the same opinions, but we all believe that considering a diverse range of insights makes us better investors. The Motley Fool has a disclosure policy.