Why the Payments Industry Needs Partnerships to Thrive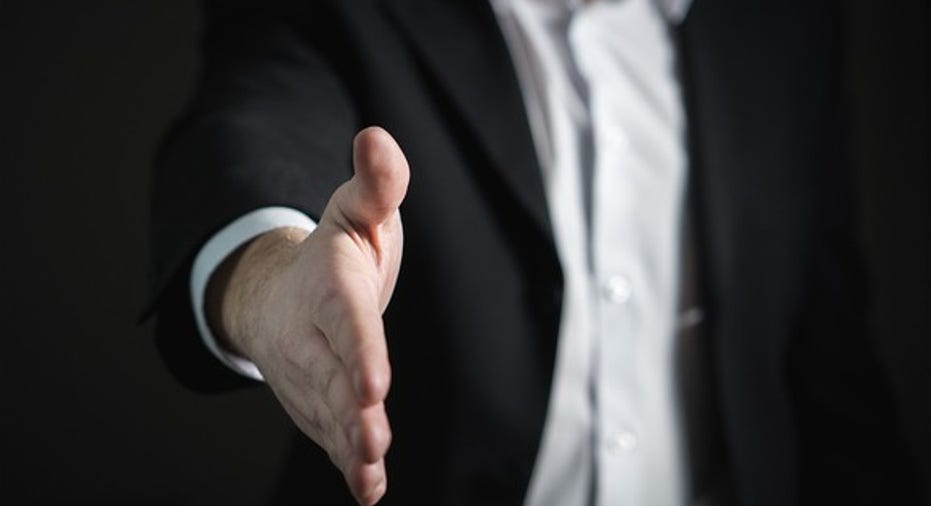 It's been one eventful year in the payments industry! Just last May, former Visa Inc (NYSE: V) CEO Charlie Scharf was challengingPayPal Holdings Inc (NASDAQ: PYPL), saying things like Visa was going to "go full steam and compete with them in ways that people have never seen before because you've never seen us go target PayPal in the marketplace in any meaningful way."Naturally, the statement sparked intense interest and speculation among industry insiders.
Just a few months later, however, the two companies not only called a truce but entered into a partnership. Since this time, deals have been made across the payments industry at a near-dizzying pace. PayPal alone has made numerous deals; besides Visa, the company has finalized accords with Alibaba Group Holding Ltd, Citigroup Inc, Discover Financial Services (NYSE: DFS), Mastercard Inc (NYSE: MA), and Vodafone Group Plc- all since spinning off from eBay Incin the summer of 2015.
Image source: Pixabay.
But PayPal is far from the only company looking to cooperate and make deals. For instance, last October, Visa Checkout opened up its platform for integration with other digital wallets. Alphabet Inc'sAndroid Pay immediately took Visa up on its offer and began offering Visa Checkout to its users for online purchases.
The end goal
The reason for all these deals is fairly straightforward: customer choice and convenience. For digital payment platforms to ever really catch on, they must allow their account holders to use their preferred method of payment for each and every purchase. Consumers don't want to have to sign up for a dozen apps to use their preferred method of payment for each transaction. Most consumers use a hodge-podge of payment methods for different transactions.
For instance, one consumer might want to use Target Corporation'sREDcard at the big box retailer, an American Expresscredit card for all gas station purchases, and a Mastercard credit card for everything else. It is highly unlikely this consumer would be willing to download three separate apps on there smartphone to make these purchases. Thus it is in any platform's best interest to allow all of these methods of payments as an option on their platform.
While this is the end goal for all these deals, consumers are starting to see more options than ever before. Two recent deals that score especially high for creative ways to enhance the consumer and merchant experience prove this point.
Bringing payment experience to the hospitality industry
Late last month, Mastercard and Oracle Corporation (NYSE: ORCL) partnered on a deal that aims to allow the two companies to deliver a seamless digital in-store experience for retailers, restaurants, and entertainment venues. Most of this will be accomplished through Mastercard's mobile app Qkr! With MasterPass. The mobile experience is designed to let customers order ahead to a venue without waiting in line, seamlessly split bills at the table, and order additional items during a meal.
Mastercard's and Oracle's partnership will make it easier for friends and co-workers to split bills at a restaurant or bar. Image source: Pixabay.
The app is attractive to merchants because it lets restaurants and other venues show customers featured menu items and ongoing promotions. The app will be integrated with retailers who use Oracle's MICROS Systems, a hardware and software management provider to the hospitality industry. MICROS was acquired by Oracle in 2014 for $5.3 billion.
The deal is timely for Mastercard, as it plans to expand its Qkr! platform into six new national markets this calendar year including Brazil, Canada, Ireland, Singapore, South Africa, and the United States.
Discovering new ways to reward account holders
In late January, PayPal and Discover announced a deal. At first glance, the arrangement seemingly mirrored PayPal's earlier deals with Mastercard and Visa. The agreement gave PayPal access to Discover's tokenization services, giving PayPal users the option to pay with their Discover accounts via PayPal's platform wherever Discover contactless payments are accepted. PayPal also agreed to more prominently display Discover cards within its digital wallets, allowing card holders to more easily select their Discover account as a method of payment within PayPal's app.
Discover credit card holders will now be able to redeem reward points through PayPal's platform. Image source: PayPal Holdings Inc.
However, upon further review, the deal also offered a new wrinkle. Discover card holders would now be allowed to make online or mobile payments via PayPal's platform as an additional way to redeem their reward points. This feature will hopefully be repeated in future deals with other card issuers, but Discover deserves credit for being the first to offer it to its account holders.
While these deals and partnerships are good for business, driving customer adoption and engagement for payment platforms and networks alike, these companies are not the only winners. Consumers also benefit as more deals are made, as we will all be presented with more payment options, ways to redeem reward points, and added convenience when shopping at our favorite boutique,making purchases online, or dining out..
10 stocks we like better than PayPal HoldingsWhen investing geniuses David and Tom Gardner have a stock tip, it can pay to listen. After all, the newsletter they have run for over a decade, Motley Fool Stock Advisor, has tripled the market.*
David and Tom just revealed what they believe are the 10 best stocks for investors to buy right now and PayPal Holdings wasn't one of them! That's right -- they think these 10 stocks are even better buys.
Click here to learn about these picks!
*Stock Advisor returns as of February 6, 2017
Suzanne Frey, an executive at Alphabet, is a member of The Motley Fool's board of directors. Matthew Cochrane owns shares of GOOGL, Mastercard, and PayPal Holdings. The Motley Fool owns shares of and recommends GOOGL, GOOG, eBay, Mastercard, PayPal Holdings, and Visa. The Motley Fool owns shares of Oracle. The Motley Fool recommends American Express. The Motley Fool has a disclosure policy.