Why the Bulls Are Wrong About Twitter Inc. Stock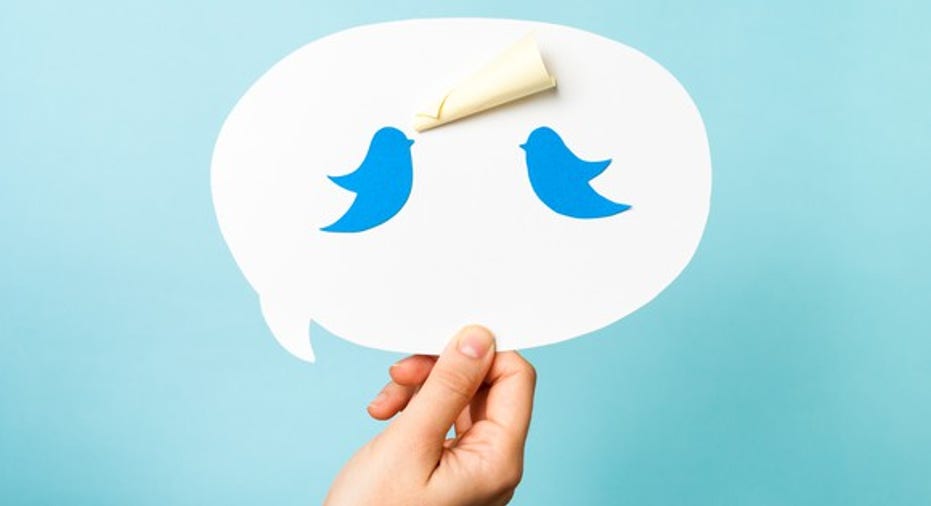 Shares of Twitter (NYSE: TWTR) recently rallied after the social networking company's first quarter numbers beat analyst estimates on both the top and bottom lines. Revenue fell 7.8% annually to $548 million, exceeding expectations by $36.1 million. The company's non-GAAP earnings fell 27% to $0.11 per share, but still topped estimates by $0.10.
CEO Jack Dorsey then tweeted that he personally bought another 574,002 shares onthe open market, boosting his total purchases in 2017 to 1 million shares. All that good news lifted Twitter shares by about 10%, but the stock remains almost 40% below its IPO price.
Image source: Pixabay.
Therefore, investors are right to wonder if Twitter's bounce will lead to meaningful gains, or merely give long-suffering investors a chance to cut their losses. I believe that the latter will happen, for three simple reasons.
1. A double-digit drop in advertising revenue
During the quarter, Twitter's ad revenues fell11% annually to $474 million and accounted for 86% of its top line. That was much worse than its 0.5% decline in the fourth quarter and its 37% growth in the prior year quarter.
Within that total, Twitter's O&O (owned and operated) ad revenues -- which exclude ad revenues from ad networks like MoPub -- also slid 11% to $415 million. Twitter attributed that decline to "a challenging start to the quarter," but claimed that the growth trajectory improved with "more stable revenue trends beginning in mid-February."
However, that slowdown also indicates that advertisers are still shunning Twitter for bigger internet advertising ecosystems like Alphabet's Google and Facebook (NASDAQ: FB).
This indicates that Twitter's new initiatives -- like its curated stories in Moments and live streaming video deals -- aren't generating enough ad revenue. It also indicates that costly live video contracts, like theNFL deal which it recently lost to Amazon, can't guarantee its survival. Lastly, these moves are likely being overshadowed by faster growing apps like Facebook's Instagram, which recently hit700 million monthly active users (MAUs), and Snap's Snapchat, which has over 300 million MAUs.
2. More users, less revenue?
In previous quarters, Twitter grew its ad revenues even as its MAU growth flatlined. But even after growing its MAUs 6% annually to 328 million during the first quarter, Twitter's ad revenues fell sharply. That trend is deeply troubling if we examine those figures over the past few quarters.
Source: Quarterly reports.
This means that if Twitter's MAU growth dries up again, it probably can't squeeze more ad revenue out of existing users. That will force it to boost its operating expenses again to develop and promote new ad products to advertisers -- which would reverse Dorsey's current strategy of cutting costs to boost non-GAAP earnings.
3. Negative U.S growth and anemic overseas growth
That disparity becomes even more jarring if we break down Twitter's MAU growth by regions. During the quarter, Twitter's average U.S. MAUs rose 7% annually to 70 million -- presumably due to President Trump's constant tweets and the media's excessive citing of tweets in news stories -- yet its total U.S. revenues fell 13% to $341 million. This strongly indicates that advertisers didn't like the idea of posting promoted content in the middle of heated political debates.
This problem was less apparent in the international business, which saw its MAUs rise 6% annually to 259 million and its revenue grow 2% to $208 million. The bulls might suggest that Twitter can expand internationally to offset its slowdown in the U.S., but many overseas markets are already dominated by bigger social apps like Facebook and Instagram.
The key takeaways
Despite all these issues, Twitter made notable progress in several key areas, like reducing its stock-based compensation expenses, reducing expenses across the board, and streamlining its business around its core assets.
Unfortunately, that progress just isn't enough to offset its lackluster user growth and its alarming revenue declines. Twitter beat low expectations during the first quarter, but that doesn't mean investors should get bullish on this beaten-down stock yet.
10 stocks we like better than TwitterWhen investing geniuses David and Tom Gardner have a stock tip, it can pay to listen. After all, the newsletter they have run for over a decade, Motley Fool Stock Advisor, has tripled the market.*
David and Tom just revealed what they believe are the 10 best stocks for investors to buy right now... and Twitter wasn't one of them! That's right -- they think these 10 stocks are even better buys.
Click here to learn about these picks!
*Stock Advisor returns as of April 3, 2017
Suzanne Frey, an executive at Alphabet, is a member of The Motley Fool's board of directors. Leo Sun owns shares of AMZN. The Motley Fool owns shares of and recommends GOOG, GOOGL, AMZN, Facebook, and Twitter. The Motley Fool has a disclosure policy.