Why Textron Stock Tumbled After Earnings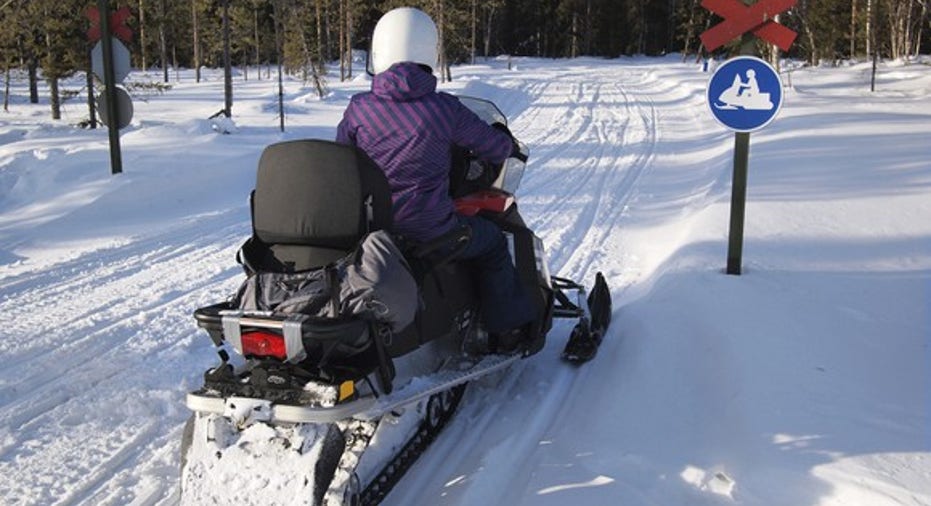 Textron (NYSE: TXT) shares closed the week down 1.5% after reporting earnings Wednesday.
The maker of Bell helicopters, Cessna and Beechcraft small aircraft, and Shadow unmanned aerial vehicles met analyst estimates for fiscal Q1 2017 "pro forma" earnings per share of $0.46. Textron missed on revenue,however, reporting $3.09 billion in sales for the quarter, versus Wall Street's projected $3.17 billion. That fact (the revenue miss, with no offsetting earnings beat) probably explains Wall Street's decision to sell off the stock last week.
But was that the right call? Let's take a closer look at the numbers and find out.
Textron has bought itself a snowmobile company. But now its earnings are hitting the skids. Image source: Getty Images.
Earnings disappoint
On Wednesday, Textron reported:
Sales of $3.1 billion, down 3% from last year's first quarter.
Operating profit margin of 7% on the company's manufacturing business, down 160 basis points from last year's 8.6% operating margin.
Earnings from continuing operations of $0.37 per share -- a 33% drop year over year. ("Pre-tax special charges" explain the difference between Textron's GAAP income and the pro forma number Wall Street was watching.)
Moreover, free cash flow was negative at Textron, with negative $143 million in cash from operations, and $76 million in capital expenditures during the quarter. Result: Negative free cash flow of $219 million.
At this point, it's worth recalling that Textron calculates free cash flow somewhat differently from the standard operating cash flow minus capital expenditures formula. By Textron's calculation, its free cash flow, which it calls "manufacturing cash flow before pension contributions," was only negative $205 million -- but still negative.
Guidance
In addition to reporting earnings for the first quarter, Textron issued new guidance for the whole of fiscal 2017. Incorporating expectations for its recent acquisition of snowmobile maker Arctic Cat, Textron now expects to earn between $2.22 and $2.45 per share this year -- about 7% less than previously projected.
How should investors react?
Given this disappointing guidance -- 7% less profit than investors had been expecting this year -- the fact that Textron shares fell only 1.5% last week is a bit surprising. Valued on what it's earned over the past 12 months, Textron's stock price appears to carry an unassuming valuation of only 13.8 times trailing earnings. But taking the midpoint of Textron's guidance range for this year's earnings, if Textron earns only about $2.33 per share this year, its current-year P/E is a much more expensive 20 times earnings.
And it gets worse. While Textron's free cash flow was negative last quarter, management is promising positive free cash flow (using its own definition thereof) of between $650 million and $750 million this year. Taking that guidance, too, at the midpoint, Textron sells for about 18 times this year's likely free cash flow of $700 million. Factor in the company's cash and debt, however, and Textron's enterprise value-to-free cash flow ratio rises to 22.8, which looks even more expensive than the current-year P/E.
Now, in a fast-growing company, these valuations might not be so frightening. But according to analysts polled by S&P Global Market Intelligence, Textron is only likely to grow earnings at about 10% annually over the next five years. Meanwhile, its most recent report shows profit margin slipping and actual earnings declining.
That's not a recipe for stock market success, folks. Down 1.5% last week, Textron stock still has a lot further to fall.
10 stocks we like better than TextronWhen investing geniuses David and Tom Gardner have a stock tip, it can pay to listen. After all, the newsletter they have run for over a decade, Motley Fool Stock Advisor, has tripled the market.*
David and Tom just revealed what they believe are the 10 best stocks for investors to buy right now... and Textron wasn't one of them! That's right -- they think these 10 stocks are even better buys.
Click here to learn about these picks!
*Stock Advisor returns as of April 3, 2017
Rich Smith has no position in any stocks mentioned. The Motley Fool has no position in any of the stocks mentioned. The Motley Fool has a disclosure policy.