Why Tesla Motors Shares Jumped Today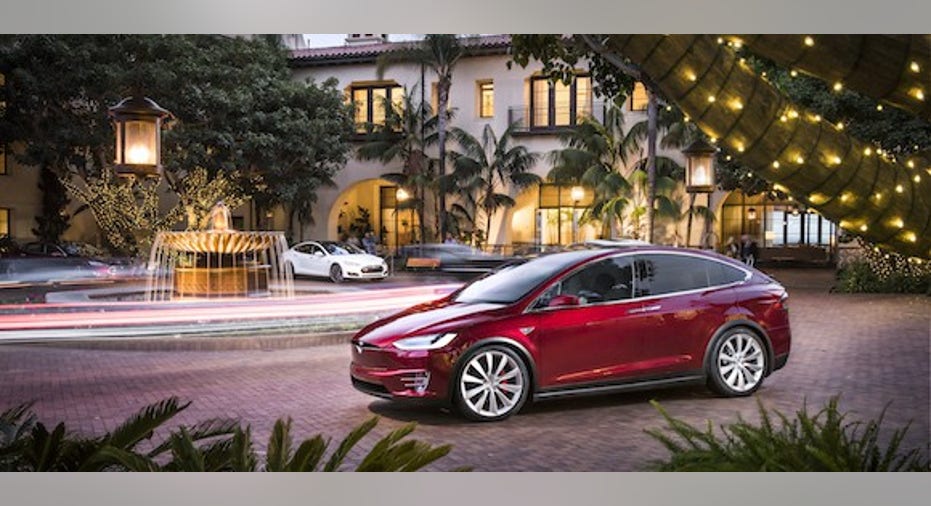 Model X. Image source: Tesla.
Shares of Tesla Motors have been fairly weak in recent weeks following the company's first-quarter earnings release. After stabilizing for the past few trading sessions, shares have jumped today on a Goldman Sachs upgrade.
Analyst Patrick Archambault boosted his rating on Tesla from neutral to buy. However, Goldman's price target remains unchanged at $250, so the rating change appears to be partially related to the recent pullback.
It's all relative
Additionally, Archambault believes Tesla's risk/reward profile has shifted favorably, and current prices don't reflect the "disruptive potential" that Tesla has. (Let's not talk semantics about whether or not Tesla is actually "disruptive.") The analyst does point to the fact that shares are nearly 25% lower than when the company unveiled the Model 3 at the end of March, while broader macroeconomic conditions have improved since the beginning of the year. It's also hard to ignore the blockbuster consumer demand for Model 3.
In the coming months, there is unlikely to be any other official news or announcements around Model 3, so all eyes should turn to how Model X performs and ramps. Tesla appears to be ramping Model X production quite well while also overcoming issues surrounding initial build quality. It's certainly possible that Tesla will walk back from its full-year delivery guidance of 80,000 to 90,000 vehicles, but there's also a good chance that Tesla will hit its mark if Model X production is indeed improving.
Tesla's Fremont factory. Image source: Tesla.
Goldman also expects Tesla to raise an additional $1 billion to fund the accelerated ramp plans, which is on the lower end of what most analysts are expecting. Speaking of raising capital...
A conflict of interest?
The CFA charterholder in me wants to believe that Goldman would never allow a conflict of interest to cloud its judgment, and that the firewall between the company's investment banking operations and sell-side research departments is intact. The skeptical Fool in me isn't as naive.
Goldman Sachs was a joint lead underwriter in Tesla's 2015 secondary offering, and received the largest number of shares to distribute in last year's deal (a little over 1 million shares before considering underwriter options). Presumably, the company will similarly be involved in any forthcoming discussions about a 2016 secondary offering.
A higher offering price benefits underwriters in the form of the fees that they collect from putting the deal together. Positive analyst ratings also generally earn some goodwill with the underlying companies, too. I won't go as far as to say that Goldman is up to no good with the timing of this upgrade, but I also won't go as far as to say that Goldman's firewall is completely impenetrable.
That being said, Archambault is certainly right about one thing: 2016 will be all about Model X.
The article Why Tesla Motors Shares Jumped Today originally appeared on Fool.com.
Evan Niu, CFA owns shares of Tesla Motors, andhas the following options: long January 2018 $180 calls on Tesla Motors. The Motley Fool owns shares of and recommends Tesla Motors. Try any of our Foolish newsletter services free for 30 days. We Fools may not all hold the same opinions, but we all believe that considering a diverse range of insights makes us better investors. The Motley Fool has a disclosure policy.
Copyright 1995 - 2016 The Motley Fool, LLC. All rights reserved. The Motley Fool has a disclosure policy.