Why Tesla Motors, Inc. Needs -- and Wants -- Competition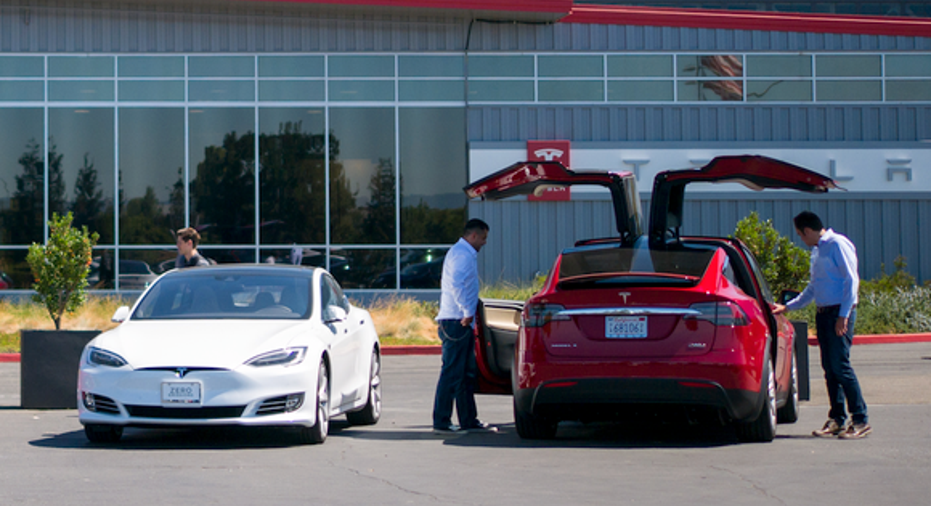 Before 2016 ends, General Motors (NYSE: GM) will bring to market the first affordable fully electric car with over 200 miles of range. The Chevrolet Bolt will boast an impressive 238 miles of range on a single charge, sell for $37,500, and be available at select dealerships in a matter of weeks or possibly even days. With this range, and at this price, the Bolt may serve as a compelling alternative to some buyers interested in electric-car maker Tesla Motors'(NASDAQ: TSLA) $35,000 Model 3, which Tesla plans to begin delivering late next year. Should Tesla investors be worried?
Tesla vehicles. Image source: The Motley Fool.
Inhibitor or a catalyst?
GM's Bolt is more than a new, compelling, long-range electric vehicle (EV). It's a preview of what's to come; GM, along with other automakers, are in the early stages of ramping up their EV programs. Indeed, most of the major automakers have announced plans to bring to market EVs with over 200 miles of range -- a segment that currently belongs entirely to Tesla -- during the next five years, starting with GM's Bolt.
With such a sudden, concerted effort from competition to begin building long-range EVs, it's easy to quickly conclude increased competition in the segment would be bad news for Tesla. After all, automakers' electric car and hybrid programs combined represent less than 1% of total global vehicles sales. Some investors might assume, therefore, that new competition in a niche market means less opportunity for Tesla to grow its sales.
This reasoning, however, fails to observe the bigger picture. Not only may competition not hinder Tesla, but it might even serve as a catalyst for the company.
Here are three reasons why:
3 reasons competition is good for Tesla
1. Tesla needs help educating buyers.
Educating potential buyers about electric vehicles requires significant effort. Tesla knows this firsthand and it could use some help from some bigger auto companies.
Indeed, one of the main reasons Tesla opts to sell its cars directly to consumers is because of the intensive education process involved in convincing some consumers to pull the trigger on a fully electric vehicle. In a 2012 blog post, Tesla explained how important education is in selling its vehicles.
Tesla store. Image source: The Motley Fool.
At its stores, Tesla employees do much more than sell vehicles. They field questions about the motor, battery, charging at home, traveling, and more. In addition, the company doesn't pay store employees commission for sales -- an unconventional move that helps ensure its employees don't miss the opportunity to educate consumers.
Soon, thanks to major automakers' sudden appreciation of long-range electric vehicles, Tesla won't be the only company on the planet educating customers about why EVs with more than 200 miles of range represent a compelling alternative to comparably priced internal combustion engine vehicles. As major automakers bring long-range EVs to market, they'll not only put their massive networks of dealerships to work educating visitors about electric vehicles, but the automakers will almost certainly roll out major ad campaigns to promote these new vehicles, inevitably creating awareness for the feasibility of EVs in general.
Sure, the tactics used by competition to educate potential buyers will undoubtedly focus on selling their own EVs, but their efforts will also help raise consumer awareness for all electric vehicles.
2. Tesla needs a Detroit-based endorsement.
For now, Tesla is the oddball in autos. And this doesn't help when it comes to convincing the masses that fully electric vehicles make sense. Detroit is pumping out gas-guzzling trucks and SUVs, fuel-efficient vehicles, and hybrids while Tesla follows a completely different path. Sure, some other manufacturers are selling a few fully electric models, but Tesla is the lone wolf when it comes to selling long-range EVs aimed to replace the family's gas car entirely, at least until GM begins shipping its Bolt.
Tesla vehicle charging. Image source: The Motley Fool.
But this is where major automakers' newfound approval of long-range EVs helps. With major automakers announcing a slew of plans for long-range EVs just as Tesla is readying its Model 3 for high-volume production, their new vehicle plans make it clear that Tesla's bet on EVs was spot on. This could help mitigate skepticism consumers might have toward Tesla's vehicles.
3. Soaring EV sales could fortify Tesla's lead.
Thanks to some big, focused bets today, if demand for long-range EVs does surge as automakers join the 200-plus mile EV race, Tesla will be positioned to benefit.
In particular, Tesla's Gigafactory, where the company plans to build enough batteries to help support a 10-fold increase in annual vehicle production between 2015 and 2018, will likely only increase Tesla's lead over competition if EV sales take off.
While it's easy to assume major automakers can wield their much larger cash positions to quickly catch up to Tesla's production, this ignores the severe constraints the auto industry would face with batteries. For EVs to take off, battery production won't just need to improve, it will need to ramp up to levels that make today's global battery production look not just outdated but even archaic. Consider the scale of Tesla's Gigafactory: It aims to produce more battery capacity annually under a single roof by 2018 than was produced in the entire world during 2013.
Signaling the company's expectations for a massive shift in consumer interest to battery vehicles, Tesla CEO Elon Musk began referring to its Gigafactory as "Gigafactory 1" earlier this year in anticipation of more Gigafactories. Image source: Tesla Motors.
If Tesla's bet on long-range EVs proves to be well timed, its big, risky investments today could serve as major scale advantages for the manufacturer that could last a decade or more, enabling the company to distance itself from competition as battery suppliers scramble to catch up with Tesla's Gigafactory output as the company takes what it learned from its first Gigafactory and potentially builds more Gigafactories at an even faster pace. After all, Musk has said the Gigafactory has been designed from the ground up to be easily replicated.
The fine print
Of course, there are risks to adopting such an optimistic outlook for competition's impact on Tesla.
To start, investors can't be certain the young automaker will be able to execute on its growth ambitions as well as it plans to. If Tesla fails to ramp up vehicle production rapidly enough, the company might not successfully capitalize on the high levels of demand demonstrated by the 373,000 deposit-backed reservations customers made for the Model 3 within a month and a half of the vehicle's unveiling.
Further, it's possible that demand for long-range EVs won't be as substantial as Tesla hopes. If demand for long-range EVs doesn't increase significantly faster than the segment's overall production, a highly competitive environment could make sales growth challenging for Tesla.
Finally, if other automakers' future long-range EVs outshine Tesla vehicles in utility, style, performance, or features, Tesla may have trouble attracting new customers.
Tesla to competition: You're too slow
It's worth noting that even Tesla sincerely believes competition is in the company's best interest.
If this weren't the case, the company wouldn't have opened up all of its patents for competitors to use. From its battery and Supercharger technology to the user interface on the Model S touchscreen, all of Tesla's EV technology is available for competition to use freely. Going further, Tesla has even offered to share its Supercharger network with other automakers who agree to pay their vehicle fleet's share of operating costs and build vehicles that can handle the charge.
Indeed, Tesla remains disappointed with the pace of execution of other automakers' EV plans.
"I hope they move even faster than they announce," Musk said in an interview with Danish newspaper Borsen late last year. Announcements about long-range EVs like the Bolt make him "glad," he said during the interview.
Furthermore, Musk even recently said he doesn't think General Motors is planning to make enough of its new Chevrolet Bolts.
Image source: The Motley Fool.
So, will a Bolt-led surge in long-range EVs from other automakers really be a threat to Tesla? Or will a frenzied push of new, Tesla-like vehicles give a major boost to the nascent long-range EV segment and ultimately benefit Tesla?
Tesla is clearly betting competition is in its best interest -- and there's good reason to believe it is.
10 stocks we like better than Tesla Motors When investing geniuses David and Tom Gardner have a stock tip, it can pay to listen. After all, the newsletter they have run for over a decade, Motley Fool Stock Advisor, has tripled the market.*
David and Tom just revealed what they believe are the 10 best stocks for investors to buy right now... and Tesla Motors wasn't one of them! That's right -- they think these 10 stocks are even better buys.
Click here to learn about these picks!
*Stock Advisor returns as of Nov. 7, 2016
Daniel Sparks owns shares of Tesla Motors. The Motley Fool owns shares of and recommends Tesla Motors. The Motley Fool recommends General Motors. Try any of our Foolish newsletter services free for 30 days. We Fools may not all hold the same opinions, but we all believe that considering a diverse range of insights makes us better investors. The Motley Fool has a disclosure policy.