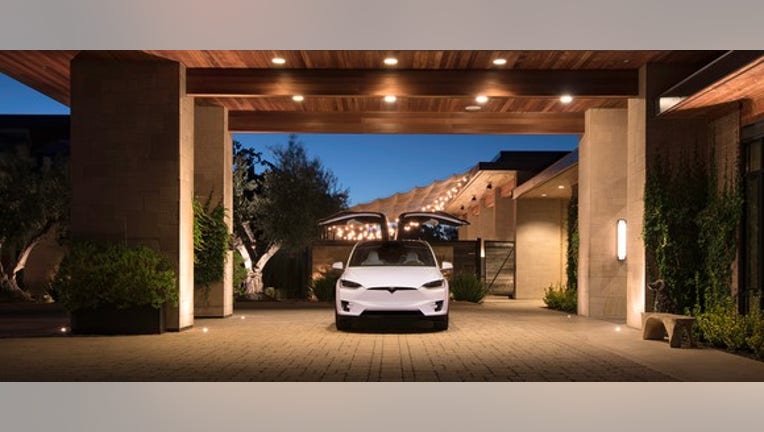 What happened
Shares of electric-car maker Tesla (NASDAQ: TSLA) jumped as much as 5.7% on Monday after the electric-car maker reported first-quarter deliveries. At the time of this writing, shares are up 5.4%, with the stock trading at about $292.
So what
Tesla stock's higher price follows the company's update on first-quarter vehicle deliveries. Tesla delivered just over 25,000 vehicles, up 69% year over year. Of the 25,000 deliveries, about 13,450 were Model S and 11,550 were Model X. This compares to 12,420 and 2,400 Model S and Model X deliveries, respectively, in the year-ago quarter.
Model X. Image source: Tesla.
The deliveries were a record high for Tesla and put the company on track to meet its guidance for 50,000 deliveries in the first half of the year.
Now what
Tesla's ability to hit the target adds more substance to the company's longer-term, more ambitious growth plans. With the help of a planned Model 3 launch during the second half of 2017, Tesla expects its annualized vehicle production to soar from a current rate of about 100,000 units to 500,000 units next year.
10 stocks we like better than TeslaWhen investing geniuses David and Tom Gardner have a stock tip, it can pay to listen. After all, the newsletter they have run for over a decade, Motley Fool Stock Advisor, has tripled the market.*
David and Tom just revealed what they believe are the 10 best stocks for investors to buy right now... and Tesla wasn't one of them! That's right -- they think these 10 stocks are even better buys.
Click here to learn about these picks!
*Stock Advisor returns as of April 3, 2017
Daniel Sparks owns shares of Tesla. The Motley Fool owns shares of and recommends Tesla. The Motley Fool has a disclosure policy.