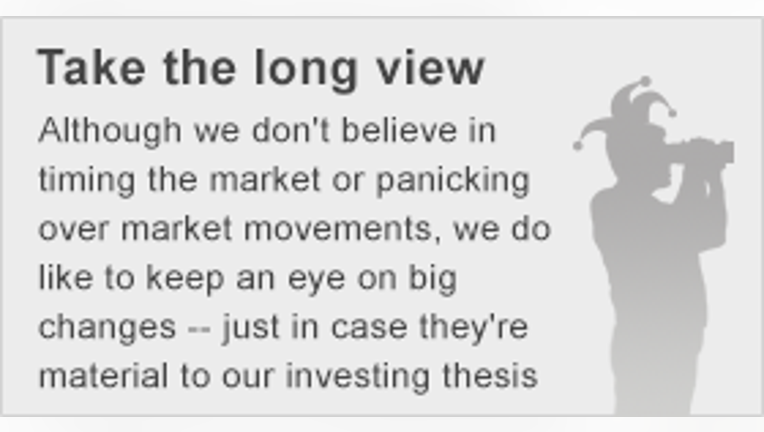 What: Shares of solar developer SunEdison Inc dropped an incredible 31% mid-Tuesday morning after a hedge fund controlled by David Tepper requested documents about some of its recent dealings.
So what: Tepper's Appaloosa Management is seeking documents regarding the shakeup of TerraForm Power's management last month and a modified deal to acquire Vivint Solar. Appaloosa holds a 9.5% stake in TerraForm Power and has been prodding for change since acquiring the stake.
I went into greater detail of Tepper's problems with TerraForm Power here, but the short story is that Tepper thinks SunEdison is improperly using TerraForm Power to prop up its own business. The request of records shows that he's going to keep the pressure on both of the companies, and that's not good for SunEdison.
Now what: Shares of SunEdison have gotten a huge boost recently from the ITC extension, but the company's problems go much deeper than needing a tax subsidy to build projects. SunEdison has $11.7 billion in debt and needs billions more to fund the projects it's building over the next few years. The plan was once to use yieldcos like TerraForm Power to fund those projects, but with TerraForm Power yielding an 11% dividend, that idea is out the window.
With debt hanging over the stock and David Tepper prodding for information about acquisitions and management dealings, I don't see things ending well for SunEdison. The stock will continue to be volatile based on the news of the day, but in the long term, I don't see this being a good way for investors to make money on the renewable energy boom.
The article Why SunEdison Inc's Shares Plunged 31% Today originally appeared on Fool.com.
Travis Hoium has no position in any stocks mentioned. The Motley Fool has no position in any of the stocks mentioned. Try any of our Foolish newsletter services free for 30 days. We Fools may not all hold the same opinions, but we all believe that considering a diverse range of insights makes us better investors. The Motley Fool has a disclosure policy.
Copyright 1995 - 2015 The Motley Fool, LLC. All rights reserved. The Motley Fool has a disclosure policy.