Why SunEdison Could Pull Its Yieldcos Into Bankruptcy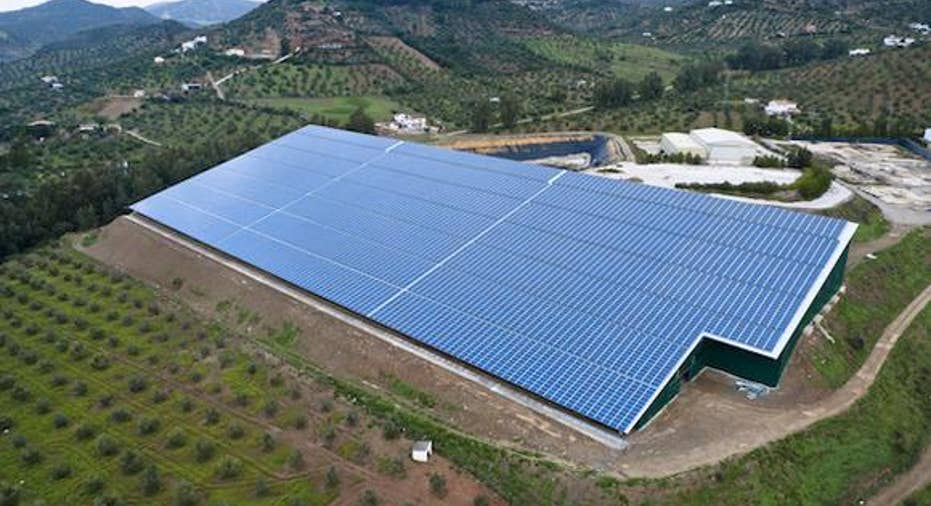 Image source: SunEdison.
It's becoming hard to see how SunEdison Inc. (NYSE: SUNE) can drag itself back from the edge of the financial abyss. The company is being investigated by multiple government agencies; it still hasn't reported fourth quarter 2015 results to the SEC; and it can't even seem to do something as seemingly simple as build its core renewable energy projects on time.
While SunEdison's fate is all but sealed, the fates of its yieldcos TerraForm Power and TerraForm Global are less certain. But they could be in trouble as well if SunEdison does go under.
Image source: SunEdison.
TerraForm Global's outlook If you look at the share prices and implied forward dividend yields of TerraForm Power and TerraForm Global, it's easy to see that the market thinks TerraForm Global is in real trouble. Shares closed Monday night at $2.61 per share, pushing the dividend yield to an incredible 44.4%. The problem for the yieldco is that a SunEdison bankruptcy could bring it to its knees.
In late March, TerraForm Global warned investors that some of its debt repayments could be accelerated if SunEdison files for bankruptcy and some power purchase agreements on projects could be reduced. One of the core problems was $231 million it paid to SunEdison for 425 MW of uncompleted projects in India. By all accounts, those projects either won't be completed on time or at all, which led TerraForm Global to sue SunEdison earlier this month.
What makes TerraForm Global so risky for investors is the fact that a SunEdison default could lead to a cascade of financial impacts that could lead to a default for the yieldco. And without updated financial statements since the end of September, it's hard to assess what SunEdison's finances really look like.
TerraForm Power is still at risk We don't have as much certainty about the cross-default potential for TerraForm Power, but rating agencyMoody's gives it a small chance. It's possible that TerraForm Power will have to adjust its debt levels, dividend payout, and even growth plans in the case of a SunEdison bankruptcy, but those are moves I would argue it should take anyway.
It could be argued that TerraForm Power would actually be a better company without SunEdison, but until its parent goes bankrupt, we won't know the impact of the contract or debt covenant changes that a change in control could bring. The good news is that TerraForm Power isn't relying on SunEdison to complete projects the way TerraForm Global is.
What we do know is that D.E. ShawComposite Holdings and Madison Deerborn Capital Partners have already filed a $231 million suit against SunEdison for the First Wind earnout, an incentive portion of the acquisition price, and have argued that TerraForm Power shares should be collateral. It is, after all, TerraForm Power that owns most of the assets acquired in the deal.
This brings a level of uncertainty to TerraForm Power, but the risk of bankruptcy remains relatively low at the moment.
SunEdison's potential bankruptcy will be complicated The reality of the situation is that TerraForm Power and TerraForm Global are both reliant on SunEdison for certain back-office activities, and they have a lot of crossover at the executive level. So, they're tied to the company, which is a negative if it goes bankrupt. But right now, TerraForm Global is the yieldco I would be most worried about, while TerraForm Power has a fighting chance to make it as an independent company, even if it doesn't maintain its 15.6% dividend yield long-term.
The article Why SunEdison Could Pull Its Yieldcos Into Bankruptcy originally appeared on Fool.com.
Travis Hoium has no position in any stocks mentioned. The Motley Fool has no position in any of the stocks mentioned. Try any of our Foolish newsletter services free for 30 days. We Fools may not all hold the same opinions, but we all believe that considering a diverse range of insights makes us better investors. The Motley Fool has a disclosure policy.
Copyright 1995 - 2016 The Motley Fool, LLC. All rights reserved. The Motley Fool has a disclosure policy.