Why Stein Mart Inc. Shares Dropped 13% in November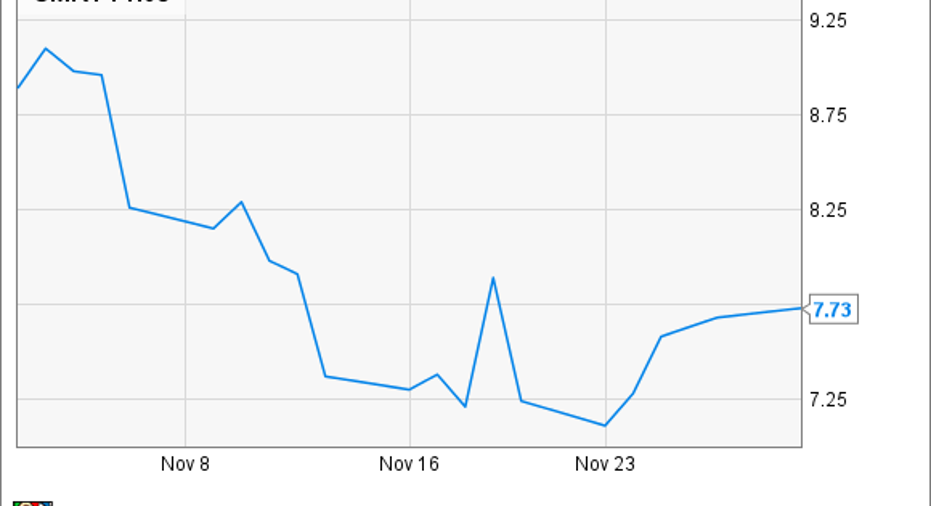 What:Shares of regional department store chainStein Mart took a 13% dive last month, according to data from S&P Capital IQ. The company was swept up in a widespread sell-off among apparel retailers and its own quarterly results were poorer than expected. The chart below tells the story.
So what:Shares began to tumble on Nov. 6, falling 8%, after the retailer reported that comparable sales fell 2.3%, reversing a growth trend from the first half of the year. Same-store sales were also down 2.5% in October, the first month of the fourth quarter. CEO Jay Stein said unseasonably warm weather affected traffic, but the company continues to have an upbeat outlook for holiday sales.
The stock fell another 7% on Nov. 13 on a broad sell-off in retail stocks as investors reacted a weak October retail sales report from the Census Bureau and underwhelming earnings reports from major department store chains likeMacy'sandNordstrom.
Stein Mart spiked briefly after its complete third-quarter earnings report came out as the company beat earnings estimates, posting a per-share profit of a penny against expectations of a $0.05 loss, but fell the following day in part on an analyst downgrade.
Now what:Considering the headwinds against department store stocks, Stein Mart shares may continue to fall before they recover. The stock fell another 5% on Thursday, approaching a new 52-week low after the company reported that same-store sales fell 4.8% in November. That seems to signal a warning for the holiday season for Price Mart as December is generally the most important time of year for retailers. Management did, however, say that sales improved in the second half of the month and were tracking positively in the first days of December.
To take advantage of the low share price, the company authorized an additional 500,000 shares to be repurchased, but that alone won't return the stock to full health. If comparable sales turn positive once again, shares should begin to move higher.
The article Why Stein Mart Inc. Shares Dropped 13% in November originally appeared on Fool.com.
Jeremy Bowman has no position in any stocks mentioned. The Motley Fool recommends Nordstrom. Try any of our Foolish newsletter services free for 30 days. We Fools may not all hold the same opinions, but we all believe that considering a diverse range of insights makes us better investors. The Motley Fool has a disclosure policy.
Copyright 1995 - 2015 The Motley Fool, LLC. All rights reserved. The Motley Fool has a disclosure policy.