Why Staples Inc. and Office Depot Inc. Tumbled in 2015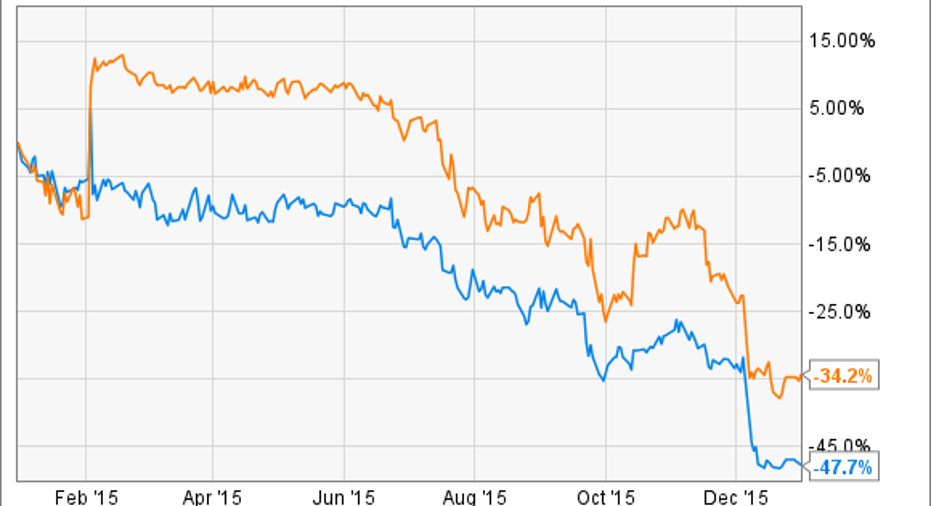 What: Shares of office supply retailers Staples and Office Depot slumped in 2015, declining by 47.7% and 34.2%, respectively, according toS&P Capital IQdata. While both companies performed poorly in 2015, with revenue and profits falling, pessimism regarding the proposed merger of the two companies, and the eventual decision by the FTC to block the deal, led to much of the declines.
So what: Staples announced in February that the company planned to acquire Office Depot for $7.25 and 0.2188 of a share of Staples stock for each share of Office Depot, a deal valued at $6.3 billion at the time. Both companies operate retail stores as well as commercial businesses, where office supplies are sold and delivered to large organizations.
Shares of both companies surged on the news, but over the course of 2015, concerns that the deal would be challenged on antitrust grounds whittled away at those gains.
On the retail side, Staples and Office Depot face plenty of competition, ranging from big-box stores to online retailers. But on the commercial side, the two companies are dominant, and while competition from online retailers such as Amazon.com is a long-term threat, winning big corporate contracts for office supplies is a different business from selling to consumers.
The FTC officially filed to block the deal in December, stating that eliminating competition between the two companies would lead to higher prices for large customers, particularly because Staples and Office depot are often the two top bidders for large business customers. Both stocks tumbled on the news.
Now what: Assuming the deal doesn't go through, Staples is in a better position than Office Depot, consistently profitable through the years even as the retail side has suffered. Office Depot, by comparison, hasn't posted an annual profit since 2011.
The best-case scenario for both companies is for the merger to be approved, something that's not yet out of the question if Staples can come up with an acceptable plan. The company had previously offered to divest up to $1.25 billion worth of contracts, but the FTC rejected that plan. The odds that the merger will go though are much longer following the rejection, but the drama will likely continue into 2016.
The article Why Staples Inc. and Office Depot Inc. Tumbled in 2015 originally appeared on Fool.com.
Timothy Green has no position in any stocks mentioned. The Motley Fool owns shares of and recommends Amazon.com. Try any of our Foolish newsletter services free for 30 days. We Fools may not all hold the same opinions, but we all believe that considering a diverse range of insights makes us better investors. The Motley Fool has a disclosure policy.
Copyright 1995 - 2016 The Motley Fool, LLC. All rights reserved. The Motley Fool has a disclosure policy.