Why Sotheby's Stock Gained 55% in 2016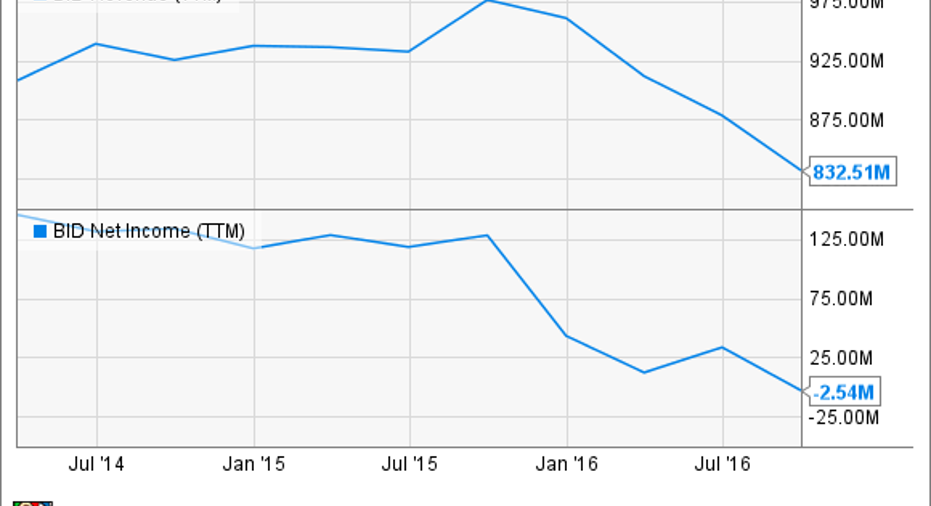 Image source: Getty Images.
What happened
Shares of auction company Sotheby's (NYSE: BID) jumped an incredible 54.7% in 2016, according to data provided by S&P Global Market Intelligence, driven by surprisingly good earnings this year.
So what
Most of the stock gains in the past year can be traced to two events: the fourth-quarter 2015 earnings release and the second-quarter 2016 earnings release.
Fourth-quarter results for 2015 showed adjusted earnings of $1.19 per share, which beat expectations by $0.05. The second quarter of 2016 report resulted in earnings of $1.51, but that crushed expectations of $1.05 per share from Wall Street. The stock surged after both reports were released and beating expectations paid off handsomely once again.
While earnings beat expectations, that doesn't mean results were particularly strong. You can see below that revenue and earnings are actually on the decline as the art market slows down.
BID Revenue (TTM) data by YCharts.
The decline in revenue was expected and cost-cutting measures have kept the company near breakeven, but the trend you see above isn't as positive as the stock price movement this year. Sometimes operations and investment performance can move in opposite directions.
Now what
While the stock performance has been good for Sotheby's, investors should be more concerned about operations. You can see the company is now losing money and the two earnings beats that drove the stock higher in 2016 were accompanied by earnings misses. Earnings expectations for 2017 have also fallen from $2.30 per share 90 days ago to $2.17 per share today, and with revenue and earnings in decline, even those reduced expectations could end up being too optimistic. I think a lot of bullishness is priced into the stock today, and I would be surprised if 2017 witnessed as good a performance as 2016 for Sotheby's stock.
10 stocks we like better than Sotheby's When investing geniuses David and Tom Gardner have a stock tip, it can pay to listen. After all, the newsletter they have run for over a decade, Motley Fool Stock Advisor, has tripled the market.*
David and Tom just revealed what they believe are the 10 best stocks for investors to buy right now... and Sotheby's wasn't one of them! That's right -- they think these 10 stocks are even better buys.
Click here to learn about these picks!
*Stock Advisor returns as of January 4, 2017
Travis Hoium has no position in any stocks mentioned. The Motley Fool recommends Sotheby's. The Motley Fool has a disclosure policy.