Why SodaStream International Ltd. Skyrocketed 142% in 2016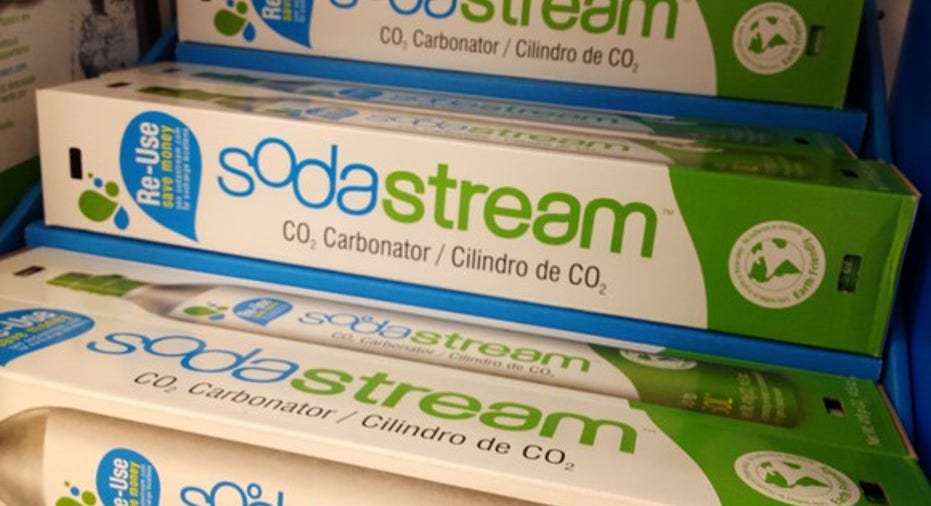 Image source: The Motley Fool.
What happened
SodaStream International Ltd.(NASDAQ: SODA) was the comeback kid of 2016, surging 142% according to data from S&P Global Market Intelligenceafter two difficult years.
The stock had struggled after misplaying the American market, but a revamp as a sparkling water brand and the opening of a new, more efficient facility in Israel sparked a yearlong rally. Moderate revenue increase led to outsize profit growth and the company crushed estimates in each one of its quarterly reports.
So what
SodaStream had come into 2016 reeling from falling revenue and profits. The company had bet big on the American market and after an initial success its products seemed to be just another fad as sales slowed and retail partners grew skeptical.
However, the company delivered a surprising comeback last year as its pivot to a sparkling water brand helped revitalize the company. The opening of a new manufacturing facility and its razor/blade model led to a jump in profits. Through the first nine months of the year, earnings per share has more than tripled on a revenue increase of just 15%, a testament to the company's business model and operating leverage, and its ability to control costs as it adds sales.
As a result, the company has surprised the analyst consensus to the upside by at least 41% in the last four quarters.
Sales have grown in all four of the company's geographies this year, and starter kit sales and CO2 refills are up. However, flavor pod sales are down, which may just be a consequence of the brand transition as flavors aren't required for sparkling water.
Now what
Despite the momentum SodaStream is carrying into 2017, analyst expectations are modest, calling for just a 10% increase in EPS. Revenue growth eased in its most recent quarter, a sign that SodaStream's growth may have peaked, but the company should still be able to deliver solid profit growth as long as revenues are moving in the right direction.
While the stock is unlikely to double again this year, I wouldn't be surprised to see the company top current expectations for 2017 EPS at $1.83 as the sparkling water trend should continue to grow.
10 stocks we like better than SodaStream When investing geniuses David and Tom Gardner have a stock tip, it can pay to listen. After all, the newsletter they have run for over a decade, Motley Fool Stock Advisor, has tripled the market.*
David and Tom just revealed what they believe are the 10 best stocks for investors to buy right now... and SodaStream wasn't one of them! That's right -- they think these 10 stocks are even better buys.
Click here to learn about these picks!
*Stock Advisor returns as of Nov. 7, 2016
Jeremy Bowman owns shares of SodaStream. The Motley Fool owns shares of SodaStream. The Motley Fool has a disclosure policy.