Why SodaStream International Ltd. Shares Slid 19% in 2015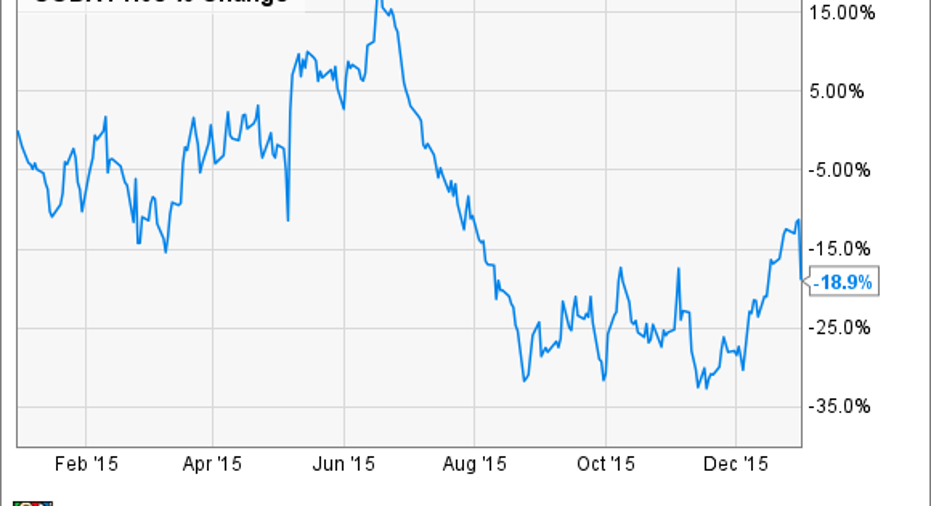 What:Shares of countertop soda-makerSodaStream International continued to lose their fizz last year, falling 19%, according to data from S&P Capital IQ. The effects of 2014's inventory buildup and muted demand continued to push shares lower, as the chart below shows.
So what:The broken growth stock took its biggest hit this summer as shares fell 15% in July, though there was little news out to explain the drop. A bearish sentiment seemed to sweep the market as investors became increasingly frustrated with the lack of progress in the turnaround. The stock had briefly spiked earlier as CEO Daniel Birnbaum said he didn't expect much competition from the Keurig Kold, the new drink-maker fromKeurig Green Mountain.
SodaStream has spent the year focused on rebranding itself as a sparkling water-maker rather than a soda-maker as management noted declines in soda consumption and the health benefits of sparkling water as opposed to soda. The company has rolled out new products and marketing to support the transition, but the new branding has yet to take hold with consumers.
Taking a look at the whole year, it's easy to see why the stock dove. For the first three quarters of the year, revenue fell 21% while EPS is expected to fall from $1.31 a share to $0.97. The stock got a boost toward the end of year on buyout rumors from Pepsico and as shares were listed on the Tel Aviv Exchange, but those can't be counted on for long-term gains.
Now what:A pop in SodaStream like the one we saw following its IPO is unlikely to come soon. Analysts are expecting only a slight uptick in revenue this year, while profits are expected to fall. The transition to a sparkling water brand could succeed, but SodaStream needs to do the hard work of developing retail partners to stock its flavors and offer carbonator exchanges. In the U.S. especially, it has simply been too difficult for consumers to exchange canisters, which has contributed to the attrition rate. If the company can win over supermarkets and other such conveniently located places that consumers regularly visit, sales should improve and the stock should find new life.
The article Why SodaStream International Ltd. Shares Slid 19% in 2015 originally appeared on Fool.com.
Jeremy Bowman owns shares of SodaStream. The Motley Fool owns shares of and recommends PepsiCo. The Motley Fool owns shares of SodaStream. Try any of our Foolish newsletter services free for 30 days. We Fools may not all hold the same opinions, but we all believe that considering a diverse range of insights makes us better investors. The Motley Fool has a disclosure policy.
Copyright 1995 - 2016 The Motley Fool, LLC. All rights reserved. The Motley Fool has a disclosure policy.